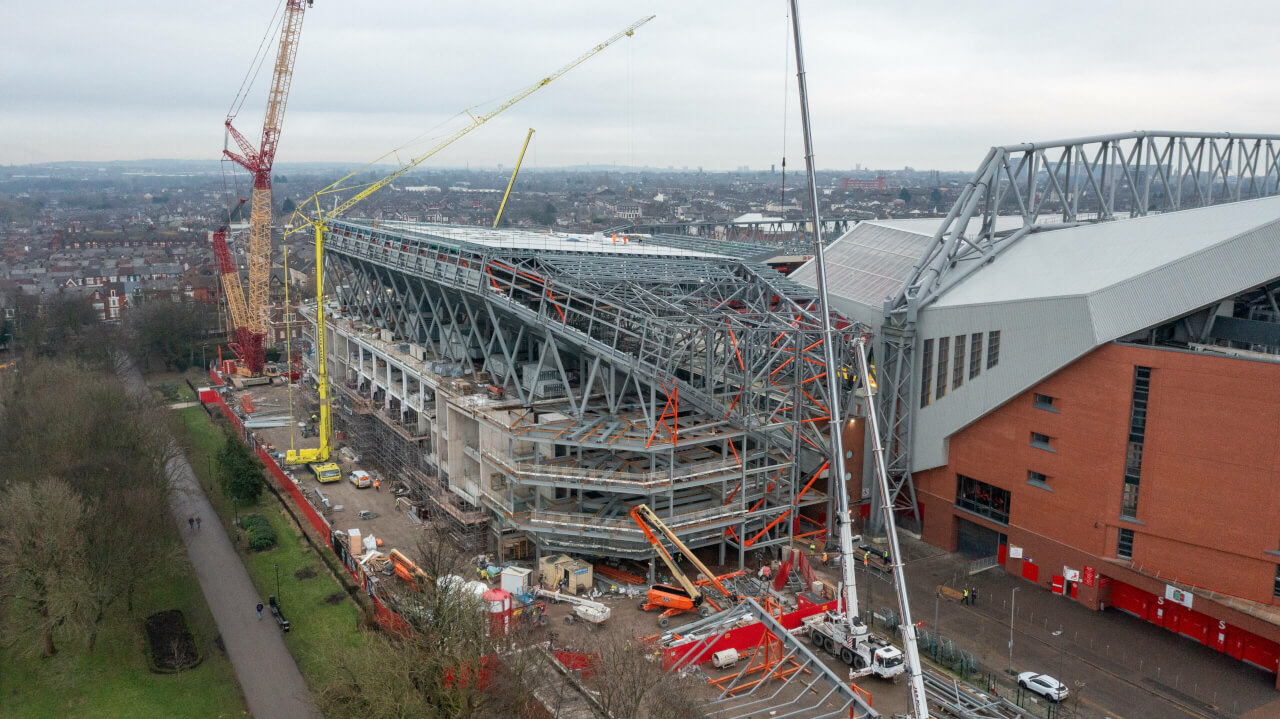 The Hidden Hitches in Anfield's £80m Stadium Upgrade
Anfield's Revamp Hurdles: Reds Will Kick Off Season with Reduced Capacity
As the fervour of the upcoming 2023/24 season bubbles up, Liverpool FC find themselves navigating a rather unexpected detour. With the clock ticking away, the widely-anticipated new Anfield Road Stand now not slated for its grand unveiling until sometime in October.
Behind the Delays: An £80m Endeavour
As per the official Liverpool FC website, avid Reds fans are in for a slightly altered experience for the season's inaugural home matches. Attendees will find themselves amidst a stadium humming with approximately 51,000 fans — a dip due to the ongoing construction. This slight shift in ambiance will be palpable during the home fixtures against Bournemouth and Aston Villa.
However, Liverpool's faithful can circle 24 September on their calendars, as the club remains optimistic about welcoming West Ham United in the updated stand, post the international hiatus. Also in the pipeline might be a Europa League debut at Anfield; however, whispers suggest the Reds might push for their European soiree to commence on foreign soil.

Anfield is preparing for the opening of its new stand for our first home game of the Premier League campaign against Bournemouth on Saturday August 19.

— Liverpool FC (@LFC) July 26, 2023
Anfield's Grand Ambition: More Seats, More Roar
When all's said and done, Anfield's iconic silhouette is set to be enhanced. The latest architectural flourish on the Anfield Road end will bequeath the stadium with an additional 6,000-plus seats, upping the overall capacity to a roaring 61,000. Devotees needn't fret — the hum and pulse of the lower tier will remain undisturbed during this transformation phase.
Pivoting to the initial aspirations, Liverpool FC had their eyes set on showcasing the revamped Anfield Road end for their curtain-raiser on 19 August against Bournemouth. A strategic decision had even seen them lobbying for their maiden Premier League fixture to be scheduled away, buying precious redevelopment time.
Leading the transformation, the Buckingham Group remains at the helm of this undertaking. Reports intimate that October will see this massive endeavour reach its conclusion.
Words from the Top: Understanding and Patience
Andy Hughes, Liverpool's managing director, shared his thoughts on the journey so far:
"This has been a hugely ambitious and complex construction project right from the start and I would like to thank everyone who has played a part."
Dwelling on the minor hiccup for the Bournemouth game, Hughes added:
"Unfortunately, the upper tier of the Anfield Road Stand is not quite ready. Buckingham, our main contractor, will collaborate with Liverpool City Council's licensing team, ushering in a phased opening."
Concluding with an air of anticipation and gratitude, Hughes stated, "With projects of this magnitude, hurdles are par for the course. We're deeply thankful for the patience and understanding of our fans. The countdown is on, and the new Anfield Road stand will soon be abuzz with supporters."