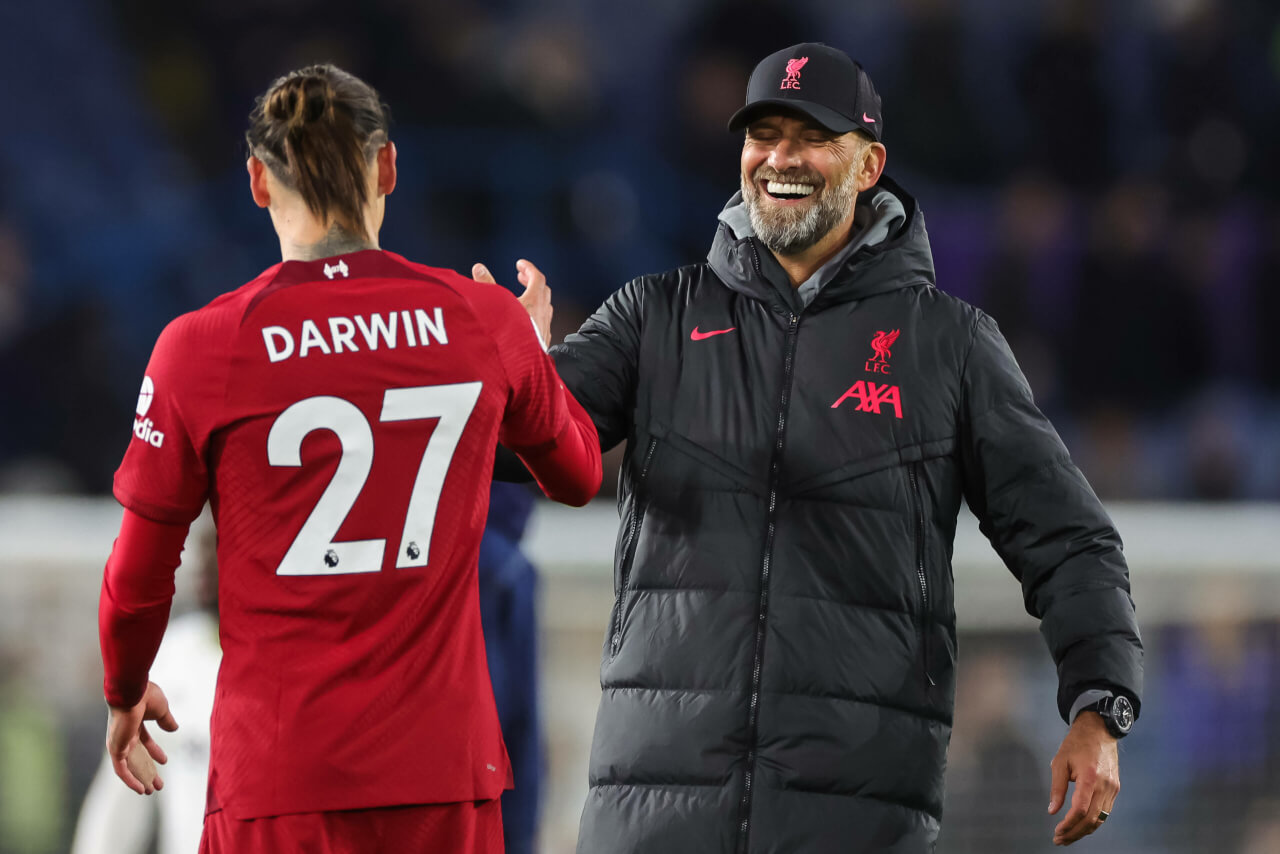 Darwin & The System That Sets Him Free
Darwin & The System That Sets Him Free
When Darwin Núñez was signed last summer for £64m, it was a move that immediately had him tagged as the direct adversary to Manchester City's goal machine, Erling Haaland. The comparisons were proved unfair as Liverpool's strategic failures through his first season led to an inconsistent starting campaign in the Premier League. With 42 appearances and 2,365 minutes seeing the popular Uruguayan bag 15 goals and 4 assists, this still must be considered an impressive return within a woeful overall season for the Merseyside giants. After achieving a goal involvement every 124 minutes, it gives a solid impression of what is likely to come in his second year at Anfield.
What Changes Will We See Next Season
In the final ten-game run of last season, the Jürgen Klopp playbook was thrown from his Axa Training Centre office, before a new system of play was ushered in. The 3-4-3 box formation was introduced in order to stop the rot that had set in. The aim was to try and salvage something from a calamitous campaign, thereby building towards the ongoing pre-season. It was clear that not all the squad pieces fit in with what was needed (in order to make the shift a long-term success), which is why we are currently seeing a strong transformation of the squad in order to correct any anomalies.
This new approach requires key strengths, such as, in-game intelligence, strong physicality, and an elite skill set. The removal of failing assets will continue to be replaced by players holding those qualities and that have been sought in this summer transfer window, with some high-profile casualties still departing the club.

See the list of high-profile those departing reds below.
Jordan Henderson
Roberto Firmino
James Milner
Naby Keïta
Alex Oxlade-Chamberlain
Arthur Melo (loan ended)
Sepp van den Berg (loan)
Calvin Ramsay (loan)
Rhys Williams (loan)
Fábio Carvalho (loan)
The Reds are likely to be adding Fabinho to the list. There have been many of us at Anfield Index that have been craving this kind of reshuffle, yet there was always a sense that the loyalty and devotion shown to his players was going to stop our German manager from clearing some of the deadwood. The new year saw the return of Mike Gordan and later the appointment of our new Sporting Director, Jörg Schmadtke. Due to these strong influences, I believe we have now given our 55-year-old manager the right personalities to help him enforce the hard calls.
Sir Alex Ferguson was forever looking to reinvent both his squad and the staff around him when at Manchester United, which showed that long-term success could be attained if the right decisions Were made. An inability to adjust and adapt (to the changing landscape of football) cost the likes of José Mourinho, Antonio Conte, and Arsene Wenger, their high-profile Premier League posts. If our own legendary head coach had failed to act decisively during this window of change, he too may have joined that list of managers who used to be considered world-class.
Who Is to Blame for Last Seasons Failure
Many Liverpool fans will have you believe that it was the direction and ideology of our assistant manager, Pepijn Lijnders, that navigated our team away from a heavy metal core and into a tired ballad of despair. Regardless of sporting theories or strategies that are presented (to Klopp), only the former Dortmund manager can truly endorse the direction he points his team. Last summer saw a failure in many areas, that are not all FSG related and listed below.
1 – Jürgen Klopp failed in enforcing a much-needed turnover is the squad.
2 – Jürgen Klopp gave too much tactical influence to Pepijn Lijnders.
3 – Jürgen Klopp became too obsessed with both Jude Bellingham and Aurélien Tchouaméni.
4 – Julian Ward failed to line up multiple targets to ensure new bodies were incoming.
5 – FSG decided they were for sale after watching the billions it took to secure Chelsea.
6 – FSG failed to give proper oversight to our manager once Mike Gordan stepped away.
7 – FSG failed to give the proper support to Julian Ward as the clubs new sporting director.
8 – FSG gave too much power to their manager, who should only have a say in recruitment, not overall control.
How Have the Club Corrected the Failures of Last Season
This is once again a multi-layered answer that I will lay out in a numerical response to the issues above. Time to scroll up and down a little…
1 – The failure of last season appears to have reinvigorated our manager and a large-scale turnover is ongoing.
2 – Our manager appears to be fully involved and coordinating our preseason plans, getting back to what he demands.
3 – The recruitment team seem keen to cast their net far and wide and are willing to walk away from deals, much like with Jude earlier this summer.
4 – A huge list of targets has clearly been drawn up to ensure LFC are not left empty-handed. Jörg Schmadtke is covering all bases.
5 – FSG did not receive the £4bn bids for the club they had hoped for, therefore deciding it best to help run the club properly once more.
6 – Mike Gordan returned to help coordinate our efforts, before appointing a strong and experienced Sporting Director who was brought in to oversee a busy period.
7 – It appears the whole recruitment team is being backed and are busily working on our areas of need.
8 – If rumour is to be believed, James Milner would have been awarded a new contract by the manager. I believe this was overruled by Mike Gordon and co.
After that tangent, it is important to look at the entire process above, which was undertaken within the initial twelve months of Darwin's Anfield stay. The structure and style of the 2022/23 formation was built upon control of the pitch and replacing our fabled false nine, with a more attacking striker. Mohamed Salah was ushered into wider position and it was assumed that we would simply overpower teams. Then suddenly, Fulham battered and overran our tired middle ground on match day 1, which encouraged the entire league to come trophy hunting.
Despite our new addition from the Benfica ranks showing flashes of brilliance and huge potential, the failing system failed to give him the platform he required to excel. The language barrier and lack of continual development stunted the second half of his season as we brought in Cody Gakpo, for a more familiar false nine return. The role of our number 27 suddenly became unclear, until the proactive approach carried out by his club at the season's close.
After the summer additions of Dominik Szoboszlai and Alexis Mac Allister, there is an expectation that this on-ball 3-4-3 formation is here to stay. With some pieces being moved around the Anfield board, it will give Núñez the support network to thrive in the final third. It is plain to see that there will be more energy and talent within the central zones of the pitch. When in possession, the Reds' patterns of play will vary between the desires of the two new boys and our previously overworked hybrid playmaker, Trent Alexander Arnold.
Our most recent campaign saw certain entities unable to cope and protect our overworked and overrun rearguard, yet the central zone rebuild is something that will cater to both the defence and attack. The imposing and electric 6ft 2inch stature of our former Almería forward will be able to push the central striking boundaries to their extremes, without the fear of those behind him flailing and wilting under siege. The transformation of our team appears to be built upon releasing the talents of a few key individuals. I trust that our new number 9 is to be one of those that benefit the most.
The hope is that our manager will now have the ability to switch players in and out, thereby making the team more unpredictable. This will force opponents to adapt and could create early-season confusion in our opponents. I suspect it will take only a few games before teams start deploying that frustrating low block, which will be a sign of how quickly this new-look side has evolved. Certain players will have strong campaigns and I sense our Raging Bull of a striker could hit over 30 goals in all competitions. With a bright start to preseason seeing three goals and one assist in just two games, the Uruguayan looks dangerous and eager to impress.
🇺🇾 So far Darwin Núñez has played 90 minutes in pre-season for #LFC in total.

In that time he has 3 goals and 1 assist.

He also has a 100% shot on target rate. Hitting 5/5 shots on target.

Give him the confidence, and he will thrive. Big season ahead.

Just remember, he… pic.twitter.com/pdY18yQ6jr

— Bence Bocsák (@BenBocsak) July 24, 2023
The Premier League has been put on notice, that the rise of an elite marksman is imminent.