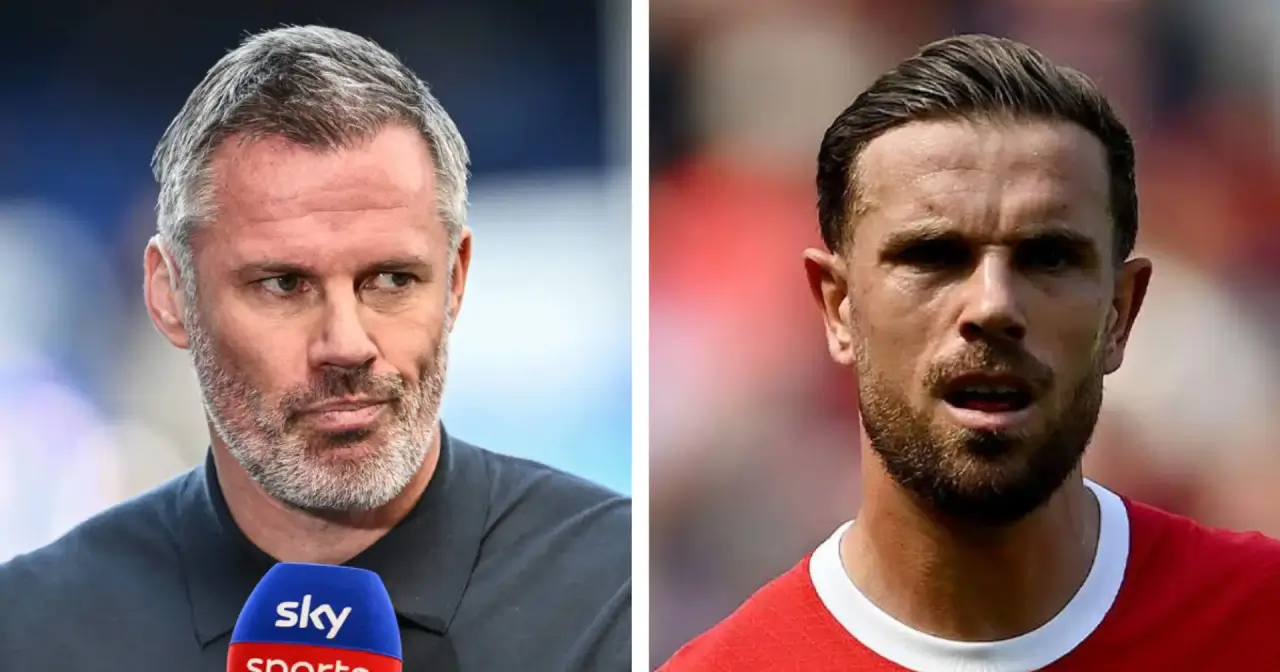 'Henderson has a big problem', Jamie Carragher on Liverpool Exit
Saudi Arabia and the Premier League: A Collision Course of Values and Power
Lure of Saudi Wealth
In a candid reflection, Jamie Carragher writing in The Telegraph states:
"If I was offered four times my salary to leave Sky Sports and CBS in order to cover the Saudi Pro League, my answer would be no."
There's an undeniable pull coming from the Saudi Pro League. Like the sirens of old, it beckons with a song of wealth and promises, but for many, the resonance of the Premier League's quality and tradition is deafening.
Football vs. Human Rights: A Double-edged Sword
"Jordan Henderson has a big problem to deal with because of his previous remarks in support of the LGBTQ+ community," Carragher notes.
And therein lies a significant aspect of the Saudi League's magnetism – it's not purely about football. It's about a player's persona, past declarations and values.

Henderson, once an outspoken supporter of the LGBTQ+ community, now finds himself in the midst of criticism and potential backlash. There's the looming danger that other footballers may opt for silence over the risk of being branded hypocrites. This act of "buying silence" could be the grim aftermath of sportswashing, further implicating not just players but larger governing bodies such as FIFA.
Threat to European Football's Supremacy
Cristiano Ronaldo, Karim Benzema, and N'Golo Kante are among the renowned names that have already committed to the Saudi call. While many of these players might have been at the twilight of their elite European club careers, the significance of their move is palpable.
Carragher wisely observes, "These Saudi moves feel like the start of something much bigger."
Younger talents, like Bernardo Silva and Aleksandar Mitrovic, when linked to such moves, signal a potential seismic shift in the football world's balance of power.
Drawing parallels with the past, Carragher likens the ongoing exodus to the ageing stars' migration to the Major League Soccer in the 1970s. Pele, Johan Cruyff, and George Best, among others, sought newer pastures then, as players seem to be doing now. Some may view the Saudi Pro League as a modern incarnation of the Chinese Super League, but the stakes seem different this time, potentially more profound and lasting.
Should this trend of players in their prime leaving for the Saudi League continue, the Premier League and even the Champions League might face a massive challenge. It's not just about the players; it's the potential ripple effect. Clubs might need to rethink strategies, and plans for a 'Super League' could gain traction again.
https://twitter.com/TeleFootball/status/1684491313855844352?s=20
The Henderson Paradox
While Jordan Henderson's departure might be viewed through an emotional lens given his stature at Liverpool, Carragher opines that:
"From a football perspective, Henderson's Liverpool exit is no different to those who preceded him."
His exit exemplifies the quintessential dilemma players might face – the clash between legacy, values and financial allure.
As the Saudi Pro League continues its quest to amass footballing power and prestige, European football stands at a crossroads. The choices made in the coming years will likely shape the game's future in ways we're only beginning to fathom.