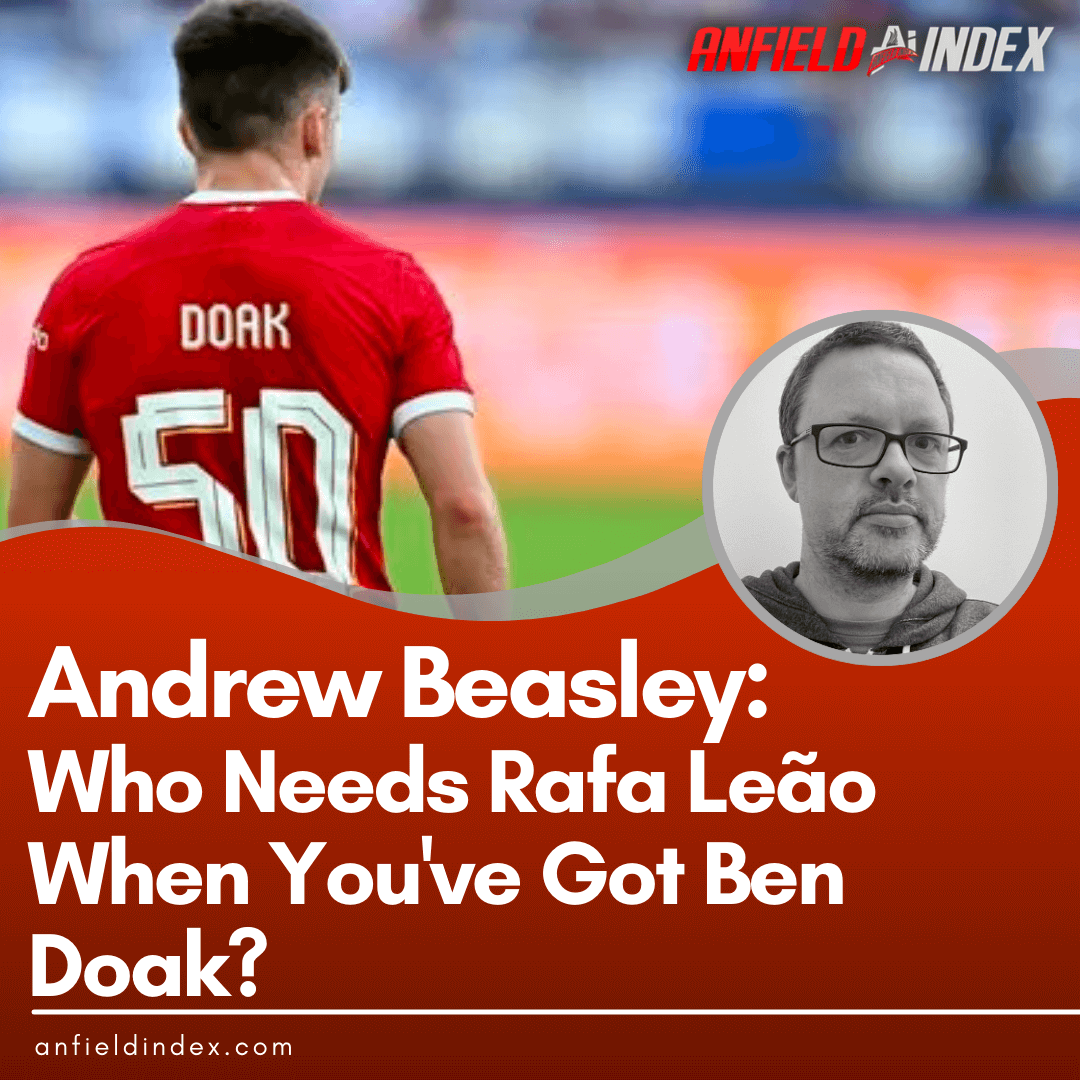 Who Needs Rafa Leão When You've Got Ben Doak?
The Anfield Atmosphere: Concerns and Hopes
There will be many Liverpool supporters wracked with fear ahead of the Reds' trip to Chelsea this weekend. The concerns are not so much for what Mauricio Pochettino's new look Blues might unleash, but rather with regards to Liverpool's longer term hopes for success in 2023/24.
Whether any recruits are secured between now and kick off at Stamford Bridge or not, any new players are unlikely to take part on Sunday. Assuming the signing of Roméo Lavia is completed at some point before August is out, he is unlikely to assuage the doubts of many in the short term in any case.
Ben Doak: The Pre-Season Sensation
But it isn't all doom and gloom around Anfield (or at least, it shouldn't be). Without wishing to resort to clichés of the "he'll feel like a new signing" ilk, it's impossible to have watched Ben Doak's 179 minutes of pre-season action and not be excited about seeing him play for the first team this season. For an attacking player to generate such fervour while only registering one goal takes some doing, particularly with the strike being a header from a set play to round off a 4-0 stroll.

The young Scot's most eye-catching cameo occurred in the final game of the summer friendly programme against Darmstadt 98. In just 30 minutes, Doak had a shot, created two chances and completed four take-ons.
That final figure needs putting into context, while acknowledging that a warm-up game against a newly promoted Bundesliga side isn't the most testing encounter. In 2022/23, there were just 12 instances of a Liverpool player dribbling past four opponents in a league or European match, and all-but-one who did played for at least 62 minutes. For appearances of no more than half an hour, two take-ons completed was the limit.
Driblab's Insight: Doak's UEFA Youth League Performance
Due to his relative lack of competitive first team action – 60 minutes and counting – data fanatics don't have much to call upon when assessing Doak's potential. It was therefore fascinating to see Driblab share some of his numbers from the 2022/23 UEFA Youth League.
https://twitter.com/driblab/status/1688879331316047872
There were two metrics in which he was elite, and Successful Dribbles was unsurprisingly one of them. Doak averaged 4.49 per 90 minutes, which put him into the 90th percentile for wingers in the competition.
As Driblab possession adjust the metrics it isn't easy to do a fair comparison with the Reds' first team, but as Luis Díaz was over 0.7 clear of the competition in the squad on 2.55 per 90, it's fair to say the youngster did well. Indeed, in a recent round-up of the most exciting young players at each Premier League club, Squawka highlighted the Scot as "upstaging" the Colombian at times.
Comparing Doak with Europe's Elite Youngsters
Even more impressive were Doak's figures for Touches in Opponent Box, with his 13.3 per 90 putting him into the top five per cent of his positional age group peers. The young winger combined both attributes to great effect when scoring against Rangers.
Liverpool have a special talent in Ben Doak! ✨

The Scot, all too familiar with football in Glasgow, twists and turns before firing into the corner.#UYL pic.twitter.com/sxsGHx6Vy1

— Football on TNT Sports (@footballontnt) October 12, 2022
Again, it's worth broadly comparing his box activity with senior players. Kylian Mbappé led the big five leagues for touches in the box last season (one ahead of Mohamed Salah) and he averaged 9.65 per 90 minutes. For Liverpool, only Salah managed at least 13 in a game, on four occasions, never mind anyone averaging that many. If all this proves is Doak is too good for the UEFA Youth League when he doesn't turn 18 for another three months, then that's no bad thing.
The Path Ahead: From Wunderkind to Premier League Prodigy
And as much as there is value in highlighting his standing in these metrics, it's worth looking at the meat and potato numbers. Doak got four goals and four assists in the 2022/23 Youth League, and only 19 other players have hit both arbitrary marks in the nine seasons of the competition.
The sample drops to 17 if we disregard penalties and just eight if we refine for wingers. We could keep narrowing and narrowing to make Doak the best – there's no other Scots, for starters – but you get the idea. It's also interesting to sort the youngsters who provided at least four assists by goals and assists per 90, as the Scot is directly below somebody called Dominik Szoboszlai in the standings.
It's hard not to look at the list of players with eight-or-more goal contributions and wonder which path will open up for the Liverpool youngster. Some of the names listed are now very familiar; Gonçalo Ramos, Xavi Simons (both now of Paris Saint-Germain), Karim Adeyemi (Borussia Dortmund), Tammy Abraham (Roma) and Rafael Leão (Milan) immediately catch the eye.
But then there's former Chelsea starlet Charlie Brown, third in the standings thanks to 12 goals and two assists in the 2018/19 Youth League, who now plays for Morecambe in League Two. Good grief, indeed. The path from wunderkind to the big leagues does not run smoothly for everyone but at least Doak has the full backing of his manager, which can count for a hell of a lot.
Jürgen Klopp's Verdict on the Young Scot
"Ben Doak comes on, 17 years old, and is this kind of natural force, it's really cool to see," was Jürgen Klopp's verdict after the youngster assisted Darwin Núñez in a mid-season friendly against AC Milan last December. The Scot is a force that needs to be unleashed upon opposition defenders as often as possible this term. He's ready and then some.