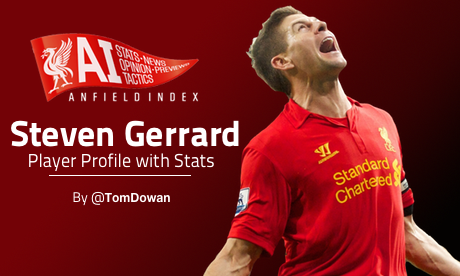 Steven Gerrard | Player Profile
Name: Steven Gerrard MBE
Date of Birth: 30th May, 1980 (33)
First Team Debut: 29th November 1998
Notable Achievements: 11 time trophy winner with Liverpool FC, captain and goal scorer in the 2005 Champions League win, scorer in every major club final.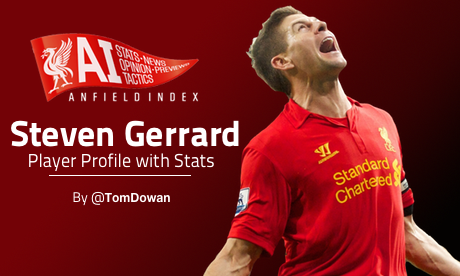 Liverpool's talismanic captain has been key to the clubs success for many years now. Retreating into a central midfield role over the past few seasons, Gerrard is now a figurehead in the 'engine room' of Liverpool's midfield.
Gerrard is well regarded as one of the most comfortable on the ball in the current Liverpool squad and stats certainly suggest so! Gerrard has not dropped below 80% in his pass completion rate over the last 3 years (despite attempting a staggering 3833), most notably reaching a career high pass completion rate for a whole season in the 2012/13 year of 86%. Whether this is due to Brendan Rodgers' implementation of a pass focused philosophy or Steven Gerrard retreating into a deeper 'registra' role, in which his biggest responsibility is building play and the transition for defence to attack, we cannot definitively say. I would suggest it is a combination of both.
Gerrard also contributes with goals, and over his career, lots of them; his most prolific season came in 08/09 in which he achieved 16 season goals. The Captains goal scoring affect dipped slightly between 2010 and 2012 (9 goals in total), however this is back on the rise with 9 goals coming last year (12/13) and having scored 2 so far this year – it could be suggested that this is due to Gerrard becoming more and more comfortable with his deeper role within the team.
Creativity is also a feature of Gerrard's game; with the Liverpool Captain creating 94 chances last season (12/13), 61 coming from open play and 33 from set pieces. This was the second highest number of chances Gerrard has created, 104 being the magic number in the 07/08 campaign.  9 assists also came from Gerrard last season, a joint career best figure.
Defensive contribution is something Steven Gerrard has had to learn as he has dropped into a deeper role in the Liverpool Team and this can be seen so far this season. Gerrard has completed 2.7 tackles on average per game so far in the 13/14 season (9 appearances), this when coupled with the strong positional awareness has Gerrard has shown so far this year (1.4 interception completed p/g, being dribbled past a tiny 0.6 times p/g) suggests that this defensive understanding is grown and beginning to show some dividends.
At the age of thirty-three it is fair to suggest that Gerrard's work load is going to need to be managed carefully more and more, with younger Central Midfielders such as Joe Allen and Jordan Henderson is coming through the ranks this is certainly possible. It is however impossible to deny that Steven Gerrard is a legend of Liverpool Football club and always will be a top, top player.