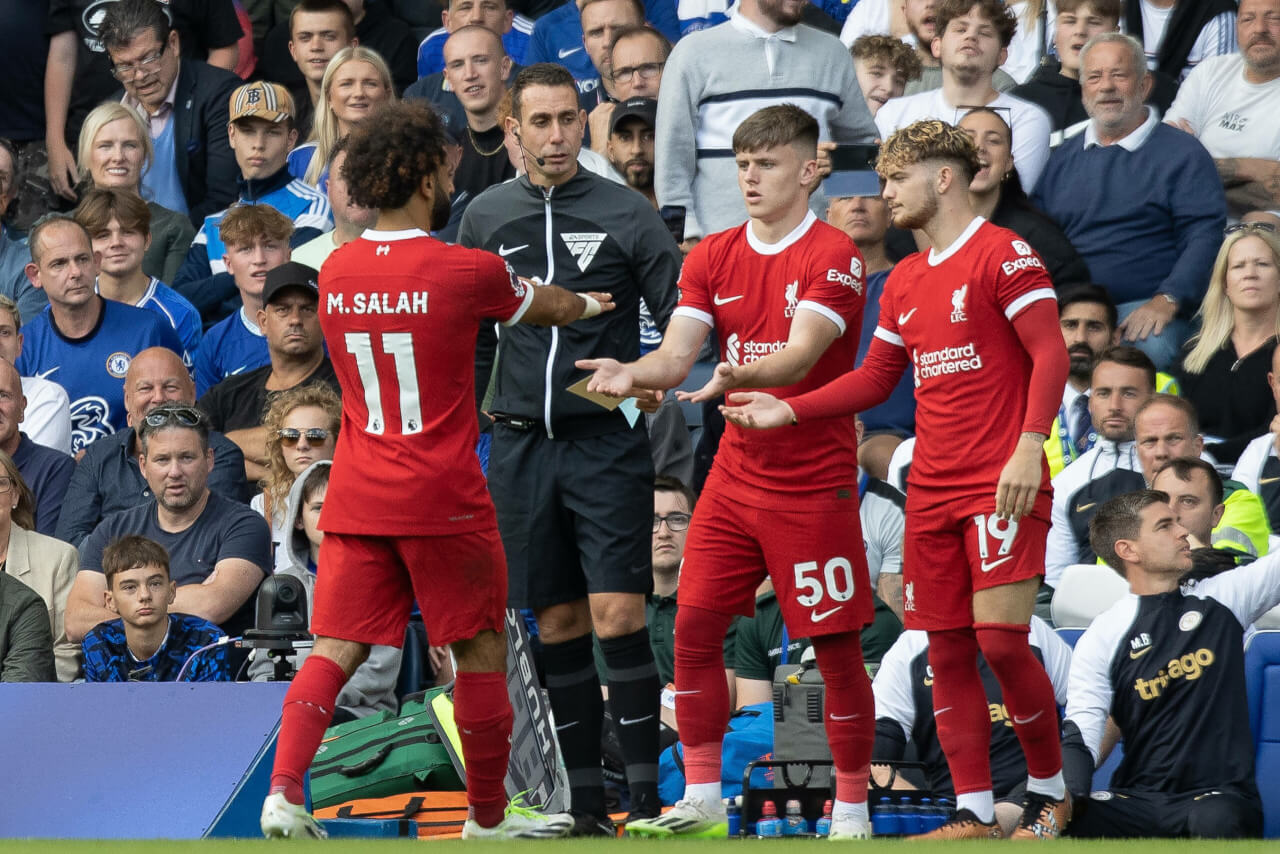 Journalist: 'There will be clubs in his ear', Salah's LFC Meltdown
Meltdown Moment: Salah's Sulk & Klopp's Conundrum
Ah, the grand stage of football, where grown men occasionally throw the toys out of their prams. A Sunday afternoon in the cauldron of Stamford Bridge, and who do we see having a bit of a strop? None other than Liverpool's golden boy, Mohamed Salah.
You've got to love a bit of drama on a Sunday, haven't you? There's Salah, having what some might tenderly describe as a 'bit of a wobble', yanking off the tape from his wrist and chucking it to the ground. Oh, the humanity! He looked as miffed as someone finding out their favourite pub's run out of ale.
Why, you ask? Well, it appears Mr. Klopp decided to pull off the Egyptian ace for 17-year-old Ben Doak. The whispers tell me the young lad's about as green as the salad in my fridge, but who am I to judge?

Substitution Confrontation
On the much-buzzed about 'It's All Kicking Off' podcast, hosted by shock-jock Chris Sutton, the drama was dissected like a frog in a biology class. When asked about the outburst, Sutton was quite clear: it didn't tickle his fancy one bit.
Chris Sutton: "He undermined the manager in that moment." Strong words for a strong reaction.
To add some perspective, Ian Ladyman chipped in, noting how every journalist present that day was practically salivating, hoping Klopp would spill the tea and create headlines that would last longer than a Monday hangover. But no, Klopp, in his infinite wisdom, chose diplomacy. You know, the kind that keeps your best player happy.
https://twitter.com/sportbible/status/1690776189365870592?s=20
The Ripple Effect
Now here's a thought: if Salah gets away with it, what's stopping any old Tom, Dick, or Harry in the Liverpool squad from doing the same? A case in point: last season, Marcus Rashford found himself benched for being late to a meeting. A clear message, and one Mr. Klopp might want to note down.
Ladyman added another thought-provoking query:
"If you're in that dressing room, and you're, say, Alexis McAllister, and you see that tantrum, what does that do to you?" It's a query worth its weight in gold, isn't it?
But what does the future hold for Salah? If there's frustration now, how's the chap going to feel if Liverpool doesn't hit the mark this season? No Champions League for starters, and if they don't make strides in the Premier League, one does wonder what's going on in Salah's head.
Ladyman weighed in with his own theory. Liverpool might just count their lucky stars they've got Salah now:
"There will be clubs in his ear. Saudi Arabia, Spain… It's one to watch."
So, will Salah take another tiff to the pitch? Will Klopp channel his inner disciplinarian? Only time will tell. But one thing's for certain, it's going to be an entertaining ride at Anfield this season.