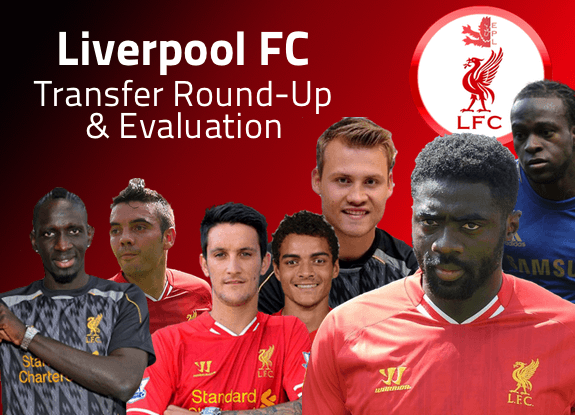 Liverpool Summer Transfer Round-Up & Evaluation

After missing the Champions League the last three seasons, Liverpool are hoping to boost their team with all the new signings they have made this summer.  Liverpool have had a tough time finishing sixth, seventh, eighth, and seventh in the last four years and it has gotten tougher for them to attract the big player without Champions League football and have been wasteful with their money in recent years.
In Brendan Rodgers' first season, he tried to change the way the team played – and it can take some time for the squad to adjust.  A big stumbling block for Rodgers was he had a lot of Kenny Dalglish's personnel and this summer was a summer of getting some more of Dalglish's guys out and his own guys in.  Liverpool brought in eight players and got rid of three first team players permanently and three on loans, including long time goal keeper and fan favourite Pepe Reina.  In what could be their most important business (or non-business) of the summer window they were also able to keep their world class striker, Luis Suarez, after he said he wanted to leave.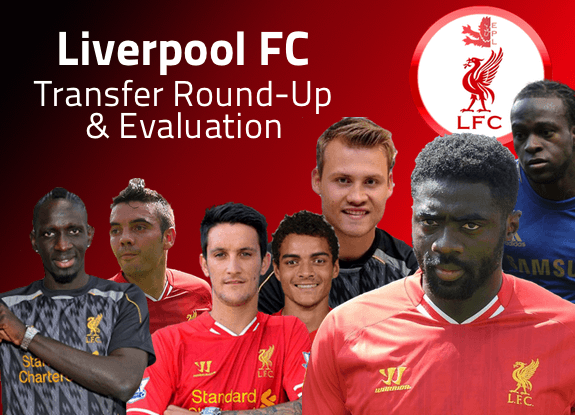 Liverpool Departures
Andy Carroll
Carroll came to Liverpool from Newcastle on deadline day in January 2011 for £35m and sold this summer to West Ham for £15m.  He only ended up playing 58 games in all competitions before he was sent on loan to West Ham last season and made the move permanent this summer.  Carroll was not going to fit into Brendan Rodgers system and was sold on which resulted in Liverpool taking a £20m loss on the striker.  Carroll only scored 11 goals when they paid £35m for him, that averages out to £3.18m per goal. He's currently been nursing an injury at West Ham – a very common theme from his time at Anfield too.
Jonjo Shelvey
Shelvey was sold to Swansea City for £5m after three years at the club.  Shelvey was bought for £1.7m from Charlton Athletic in 2010 and made 70 appearences for Liverpool before being sold.  Shelvey impressed on a loan spell at Blackpool in 2011, scoring six goals in 10 games. Jonjo looked a good talent and came back to make 49 appearances in the next year and a half before being sold to Swansea this summer.
Pepe Reina
Reina was loaned away to Napoli after spending eight seasons at Liverpool.  Pepe Reina was loaned away after Rodgers had brought in Simon Mignolet from Sunderland and seemingly did not leave on the best of terms.  He commented that he had no idea he was being loaned out until it was already done.  Reina was bought from Villarreal in 2005 and made 394 appearances in all competitions for Liverpool.  Reina was a fan favorite at Liverpool and had started 217 out of the last 228 league games for Liverpool so loaning him out was a risky move.
Jay Spearing
Jay Spearing left Liverpool for Bolton after spending last season on loan at Bolton for a fee of £2m.  Spearing came to Liverpool in 1997, at the age of nine, and ended up making 55 appearances.  Spearing didn't seem to be Rodgers type of player after a preseason and a few Europa league games and this departure doesn't come as too much of a surprise.
Stewart Downing
Downing went to West Ham for £5m after coming to Liverpool from Aston Villa in 2011 for £20m.  Downing has been considered to be a big flop after Liverpool spent so much money on him.  Downing made 91 appearances at Liverpool but only scored seven goals and made 11 assists.  Downing is another player, like Carroll, that was good remove off of the wage bill and give him a fresh start somewhere else. According to PhysioRoom.com Stewart Downing is also currently injured at this moment in time.
Oussama Assaidi
Assaidi was loaned to Stoke City for the season.  Assaidi was a strange signing brought in from Heerenveen for £2.4m in 2012 but has only made 12 appearances for the club and has never started a Premier League game. A clear sign that Brendan Rodgers doesn't trust Assaidi's abilities.
Fabio Borini
Fabio Borini was loaned out to Sunderland for the season after arriving at Liverpool last season for £10.5m.  Borini had a difficult first season after breaking his foot in October against Manchester United and soon after returning from that he dislocated his shoulder keeping him out for all but the last four games of the season.  Borini only ended up making 20 total appearances and only nine starts in his first season.  This seems like it is a loan that Borini will come back to Liverpool from because he is a Brendan Rodgers guy playing with him for a third different time.
Liverpool Signings
Simon Mignolet
Simon Mignolet was the first signing of the summer for Liverpool and has been impressive since joining from Sunderland for £9m.  Mignolet immediately endeared himself to the Liverpool fans after making a double save on a penalty to save a 1-0 win vs Stoke and has not conceded a goal in the Premier League so far this season.  Mignolet has been commanding in his box and, after the first 20-30 minutes where he did look very nervous – something he admitted to in the post match interviews. Mignolet has looked good with his shot stopping and any of the Liverpool fans complaining with regards to the keeper change this summer aren't making many noises now. It's a credit to Mignolet that has his performances have resulted in the fans quickly forgetting former fan favourite Pepe Reina.
Luis Alberto
Alberto is a 20 year old forward bought from Sevilla for £6.8m.  Alberto looks to be a rotation player at best for Liverpool this season but he is tipped to have a promising future having played at the U18, U19, and U20 level for Spain.  After impressing on loan at Barcelona B, Rodgers decided to splash some cash on him to try and build for the team's future.  So far this season Alberto has made a start in the Capital One Cup and a seven minute cameo vs Manchester United.
Iago Aspas
Liverpool signed Aspas for £7.7m from Celta Vigo after scoring 12 goals with Celta in La Liga.  Aspas, 26, looked like he could have been a replacement for Luis Suarez after he declared he wanted to leave the club.  Aspas has started well for Liverpool, playing just off of the sensational Daniel Sturridge, creating seven chances, equating to one every 29 minutes, and has assisted on one of Liverpool's three league goals this year.  Aspas will likely drop to the bench once Luis Suarez comes back from suspension, but for now he will try to prove how good he is and maybe try to either keep Suarez out of the side or force someone else to make way for Suarez instead of himself.
Kolo Toure
Kolo Toure joined on a free from Manchester City after not being able to get satisfactory game time with the former champions.  Toure will bring experience to Liverpool and has been strong since joining.  Toure has been a part of the defence that has kept clean sheets for the first two games of the season but picked up an injury after Liverpool's Capital One Cup game went to extra time.  Toure can also bring a winning mentality after winning two Premier League titles three FA Cups in his time with Arsenal and Manchester City.
Aly Cissokho
Cissokho joins Liverpool on loan for the season from Valencia.  Cissokho will provide cover and competition for left back Jose Enrique.  After struggling in his first season at Valencia, Cissokho will hope to recapture his form that earned him his move from Lyon to Valencia in the first place and got him his one and only cap for the French national team.  Cissokho came on as a substitute for Liverpool in their game against Aston Villa but was a casualty of their game against Notts County, just like Kolo Toure, and will now have to face a spell out injured before he can push for a place at Liverpool.
Mamadou Sakho
Sakho joins from PSG for £15m on transfer deadline day to beef up Liverpool's back line.  Sahko is a vocal leader and has already been tipped as a future Liverpool captain, after already being PSG's youngest ever captain, before even playing a game for the club because he is so vocal and so good at organising a defence.  Sakho can give Liverpool a combination of pedigree and potential after making almost 200 appearances for PSG and 14 caps for France but is only 23 with obvious potential.  Sakho left PSG for Liverpool after seeing that he wasn't going to get much playing time, especially after the arrival of Marquinhos, and with it being a World Cup year he wanted to go to a club where he would get playing time and be able to keep a spot in the French squad this summer, if they get to Rio.

Tiago Ilori
Ilori has come to Anfield from Sporting Lisbon in Portugal for £7m on transfer deadline day.  Ilori is, likely, another player for the future as he will be the fifth centre back behind Agger, Toure, Sakho, and Skrtel, although he is rumoured to be able to play at right back also.  Ilori is tipped to have a bright future and has made appearances with the Portugal's U-18s U-19s and U-20s. While playing for Portugal at youth levels, the English FA is trying to convince Ilori to declare his international future to England, which he is eligible to do since he was born in London. If he does play, Ilori is an imposing figure at 6'3 and is also exceptionally quick for a centre back, but it is yet to be seen if he is tactically good enough to play in the Premier League.
Victor Moses
Victor Moses has arrived at Liverpool on a season long loan from Chelsea after transferring to Stamford Bridge just a year ago from Wigan.  Moses recognised that his first team chances at Chelsea would be very limited so decided to go to Liverpool on loan to try to prove himself as a good player and keep his spot for Nigeria. Moses is a very direct and pacey winger who likes to take players on. Moses will likely be filling the hole that Stewart Downing left when he departed for West Ham and whilst Moses is much faster – Downing's service into the box is far superior, completing 28% of his crosses as opposed to Moses completing only 9% of his.  Moses is a good option for Brendan Rodgers and he will get his chance at Anfield but will probably not be a starter.
Evaluation
Liverpool will hope that they will be able to push into the Champions League and hope that these new signings push them into the top four.  Two things Liverpool gained this summer was a strength in depth along the back line, they now have four very good centre backs with the additions of Toure and Sakho, and some depth at the striker position, which they SEVERELY lacked in the first half of last season.  The biggest thing though that Liverpool may have done was not an in or an out but an ideal where they were able to keep Luis Suarez despite him stating his desire to leave Anfield.
Many believe there could have been some additions to the central midfield role, in the form of a true defensive midfielder, however Rodgers has kept his trust with Henderson, Allen, Lucas and, club captain, Steven Gerrard.
Liverpool didn't struggle to score goals last season and with the majority of the same attacking threat still at the club (Suarez, Sturridge and Coutinho) Rodgers' focus was on the defence and he has done a fine job in strengthening an area which cost Liverpool a lot of points last season. With healthy competition for places and a team that now understand's his coaching ideals Liverpool could have an impressive season. Brendan Rodgers will hope that his team keep their 100% record against his former side Swansea a week on Monday and will look forward to the selection headache that he faces once Toure, Cissokho, Allen & Luis Suarez are available for selection again.
Originally written on EPLIndex.com by Dan Fitzpatrick.