The Silent Game
Crystal Palace seems to be playing the silent game amidst the swirling rumours of Liverpool's interest in their star, Cheick Doucoure. The Reds have been on the lookout for a solution to their defensive midfield conundrum, and Doucoure appears to be at the top of their list.
A Reporter's Insight
Sami Mokbel, a seasoned journalist, recently shared his insights with The RedmenTV. "Upon digging deeper into the Doucoure situation at Palace, I was met with silence and an air of secrecy," Mokbel revealed. Such behaviour often indicates that a club is gearing up for a significant move. While it's no secret that Doucoure is on Liverpool's wishlist, the real question is whether the two clubs can agree on a valuation.
The Clock is Ticking
With only 11 days left in the transfer window, Liverpool's need for a defensive midfielder has become more pressing. Following Alexis Mac Allister's recent red card and Curtis Jones' injury, the Reds' midfield options are thinning. The recent addition of Wataru Endo raises questions about his ability to adapt to the Premier League's intensity.

Doucoure: The Answer to Liverpool's Midfield Woes?
Securing Doucoure before their upcoming match against Newcastle could be a game-changer for Liverpool. However, time is of the essence. Mokbel suggests that Palace's valuation of the 23-year-old midfielder stands firm at £70-80m. If Liverpool truly wants to bolster their squad with Doucoure's talent, they might need to meet this price tag.
A Crucial Decision Looms
The coming days will be pivotal for both clubs. For Liverpool, acquiring Doucoure could be the key to a robust season. On the other hand, Palace's decision could shape their future in the Premier League.
"Preparing for something to happen." ⌛️@SamiMokbel81_DM believes the days ahead could be crucial as #LFC look at Cheick Doucoure to further strengthen the midfield 💪

Available now on Redmen Plus 🔴 pic.twitter.com/kOPONUfP8C

— The Redmen TV (@TheRedmenTV) August 19, 2023
Profile
Born in Mali, Doucoure's passion for football was evident from a young age. He spent his formative years playing in local clubs, honing his skills and showcasing his natural talent.
Playing Style:
Doucoure is best described as a dynamic midfielder with a knack for breaking up opposition plays and launching counter-attacks. His vision on the field, combined with his ability to read the game, makes him a valuable asset in both defensive and offensive scenarios. He possesses a strong physical presence, which he uses effectively to shield the ball and fend off challenges.
Career Highlights:
Rise to Prominence: Doucoure's performances at the youth level in Mali did not go unnoticed. He soon attracted interest from European clubs and made the move to further his career.
Club Career: Over the years, Doucoure has played for several clubs, consistently proving his worth as a top-tier midfielder. His adaptability allows him to fit into various tactical setups, making him a manager's delight.
International Career: Representing Mali, Doucoure has showcased his skills on the international stage, further cementing his reputation as a player of immense potential.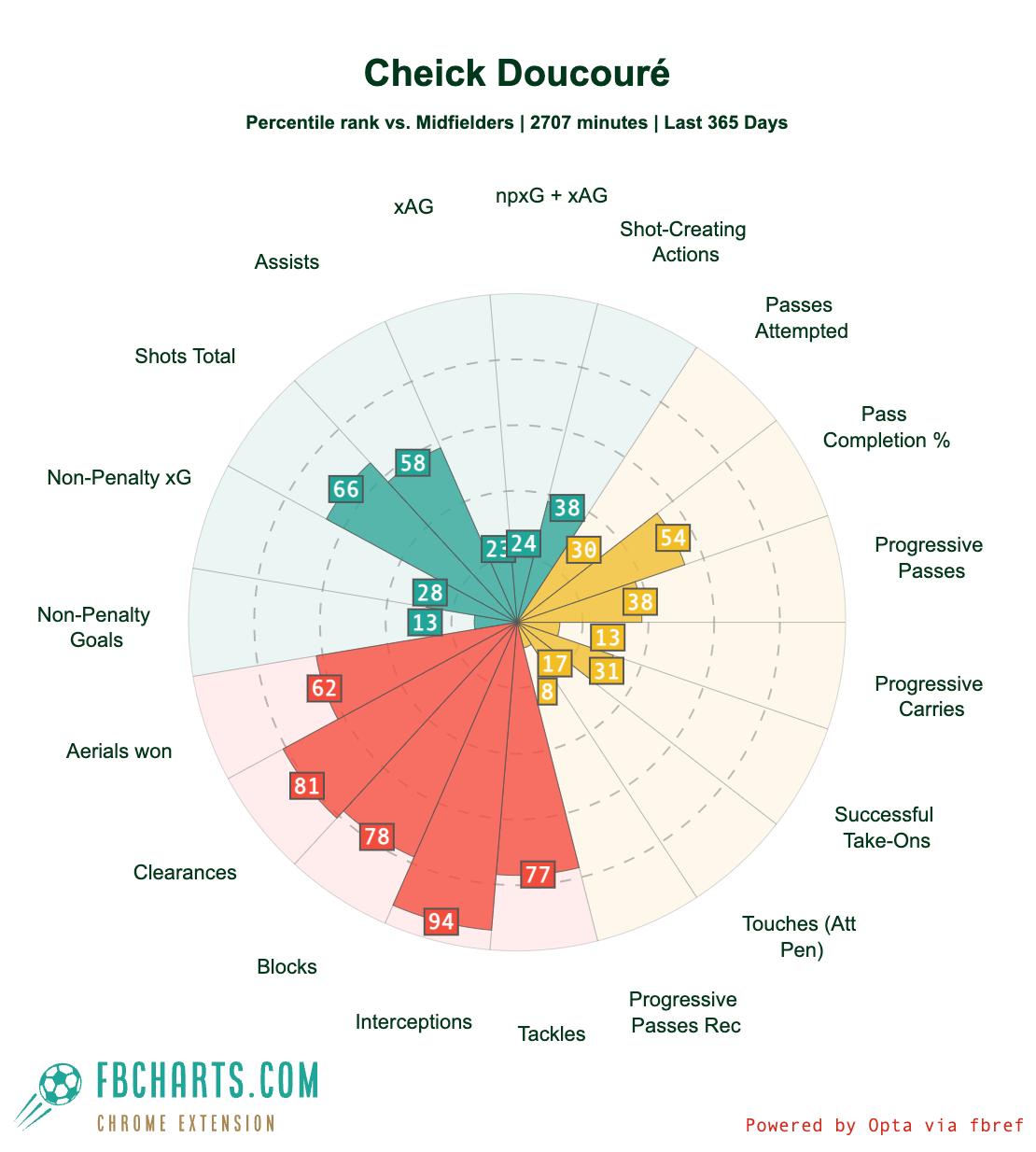 Off the Pitch:
Away from the football pitch, Doucoure is known for his humble nature and commitment to giving back to the community. He has been involved in various charitable initiatives, especially focused on improving the lives of underprivileged children in Mali.
Future Prospects:
With his prime years ahead of him, the future looks bright for Doucoure. As he continues to develop and refine his skills, there's no doubt that he will remain a key figure in the football world, both at the club and international levels.