Introduction: A Deep Dive into Anfield's Latest Addition
In the ever-evolving world of football, surprises are not uncommon. Yet, the recent acquisition of Wataru Endo by Liverpool has left many pondering the club's strategic direction. James Pearce of The Athletic recently delved into this intriguing signing, shedding light on the nuances that led to Endo's arrival at Anfield.
A Debut Amidst Chaos
Endo's introduction to the Premier League was nothing short of dramatic. With a mere training session to his name, he was thrust into the fray against Bournemouth. As Pearce aptly puts it, this was hardly the ideal setting to judge the Japanese international. The sudden dismissal of Alexis Mac Allister and the subsequent goal by Diogo Jota had already set the stage for a tumultuous match.
Jurgen Klopp, Liverpool's charismatic manager, candidly described the situation as "horrible". Yet, despite the chaos, Endo showcased his mettle, completing an impressive 88% of his passes and making significant defensive contributions.

Klopp's Gamble on Experience
Endo's signing is a deviation from Liverpool's recent transfer strategy, which has predominantly focused on younger talents. As Pearce highlights, "Klopp had to convince the owners that Endo, who has been used to fighting relegation with Stuttgart, was worth deviating from the club's usual transfer policy of targeting younger players. Thiago is the only other player over the age of 26 they have paid a fee for since Ragnar Klavan in 2016."
This move has drawn parallels with the acquisition of James Milner, another experienced player who has since become an integral part of the Liverpool setup. While Endo's leadership qualities are evident, it remains to be seen if he can emulate Milner's influence at Anfield.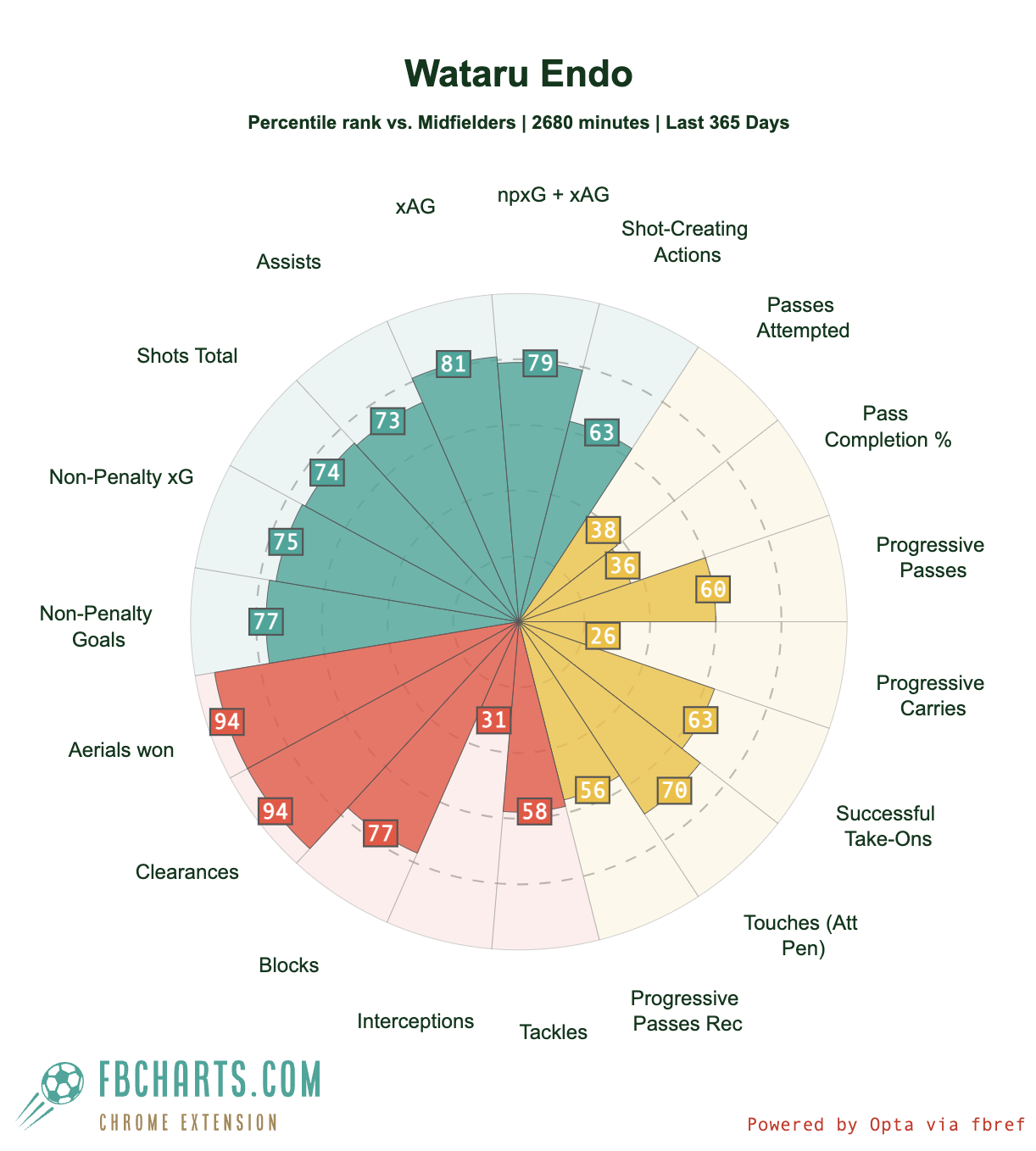 Endo's Role in the Squad
Liverpool's midfield has undergone significant changes recently, with stalwarts like Fabinho and Jordan Henderson departing. Endo's arrival is seen as a solution to the void left by these departures. Pearce's insights suggest that Klopp views Endo as more than just a temporary fix, with the player being handed a four-year contract.
Furthermore, Liverpool's interest in other midfield talents, such as Ryan Gravenberch, indicates that the club is keen on bolstering its midfield options. However, as of now, Endo is expected to play a pivotal role in the team's plans.
Anfield's Evolving Midfield Dynamics
The departures of key players and the arrivals of new talents like Mac Allister and Dominik Szoboszlai have reshaped Liverpool's midfield. Pearce points out the need for additional reinforcements, especially considering the injury-prone nature of some players.
The recent red card incident involving Mac Allister further underscores the importance of depth in the squad. With challenges mounting, Endo's role becomes even more crucial.
Conclusion: A Tale of Triumph?
Jurgen Klopp's penchant for underdog stories is no secret. Endo's journey to Anfield, as detailed by Pearce, has been a long and winding one, spanning clubs from Shonan Bellmare to Stuttgart. If he manages to solidify Liverpool's midfield and provide the defensive shield they so desperately need, his story might just rival the legendary tales of Rocky Balboa.
In the ever-unpredictable world of football, Endo's tale at Anfield is just beginning. Only time will tell if this unexpected signing becomes one of Klopp's masterstrokes.