Dominik Szoboszlai: Liverpool's New Engine
Liverpool's Tactical Evolution with Szoboszlai
In the ever-evolving world of football, few signings have made as immediate and profound an impact as Dominik Szoboszlai seems to have at Liverpool. The Hungarian midfielder, was the major talking point on this weeks' Under Pressure podcast from Anfield Index, with admiration the central narrative.
Dan Kennett and Simon Brundish, in the absence of Daniel Rhodes and Phil Barter this week; had plenty to say about Szoboszlai's influence on the team.
"Let's be clear right, Dominik Szoboszlai would have been an ideal player for us in our peak," Brundish remarked.
This sentiment was echoed by Kennett, who noted Szoboszlai's incredible speed and agility, "He's so fast… it's just rapid from zero to 30mph instantly."

Indeed, the statistics back up these observations. Szoboszlai's top speed was mentioned to be around 35 kilometers an hour, showcasing his blistering pace on the pitch. Furthermore, his ability to beat players was highlighted, with Brundish noting that Szoboszlai attacked by "just approaching and burning past a running player" on four different occasions in a single game.
Szoboszlai's ability to cover ground at such a pace, combined with his technical prowess, makes him a unique asset in Liverpool's midfield. As Brundish pointed out:
"He presses his nuts off, he covers for Trent, and he's a really progressive passer."
This multifaceted skill set allows Liverpool to transition seamlessly from defence to attack, with Szoboszlai often at the heart of their most incisive moves.
"Milners replacement"

Means a dozen things

Most are mistaken

But I'll tell you one thing he did

Covered the most distance per minute whenever he was on the pitch

So you are all wrong about his replacement

It's this beautiful bastard, and boy can he play too pic.twitter.com/NhXoEnYdc7

— SimonBrundish (@SimonBrundish) August 20, 2023
Szoboszlai's Role – WM Formation
The tactical implications of Szoboszlai's presence in the team are significant. Liverpool's recent shift to the WM formation has been bolstered by his dynamism in the middle of the park.
"Zobo was all over the place," Kennett observed, highlighting the midfielder's omnipresence during matches.
But it's not just about what Szoboszlai brings in terms of energy and drive. His technical qualities have also been a revelation. "He attacked by just approaching and burning past a running player," Brundish noted, emphasising Szoboszlai's ability to take on and beat opponents with ease.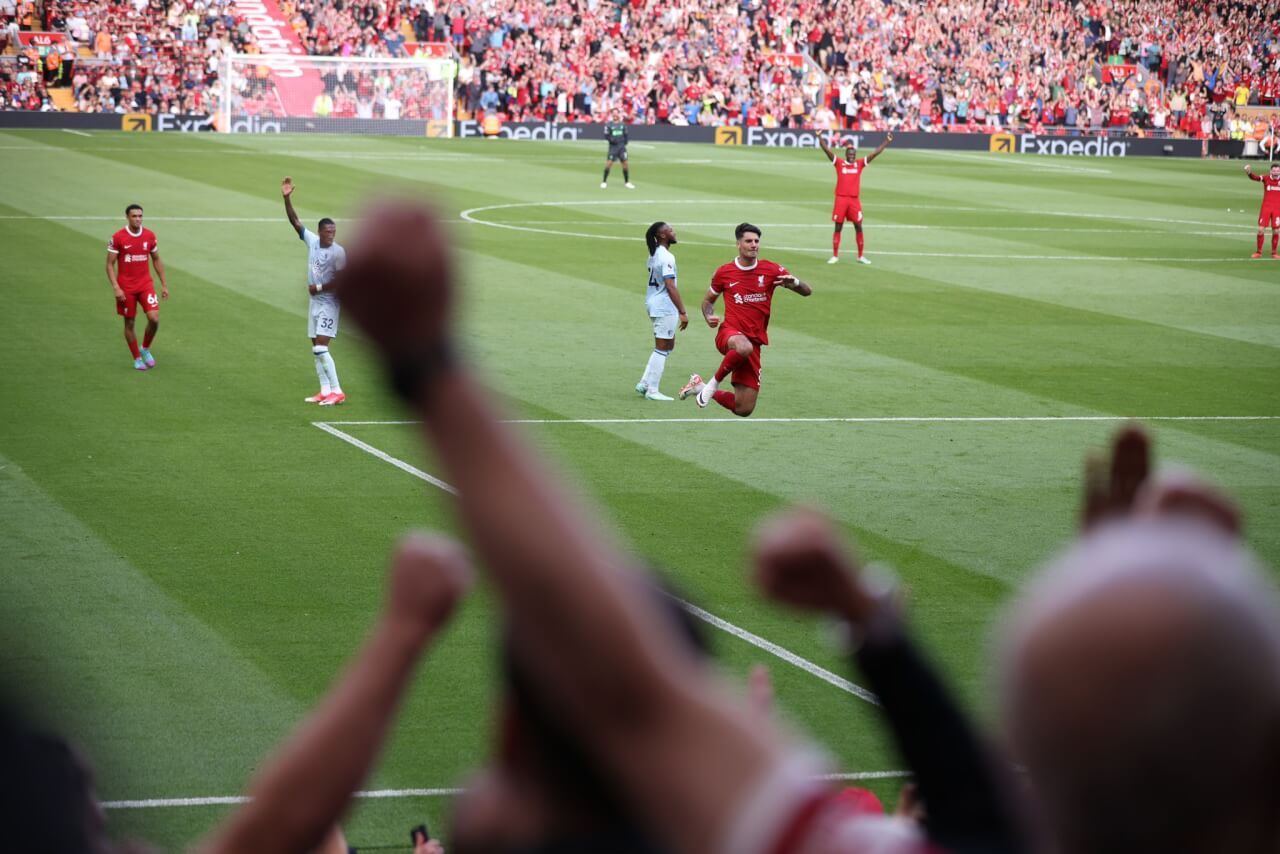 Kennett further elaborated on Szoboszlai's influence, drawing a comparison with another Liverpool stalwart.
"Can you recall a bigger season to season upgrade in any position than this? Dejan Lovren to Virgil Van Dijk. That's what we're talking about when we're buying the best version of that player in the world."
The implication here is clear: the upgrade of Szoboszlai replacing Jordan Henderson is seen as monumental as when Liverpool transitioned from Dejan Lovren to Virgil Van Dijk!
One of the standout moments from the podcast discussion was the mention of Szoboszlai's potential as a penalty taker. "I think optimally, maybe you let Szoboszlai take penalties," Kennett mused. Given the midfielder's composure and technical ability, it's a suggestion that certainly holds weight.
Dominik Szoboszlai vs Bournemouthpic.twitter.com/BVdxKKfEau

— M (@Mxhbappe) August 19, 2023
In conclusion, Dominik Szoboszlai's arrival at Liverpool has added a new dimension to their midfield. His blend of speed, technical skill, and tactical awareness, backed by impressive statistics, makes him a vital cog in Jurgen Klopp's machine. As the season progresses, it will be fascinating to see how Szoboszlai continues to shape Liverpool's fortunes.