The Eleventh-Hour Conundrum: Mohamed Salah's Future in the Balance
As the transfer window inches closer to its 11 pm deadline, Liverpool find themselves in a precarious situation. A staggering £150m offer for their Egyptian talisman, Mohamed Salah, has landed on their desk from the Saudi Pro League. The Merseyside club is now grappling with the question: should they let go of their star player?
The Search for Salah's Successor: Leroy Sane Enters the Frame
In the midst of this uncertainty, Liverpool have reportedly set their sights on Bayern Munich's Leroy Sane as a potential replacement. Prior to the Saudi bid for Salah, the Reds had been scouting for a top-tier forward. Now, it appears that Sane has emerged as the prime candidate to fill the void should Salah make his exit.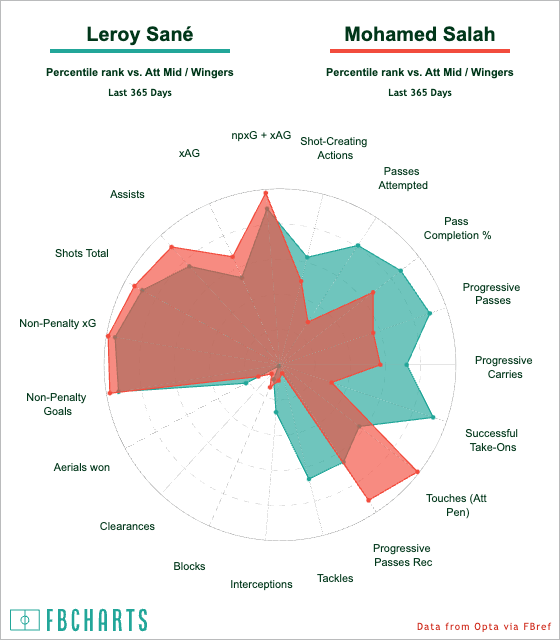 The Saudi Persistence: A Deal Still on the Table?
While Liverpool have rebuffed the initial £150m offer, the Saudi Pro League isn't backing down. CBS journalist Ben Jacobs has indicated that Al-Ittihad is still keen on acquiring Salah and is waiting to see if the player himself will push for the move. However, Salah remains committed to Liverpool, quashing rumours that he might be flying to Jeddah anytime soon.
Leroy Sane: A Worthy Heir to Salah?
Jurgen Klopp and the FSG board would be wise to prepare for all eventualities, and Sane could be the perfect contingency plan. The 27-year-old winger, once dubbed a "world-class talent" by scout Jacek Kulig, has been a standout performer in the Bundesliga. His statistics over the past year, from shots on goal to pass completion, place him in the top 15% among forwards in Europe's elite leagues.
When you stack up Sane's numbers against Salah's, the similarities are striking. Whether it's shots on target rate, goal-creating actions, or pass completion, Sane could very well be a fitting successor to Salah on the right wing.
The Financials: What Would Sane Cost Liverpool?
The price tag Bayern Munich would slap on Sane remains a mystery. However, current market valuations estimate his worth at around €49.3m (£42m). As the clock ticks down on Deadline Day, a move for Sane could be the answer to Klopp's most pressing concern, especially if Salah decides to join the likes of Jordan Henderson, Roberto Firmino, and Fabinho in seeking pastures new.