The Transfer Market Unveiled: Chelsea and Liverpool's Summer Splurge
The Unprecedented Spending Spree of Chelsea
Chelsea have rewritten the rulebook on transfer spend this summer, shelling out an eye-watering £434.5m. This figure not only eclipses their Premier League counterparts but also sets a new record for the highest amount spent in a single transfer window. Since Todd Boehly's takeover last year, the west London club's total expenditure has skyrocketed to a staggering £1.036bn.
The Financial Heavyweights: How Do Other Clubs Compare?
Manchester City are the closest competitors, albeit at a distance, with a £216.3m investment. Tottenham, Arsenal, and Manchester United follow suit, but it's Liverpool's £165.4m outlay that catches the eye. Not to be left behind, Newcastle United have also flexed their financial muscle, courtesy of their Saudi ownership, spending £130m to secure the seventh spot in the spending table.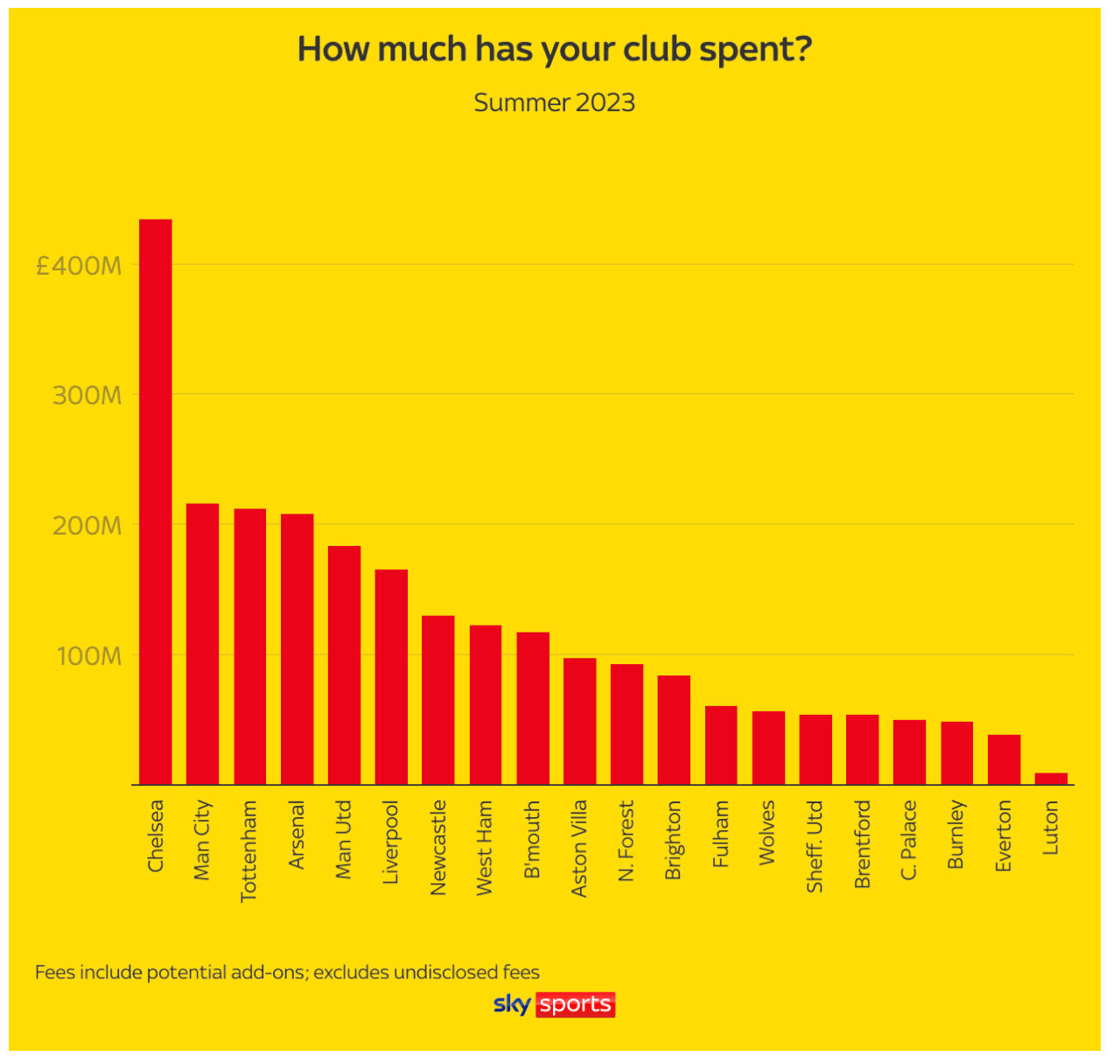 (Source: Sky Sports)
The Thrifty Ones: A Different Approach
On the flip side, Luton Town, a newly-promoted side, have been the most economical, investing a mere £9.5m. Everton, Burnley, and Crystal Palace, among others, have also maintained a more restrained approach to their transfer activities.
Record-Breaking Signings: The Players Who Cost a Fortune
Chelsea's acquisition of Moises Caicedo from Brighton for £115m has shattered the British transfer record. Arsenal's £105m purchase of Declan Rice and Manchester City's £77.6m deal for Josko Gvardiol are other standout transactions. Liverpool made headlines by signing Dominik Szoboszlai from RB Leipzig for £60m, adding to the list of high-profile moves.
The Saudi Influence: A New Contender in the Market
The Saudi Pro League has emerged as a formidable player in the transfer market, backed by the kingdom's Public Investment Fund. Liverpool, however, remained steadfast in retaining Mohamed Salah despite a substantial offer from Saudi Arabia.
The Final Countdown: Last-Minute Deals
As the European transfer window closed, Premier League clubs continued to be active, capitalising on lucrative broadcasting deals. Chelsea's last-minute signing of Cole Palmer for £40m took their total spending to around half a billion dollars.
The Long Game: Contract Strategies
Under its new American ownership, Chelsea has adopted an innovative approach to managing the "amortisation" costs of transfer fees, signing players mostly on long-term contracts.
Conclusion
The summer transfer window has been a spectacle of financial might, with Chelsea and Liverpool among the clubs making significant waves. As the dust settles, it remains to be seen how these investments will shape the Premier League landscape in the coming season.