VAR in Premier League Football
As the below video will tell you, it is the time of VAR, and it has been for quite some time. The Premier League introduced the Video Assistant Referee process ahead of the 2019/20 season, ah, memories. This means that, as of now, there have been 1,559 matches played with varying degrees of input from the folks at Stockley Park.
Controversies Surrounding VAR
Faith in the process has hit new lows early in the 2023/24 season, mainly thanks to a decision which didn't happen last season. Mike Dean recently admitted he didn't send match referee Anthony Taylor to the monitor when he should have during Chelsea's 2-2 draw with Tottenham Hotspur. Naturally, his comments led supporters to wonder what else has or hasn't happened when it should or shouldn't have.
The dark comedy in this debacle reached a pinnacle last Sunday. Taylor was officiating Arsenal's match with Manchester United and awarded a penalty to the former. Dean, now in his position as the former whistler proffering opinions on Sky Sports, was asked if the ref should review the decision on the monitor or not. As if his verdict should carry any weight whatsoever after he failed to do so for the same referee when it was actually his job. It's farcical.

Transparency and Communication
If we can give the Professional Game Match Officials Limited any credit, they have at least started to put their chief refereeing officer, Howard Webb, forward to explain the thinking behind certain decisions, and make public apologies for some of the howlers.
He did this earlier this week on a show with Michael Owen. One decision regarding Liverpool that was discussed was the red card issued to Virgil van Dijk in the Reds' recent 2-1 win at Newcastle, yet – while acknowledging there will always be supporters who disagree with every judgment – that wasn't a particularly controversial call.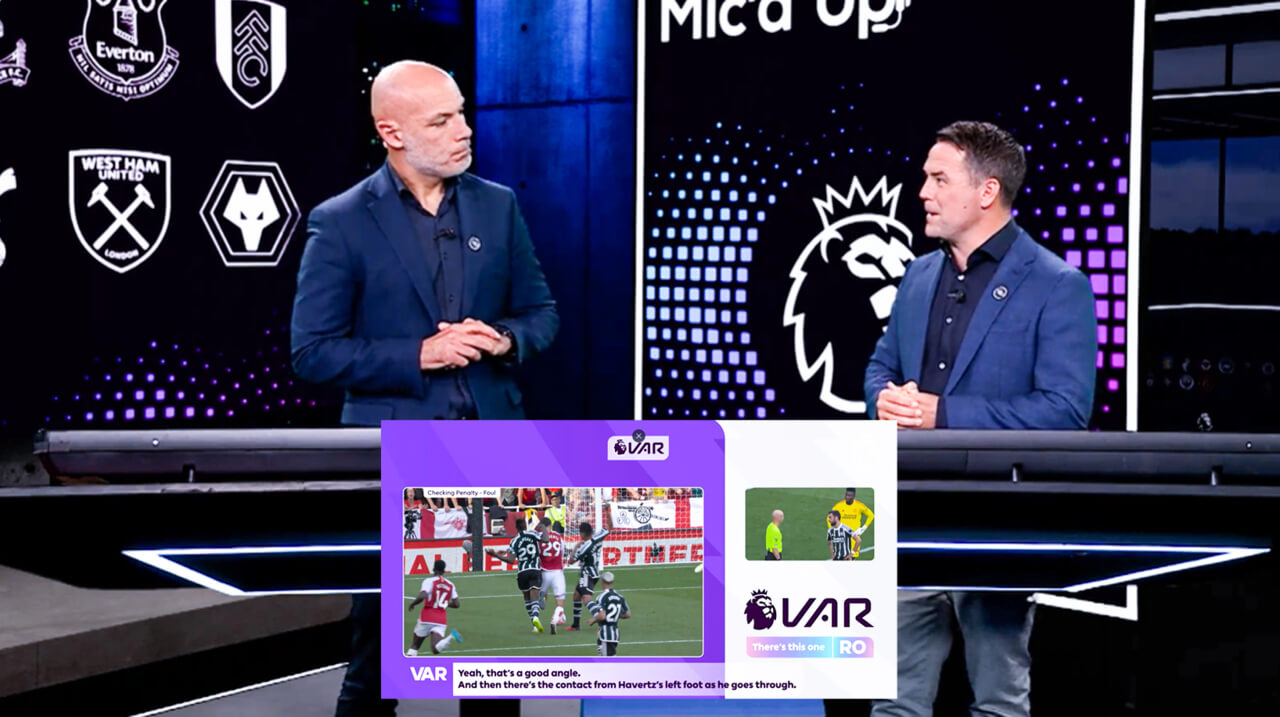 Challenging Calls
Far more interesting would've been the thought process behind the red card shown to Alexis Mac Allister the previous week, which was later rescinded. The problem they've created is that it's all too easy to be cynical about the whole enterprise. Why wouldn't they want to release the audio when the VAR was Paul Tierney – the one referee with whom Jürgen Klopp has said he's had issues – and he was assisted by Constantine Hatzidakis, who elbowed Andy Robertson in the throat and faced no punishment for his actions? If Dean didn't intervene when he should have, it's easy to imagine this pair not doing so either.
Fandom and Rivalries
Of course, this is an isolated example, but it's always amusing to strike up a conversation with a rival fan about this sort of thing, as the term 'LiVARpool' will rear its ugly, nonsensical head before too long.
2019/20 recently got mentioned in a football trivia WhatsApp group I frequent, and someone chirped that it was the season in which "Liverpool had many VAR calls go in their favour."
Statistics and the Bigger Picture
Do you know how many overturns they were in credit that season? Two. At the point the title was won? One. Apparently, a net gain of a single decision caused the Reds to be 23 points clear with seven games to play, winning the league earlier than any team in history.
The comeback comment was that this figure includes objective offside decisions, not just subjective calls on matters of fouls, handballs, and the like. To which, hilariously, the response is that the Liverpool side of 2019/20 were neutral for such calls when they secured number 19, a whopping plus one at the end of the season.
(If you learn nothing else from this example, don't challenge a statistics enthusiast on facts. You can't win, Darth.)
My WhatsApp adversary conceded defeat but signed off by arguing Liverpool have benefited from VAR more than any other team. Let's consider the evidence for the 13 teams who have been consistently in the top flight while the system has been in operation.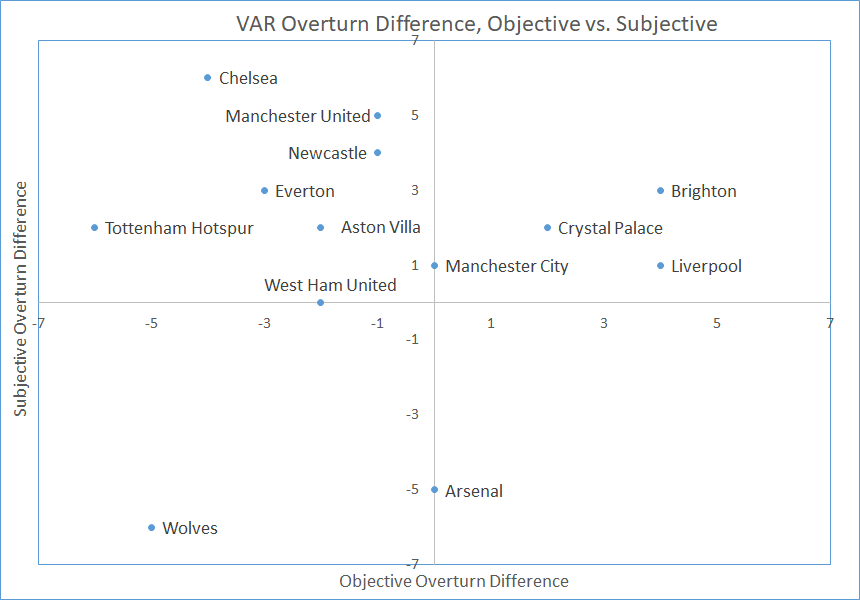 Breaking Down the Numbers
The above chart shows each team's objective VAR overturn difference along the 'x' axis, and their net figure for subjective amendments on the 'y' axis. We can see that Liverpool are joint-top with Brighton for the objective decision difference, though it's worth noting Fulham (0.100), Bournemouth (0.075), Watford (0.053), and Southampton (0.046) are all ahead of the Reds (0.026) on a per-game basis.
More interesting is that eight sides are ahead of Liverpool for subjective overturn difference, with three teams from the not-ever-present group seeing benefit more often too. The case of Tottenham is particularly fascinating; very unlucky with the objectivity of the offside lines, but doing okay once the referee is taking a second look at fouls and handballs.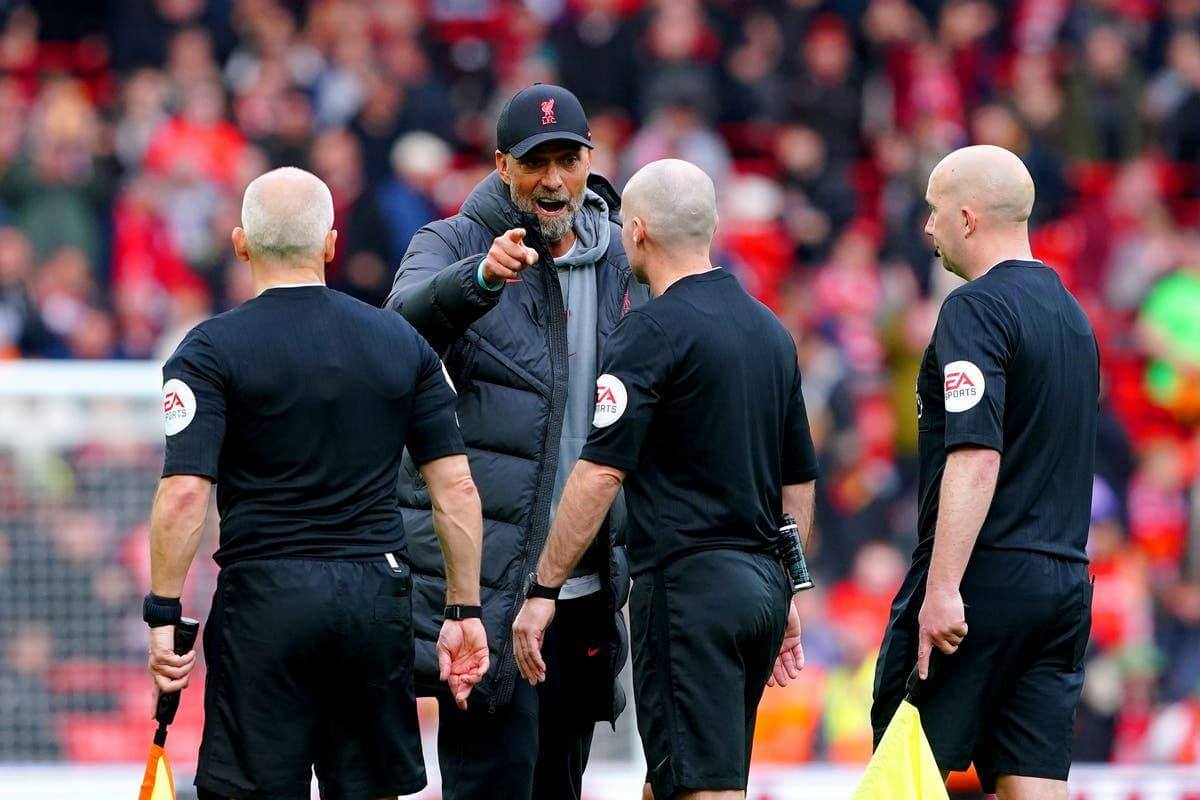 Unanswered Questions
The situation could always be worse; just ask Arsenal or especially Wolves and their supporters. And of course, there's only a record of overturns and monitor reviews which occurred, no one publicly has data on decisions unreferred by the Video Assistant Referee.
It leaves us to assess half a story, leaving multiple questions unanswered. Why does Tierney have a -4 record for subjective decisions in Liverpool games (one for, five against), an oddly weighted split when the Reds have been the second-best team in the division in this time? Does Taylor's +6 record as a referee in their games hint at an official who is often hesitant or reluctant to give Liverpool a positive decision until it's forced upon him?We'll never know. The state of refereeing in the Premier League is likely not the result of these tinfoil hat conspiracies. Or maybe it is. Either way, next time someone mentions 'LiVARpool', just send them this way.