Finally…finally it's done and closed. In every footballing country around the world the transfer window is fully slammed shut and the focus once again can be on the football. It was a rollercoaster of a ride for reds everywhere and whilst we didn't get the full rebuild we hoped for, there's plenty to be positive about with the start to the season. We raid the short-term memory bank to look back at five of the key moments from the summer. We'll errrr…steer away from anything that involves people named Moises or Romeo though eh.
🚨 Liverpool exploring move for Dominik Szoboszlai of RB Leipzig. #LFC met his camp this week; latest attacking mid to be considered. Unclear if it develops due to price but is desired profile. Unrelated to potential Carvalho loan @TheAthleticFC #RBLeipzig https://t.co/KDuUIpoxGT

— David Ornstein (@David_Ornstein) June 28, 2023

Szobozlai: Ornstein Accelerates The Drama
It feels like a million years ago but what a week that was at the start of July! On a random Wednesday, David Ornstein broke the news that Liverpool were looking at the potential of a deal for the Hungarian midfielder. With his agent in the UK, Newcastle United were said to be favourites though due to the fact, they could offer Champions League football, so we all hoped and prayed somewhat. Fast forward three days and Dom had made it clear he only wanted us, whilst Big Jorg had triggered the release clause with the deadline fast approaching. Liverpool had their second signing of the summer and all looked more than rosy.
I understand it's likely that Salah will leave Liverpool this week

— Jan Aage Fjørtoft 🏳️‍🌈 🇳🇴 💛💙 (@JanAageFjortoft) August 30, 2023
#SalahStays
This rumbled on even after the window here shut, but we can all now breathe that collective sigh of relief. Al-Ittihad and their Saudi backers were telling everyone who would listen in late July / early August that they were prepared to offer eye-watering money to the player and Liverpool to prise away the Egyptian king. Ornstein confirmed as much in a similar manner to his Fabinho story, whilst names such as Fjortoft and ape arms Keys gambled whatever reputation they had on what they'd been told from the Middle East. Jurgen Klopp, FSG, and Liverpool remained resolute though and Salah stayed. Let's enjoy him for however long he remains.
🗞️ Gravenberch: The One Klopp and Lijnders Prepared To Wait For?

✍️ @DaveD0106

🔴 "patience is bitter, but it's fruit is sweet".

🔴 Jonathan Northcroft broke the story LFC had held talks with his entourage.https://t.co/pv6Mrw0UNY

— AnfieldIndex (@AnfieldIndex) June 22, 2023
Gravenberch: Early to Late Drama
Ever since early April when it was revealed the club had visited the player's family and reps, this was the one that seemed to go on forever. It would be a lie to say it was a popular link with many reds but the suggestions from the patch journos were clear all summer. If Liverpool got any sniff of encouragement from Bayern Munich they'd strike. Thomas Tuchel was making his thoughts public and with the window counting down, the Bayern board gave the green light to the move which was completed on deadline day. It felt like it went on for years all things considered and Jurgen Klopp's admiration for the player since his Ajax days is well-documented. He'll be delighted with this one. Hopefully, we are too.
[Fabrizio Romano] – EXCLUSIVE: Liverpool submit formal bid to sign Japanese midfielder Wataru Endō on permanent deal 🚨🔴🇯🇵 #LFC Negotiations ongoing with Stuttgard — player wants the move as it's biggest opportunity of his career. Surprisining move by… https://t.co/rlYf6VFL24 pic.twitter.com/x3z1bvWfDm

— /r/VfBStuttgart (@reddit_VfB) August 16, 2023
Endo Who? To I'll Take That
For all we cursed him around other moves that didn't materialise, it was Fabrizio Romano who broke this one. When it didn't come out on a late Wednesday night that Liverpool were set to sign Wataru Endo, the natural reaction for the majority of Reds was who? We naturally turned to Google and social media officianados such as Sam McGuire. After initial dismay, on the back of talk-around gum shields, aerial prowess, and an all-action style, under £20 million for a 30-year-old didn't seem like everyone had lost their minds anymore. With the potential to become a cult hero and a video of Klopp saying how much we 'really really need' him, the Kop was fully behind him.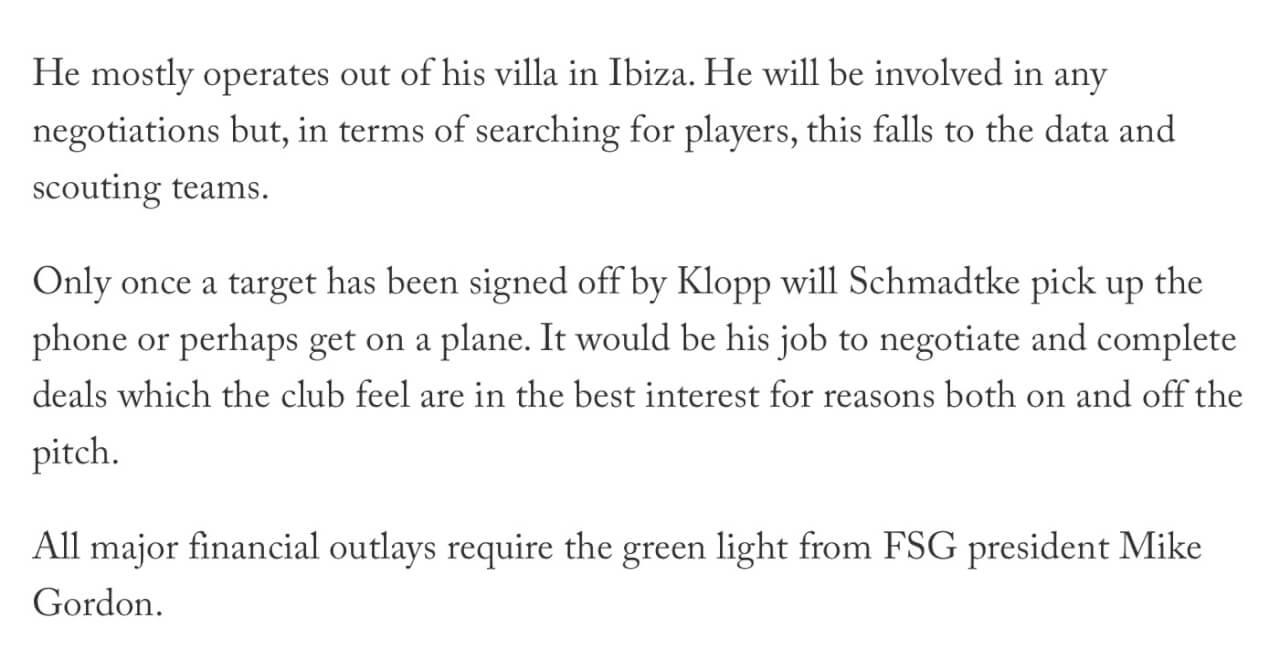 The Schmadtke Stories
The man, the myth, the joker…never mind the legend. There were as many eye-catching Jorg Schmadtke stories this summer as there were transfer rumours, as an air of mysticism formed around the veteran transfer consultant. From a penchant for enjoying paying only full release clauses to questions about what his role actually was, they just kept coming.
None stood out more though than the Ibiza story as Reds became exasperated with the lack of actual signings that followed Szobozlai through the door at the start of July. No one is sure what the future will fully bring after an incomplete rebuild. However long Schmadtke's tenure lasts at the club, it certainly won't be forgotten.