Liverpool's Interest in Bowen
Liverpool are reportedly interested in West Ham United's Jarrod Bowen, according to recent reports from The Athletic. The article claims that the Reds 'admire' the winger and have been watching him for 'a number of seasons'.
The reports come after Saudi Arabian club, Al-Ittihad, pushed heavily to sign Liverpool winger Mohamed Salah at the end of the summer transfer window. Although the Reds turned down a bid of £175million for the Egyptian King, the Saudi club are expected to push again for Salah in the future.
Why Jarrod Bowen?
Since his move to the Hammers from Hull City back in January 2020, Bowen has become one of the standout wingers in the Premier League. At the time, the fee of £21million looked steep after one good season in the EFL Championship but the 26-year-old has proved a lot of doubters wrong over the past couple of seasons.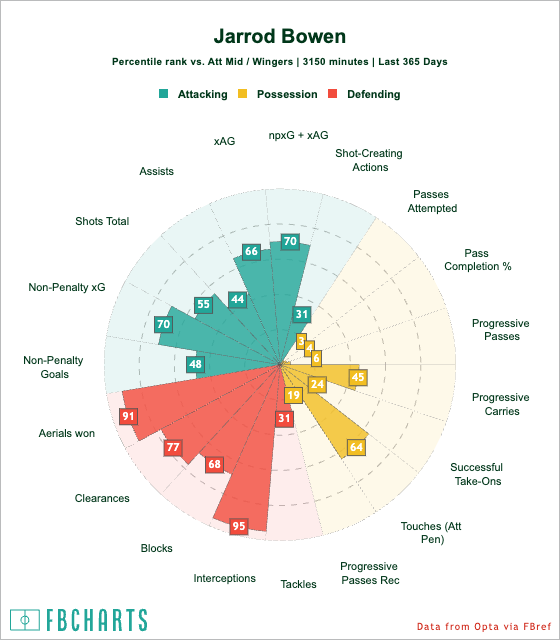 Bowen has made 162 appearances for West Ham United, scoring 43 goals and assisting a further 32 in the process. The winger has played a hugely important part in getting the Hammers back into European football and leading them to their first European trophy, where he scored the winner in the Conference League final.
In four Premier League appearances in the 23/24 season, Bowen has scored three goals, assisted one and has been named on the shortlist for August Player of the Month.
Tactical Fit for Liverpool
Tactically, Bowen would be an ideal fit into Jurgen Klopp's style of play as a left-footed right winger. He has a lot of the attributes that are highly valued by Klopp such as pace, work effort and a clear eye for goal. Bowen is also hugely versatile, capable of playing anywhere in the creative midfield positions as well as across the entire front line.
Statistically, Bowen's numbers aren't actually the most promising other than his goalscoring numbers being quite promising. Below, you can see Jarrod Bowen's possession based stats compared to Liverpool's Luis Diaz who currently plays on the left-hand side of Klopp's attack:
Jarrod Bowen vs. Luis Diaz
Jarrod Bowen:
Passes completed per 90- 15.79
Pass completion %- 63.0%
Key passes per 90- 1.41
Passes into final third- 1.09
Progressive passes per 90- 2.09
Luis Diaz:
Passes completed per 90- 32.52
Pass completion %- 81.3%
Key passes per 90- 1.29
Passes into final third- 1.39
Progressive passes per 90- 3.88
However, a major difference between the two players is their direct goal involvement numbers from the past couple of seasons. Over the past two seasons, Bowen has scored 21 Premier League goals and assisted 19 whereas Luis Diaz has scored just 10 Premier League goals and assisted 5.
Summary
Overall, I think Liverpool could potentially have better options available if Salah was to leave for a huge amount of money. It's important to note that Bowen will be 27-years-old by next summer, meaning the Reds would only get a couple more prime years from the winger. The transfer fee expected to be demanded by West Ham United would be roughly £60-70million, which I struggle to see as a worthy price tag. A lot of different circumstances stand in the way of a potential move for Bowen, but the Reds certainly seem interested.