An Oversight in the Yashin Trophy Shortlist
The Quiet Guardian of Anfield
Last season, Liverpool's Premier League journey witnessed its fair share of turbulence. Amidst this, Alisson, the Brazilian shot-stopper, found himself in the shadows, not for the reasons that once made him the talk of the town. However, it's crucial to remember that while there were occasional missteps, they were sparse.
Take, for instance, the unfortunate pass to Joe Gomez against Real Madrid that ricocheted off Vinicius Junior, or the miscalculated ball to the right flank against Wolverhampton Wanderers that landed perfectly for Goncalo Guedes. Yet, focusing solely on these moments would be doing a disservice to the numerous times Alisson showcased his brilliance.
The Baffling Yashin Trophy Omission
It's puzzling how Alisson's name was absent from the Yashin Trophy shortlist this year, especially when it featured the likes of Ederson from Manchester City, Arsenal's Aaron Ramsdale, and Emiliano Martinez of Aston Villa. The award, set to be presented during the Ballon d'Or ceremony, honours the legacy of the iconic Lev Yashin and celebrates exceptional goalkeeping.

Having clinched the trophy in 2019 and finishing as a close second in 2022, Alisson's consistency in the 2022-23 season was arguably on par, if not superior, to his previous campaigns.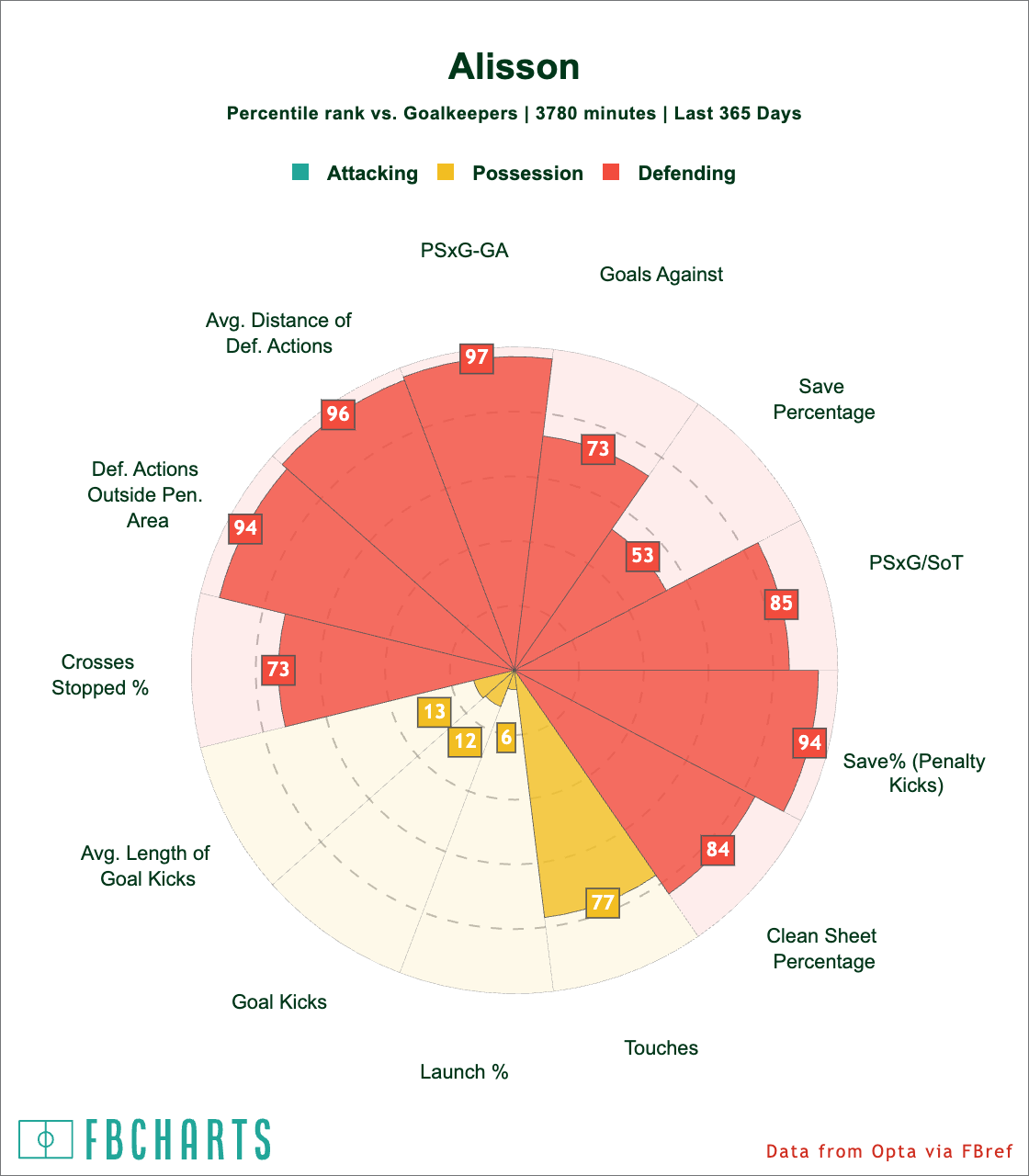 The Numbers Speak for Themselves
While Ramsdale and Martinez had their moments of glory, they also had instances they'd rather forget. So, the question arises: Why was Alisson overlooked?
Throughout the season, Alisson's prowess wasn't just evident in his breathtaking saves but was also reflected in the statistics. A comparison of goalkeepers' performances against their expected goals on target (xGOT) conceded reveals Alisson's superiority. He conceded a staggering 10.5 goals less than anticipated based on the quality of shots he faced.
Moreover, his goals prevented rate was unparalleled, indicating that opponents needed an average of 1.3 xGOT to breach his defence. Such stats, when juxtaposed with his contemporaries, make a compelling case for his inclusion in the Yashin Trophy shortlist.
A Legacy Cemented at Liverpool
At 30, Alisson's cabinet boasts of domestic titles, the Champions League, European Super Cup, and Club World Cup. His recent performances suggest he's only getting better. While Liverpool did let in more goals than usual, pinning the blame on Alisson would be far from accurate.
Memorable moments, like the full-stretch saves against Manchester City and Leicester City or the impeccable reflexes showcased against Newcastle United, are testaments to his calibre.
Adrian, his colleague at Liverpool, lauded him, stating, "Ali is by far the most complete." Jurgen Klopp, Liverpool's gaffer, echoed similar sentiments, highlighting Alisson's invaluable contributions.
Looking Ahead
Alisson's heroics in the 2022-23 season were instrumental in Liverpool's campaign. If he continues this trajectory, it wouldn't be a surprise to see him on the Yashin Trophy shortlist come 2024.