The Art of the Soundbite
Bill Shankly was the master of the soundbite, the one-liner, the quip. Imagine how he'd be on Twitter in 2023, with Everton struggling every year. Even their own fans want to draw the curtains when they're playing these days.
Jürgen Klopp also has a way with words, which is all the more impressive when you remember he isn't speaking in his native tongue. The memorable lines have flowed from his lips since the day he was unveiled at Liverpool, with his self-deprecating soubriquet of 'the normal one' the most memorable and re-used quote from his first press conference.
There was another line from that exciting October day in 2015 which carries far more weight and importance though. Klopp is no fool, he took the gig at Anfield fully aware of the fact he would be taking on clubs with much greater wealth behind them.

He'd been there before, of course, toppling Bayern Munich with Borussia Dortmund (and the fact no team has done that for 11 years shows how hard a task that is). Klopp declared on day one that if Liverpool were to overcome the likes of Manchester City, they would have to take on their toughest opponents, "drag them down to our level and kill them".
Klopp's Philosophy from the Start
Woah. Easy, tiger, it's just a game. As is so often the case, Klopp was proven correct. His side out ran, out fought and out thought the best teams Europe had to offer and became champions of everywhere as a result.
This much admired spirit was in sadly shorter supply in 2022/23 though. Perhaps it's fairer to suggest the mind was willing but the flesh was weak, which was perfectly understandable after enduring a 63-match quadruple bid in 2021/22. Come to think of it, falling agonisingly short in that quest, combined with what happened outside the Champions League final in Paris, likely made the mind less willing too.
Anyway, let's consider some data. Two seasons ago, the Reds made 443 high turnovers, which Opta define as beginning a new open play possession sequence within 40 metres of the opposition goal; a high press, in other words. Liverpool's tally was at least 65 more than any other side in the Premier League that year, while their PPDA – opposition passes allowed per defensive action in the front two thirds of the pitch – was 9.9 and also the best in the land.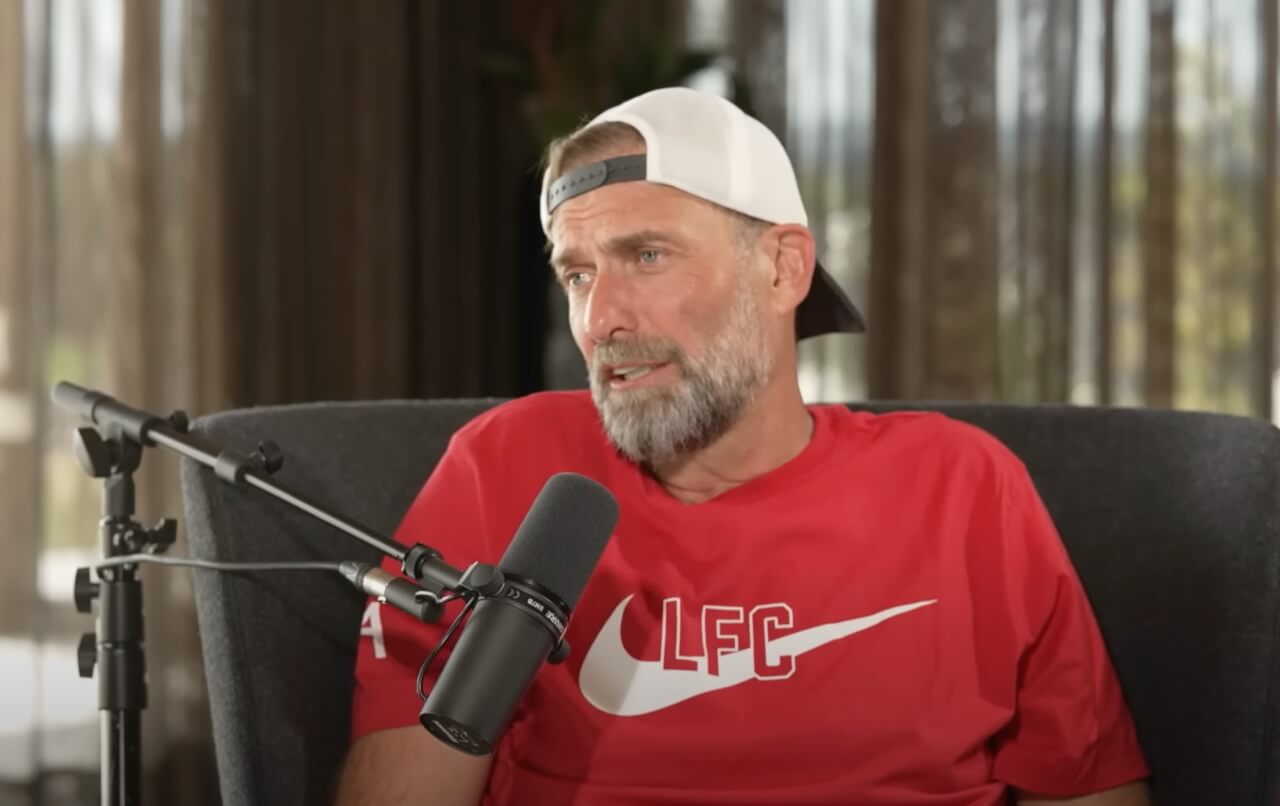 The Real Test of Pressing Intensity
While that figure only then moved to 10.4, a pressing intensity drop of around five per cent, the high turnovers fell by 17 per cent to 368 in 2022/23. A recently shared piece of trivia from Stats Zone highlighted how Liverpool's pressing was not on point last season and how it has improved this term:
"Only Everton (152) have attempted more presses in the Premier League than Liverpool this season (151), defined as a co-ordinated action by two or more defending players applying pressure at the same time, to one or more pressed players. After four games last season, the Reds only conducted 69, with only three sides performing fewer."
As with all statistics, further context does affect the light in which the initial fact should be viewed. Liverpool averaged a whopping 69.5 per cent possession in their opening quartet of fixtures last season while the corresponding figure is 50.8 in 2023/24. Having less of the ball offers more opportunities to press, so it's little surprise the Reds have seen a significant upturn.
Equally, any improvement should not be taking for granted, not least when having played for approximately 94 minutes with 10 men and fielding a brand-new midfield. The eye test suggests Liverpool are pressing better and the numbers hint at that being the case, even if the data needs an asterisk for the time being.
Klopp will be hoping his new look side can ensure Liverpool resume the dragging down and killing of opposition sides which he asked of them from day one. There's one metric which suggests they might be, even if it comes with caveats and is not easy to measure.
Looking Ahead to the 2023/24 Season
If Team A gives Team B a really hard match, Team B should be drained, having to drag their weary bodies from the canvas in order to tackle their next opponent. Liverpool fan John M. Zurak recently raised a thought-provoking poser in relation to this: do teams struggle the week after they play the Reds?
It's an interesting idea, if impossible to test fairly. Fixture difficulty varies wildly in the Premier League and Team B might lose a game against Team C irrespective of which club it tackled the week before. The data from 2022/23 implies that the Reds were not killing their opponents though.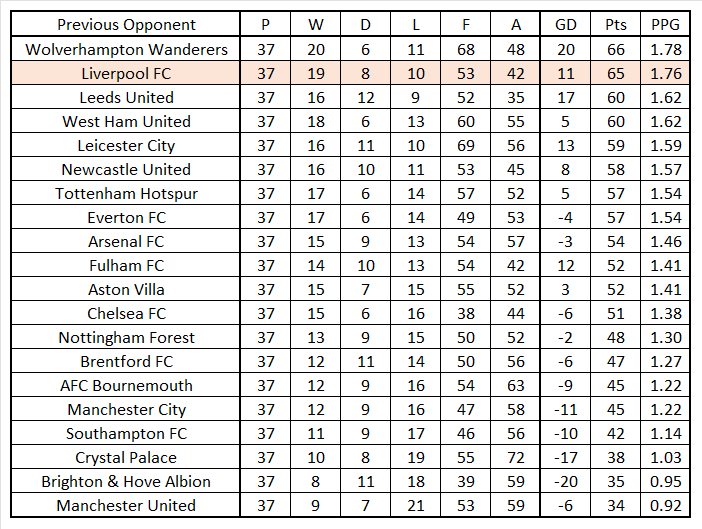 Teams collectively amassed 65 points in their matches directly following a league meeting with Liverpool last season, with only previous opponents of Wolves faring better. The fact bottom placed side Southampton were at the opposite end of the table hints at the flaws in this system, as most teams will have dealt with them easily enough.
Yet Manchester City being at the bottom end of the standings both last season and this adds a little weight to the concept. Here are the early standings for 2023/24.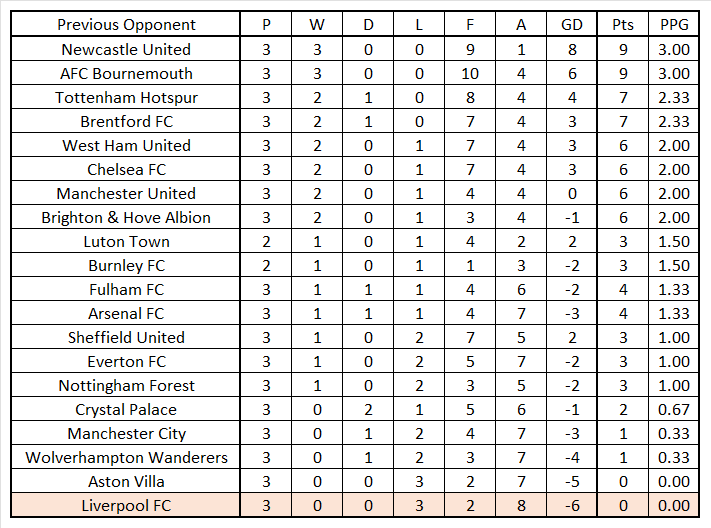 It would appear Liverpool dragged Chelsea, Bournemouth and Newcastle down, two of them with 10 men. The 'killings' can be psychological as much as physical too, with Darwin Núñez' decisive brace at St. James' Park likely taking a toll on the Magpies' mindset.
The Reds saw off Aston Villa last time out, so we shall need to see how they fare when hosting Crystal Palace on Saturday afternoon. With Liverpool also in the west Midlands, Klopp will also be putting Wolves' apparent improvement in this area to the test. Drag 'em down, Reds.