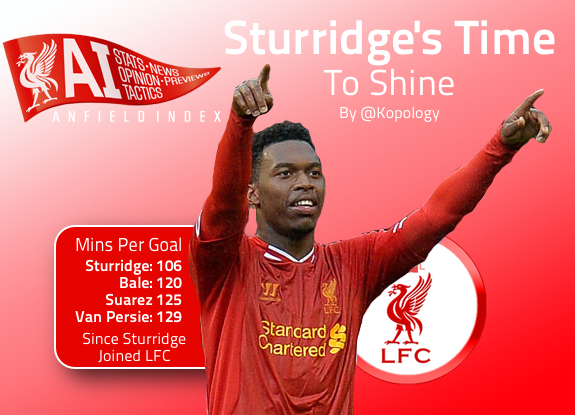 Sturridge's Time to shine | Stats Compared to Rivals
Having scored the winner at Anfield against Stoke on the opening day of the season while still woefully short on match fitness, Daniel Sturridge showed humility in self-deprecation: "I want to credit the goalkeeper as well for such a great save; that's what won us the game, it wasn't my goal." Simon Mignolet had fumbled at a couple of crosses in a less than convincing start to his Anfield career before his late penalty save ensured Sturridge's strike would be the winning goal. A week later at Villa Park and it was once again Sturridge scoring the only goal and Liverpool's Belgian keeper ensuring it would be the winner with a brace of impressive saves. This time, Sturridge was asked by a MotD reporter if he felt any pressure while Suarez is suspended, "I don't play with any pressure anymore," he replied. "I used to, but I don't anymore. I just play to enjoy it."
Rodgers certainly hadn't sounded like a manager eager to relieve the pressure on Sturridge when he signed him, instead challenging him to make his mark and warning him that, "If he wants to stay at the top level, this is probably his last chance."

So how is it that a young striker leading the line for a club playing under the weight of massive expectation can feel less pressure than he did at Chelsea, especially after his manager has seemingly piled it on him? At Chelsea, Sturridge cast a peripheral figure on the fringes of the Chelsea team due to the presence of Didier Drogba, and later Fernando Torres. It meant his opportunities were sparse and rarely in his favourite position, and when they did come, they probably felt like trials for the first-team, "I've not played as a centre-forward as much as I would have liked to in the past but this is how I have been as a kid – and now I'm being given an opportunity to do it in a first-team environment."  In being thrust into the limelight, Sturridge has been relieved of the pressure to prove it is where he belongs.
It's an opportunity he has snatched in scintillating style. Since joining Liverpool from Chelsea for the increasingly meagre looking sum of £13m, the 23-year-old has scored a goal every 106 minutes he has played. In the same time period, Robin Van Persie has scored every 129 minutes, Luis Suarez has hit the net once every 125 and Gareth Bale scored a goal every 120 minutes he played, leaving Christian Benteke as the only Premier League player to outscore Sturridge with a goal every 104 minutes.
Where others doubted Sturridge's attitude, injury record and goal celebrations, Rodgers saw a talent in need of exposure and a young man who wasn't enjoying his football. Now that Sturridge knows he is a rated, valued and central part of the team, he is showing why he was so frustrated at Chelsea playing second fiddle to an ineffective Fernando Torres.
In just eight months Sturridge has made himself so vital to Liverpool that the club arranged a behind-closed-doors pre-season game for him to improve his fitness after being injured for England at the end of last season. Despite being only 80% fit, he played the full 90 minutes against Stoke, and then another 90 against Villa. Of course, the continued exile of Luis Suarez explains some of the demand on Sturridge, but even he never scored at the rate Sturridge has in his absence. With Suarez and Sturridge on the books, Liverpool have two of the most dangerous strikers in the Premier League, and they are both different and similar enough to play together in the same team.
Daniel Sturridge Statistical Comparison
As the stats above make clear, Daniel Sturridge was simply one of the best strikers in the Premier League last season. What's more, in Suarez and Sturridge, Liverpool had arguably the best strike combination in the League, and certainly the most creative.
Only Javier Hernandez could beat Sturridge's impressive Minutes per Goal (113.91) and Minutes per Goal Involvement stats for last season, and only Sergio Aguero (33.46) and his teammate Suarez (31.10) successfully dribbled past an opponent more often, with Sturridge (45.5) doing so just shy of once every half of football. For a forward, Sturridge's Open Play Passing Accuracy last season was exceptional, with 85% of his passes finding their intended target helping him to create a clear cut chance (CCC) once every 218.4 minutes. Where Sturridge doesn't fare quite so well against the Premier League's other elite strikers is in his Shooting Accuracy (53%) and CCC Conversion (41%), but even here he is only just off the average, and his shooting accuracy has already improved this season despite his lack of match fitness.
Daniel Sturridge Attacking Stats 2013/2014
The picture is one of a cultured striker with an increasingly well-developed all-round game. Sturridge can score tap-ins or make his own goals from sweetly struck long-range efforts as he did against Stoke. He can tiptoe his way through defences as we saw at Villa Park, or play teammates in with reliable passing accuracy, as he did for Jordan Henderson to score against Newcastle.
And yet there is something idiosyncratic about the way Sturridge plays that makes it hard to get a fix on what type of player he is. He's neither a powerhouse target man of the Drogba and Lukaku variety or a whirlwind of energy and determination like a Suarez or a Tevez and he's much more than just a quick striker with good finishing.
For a while now, Sturridge has reminded me of Faustino Asprilla, who was a brilliant player similarly hard to pigeonhole. Then, in another recent interview with the club's website, Sturridge admitted that the first team he supported as a boy was Newcastle because they had the Colombian striker Faustino Asprilla, of whom he was a big fan.
As well as the gangly legs in socks worn low, Sturridge has the same deceptive pace and relaxed, almost lazy looking running posture as Asprilla, although his shirts fit a little better. As Dave Hendrick of The Liverpool Word commented on Twitter its "all in the way he can control the ball with a roll of the studs," but perhaps the unusual technique and backward-leaning running style the two share also gives the impression of laid-back arrogance.
Sturridge is certainly showing no sign of such negative characteristics off the pitch, saying after the victory at Villa "We try to win as a team and if we lose, we lose as a team – that's what it's all about. We defend as a team. If I have to be in the full-back position, so be it. It's all about winning games, and we're all delighted."
With a World Cup looming and Liverpool starting the league season well, Sturridge's is primed for a breakthrough season. He has a manager who not only believes in him, but who expects him to perform, and a hungry, creative team around him. Perhaps most important of all, Daniel Sturridge is enjoying playing his football and scoring goals, even if he does have to keep thanking Mignolet for ensuring they remain the winners.
Written by @Kopology. Originally published on eplindex.com