Liverpool Call Out Inconsistencies Amidst Van Dijk's FA Ban
The beautiful game of football, in all its unpredictability, often finds players at the centre of controversies, with referees and the FA acting as mediators. Recently, the spotlight has been cast on Liverpool's Virgil van Dijk and his altercation with officials.
A Flashpoint on the Field
In the wake of an incident during Liverpool's match against Newcastle, Virgil van Dijk found himself brandished with a red card. What initially resulted as a one-match ban, soon doubled due to the skipper's response to referee John Brooks' verdict.
The FA, keeping up with transparency, disclosed the rationale for their decision on Van Dijk's situation, and in the midst of this release, an intriguing letter from Liverpool was laid bare. The heart of it? A plea pointing towards the inconsistency of officiating decisions.

The letter emphasised:
"The Player is keen to express that his ire stemmed from a genuine conviction that his challenge on NUFC's Alexander Isak was clean, not a foul. Post the incident, during our dialogue with the Player, he reminded us of a near-identical tackle on Dominic Solanke during the previous week's AFC Bournemouth game, which wasn't perceived as a foul. This apparent inconsistency amplified his frustration. He firmly denies labelling the Referee as a 'f'ing joke', asserting he was critiquing the Referee's judgement and VAR's concurrence with 'absolute f'ing joke'."
In a snapshot from that fateful match on Sunday, August 27, 2023, an evidently displeased Virgil van Dijk, Liverpool's captain, strides past his gaffer, Jürgen Klopp, after the red card sanction during the game against Newcastle United at St James' Park. Nevertheless, the Reds came out on top, securing a 2-1 victory.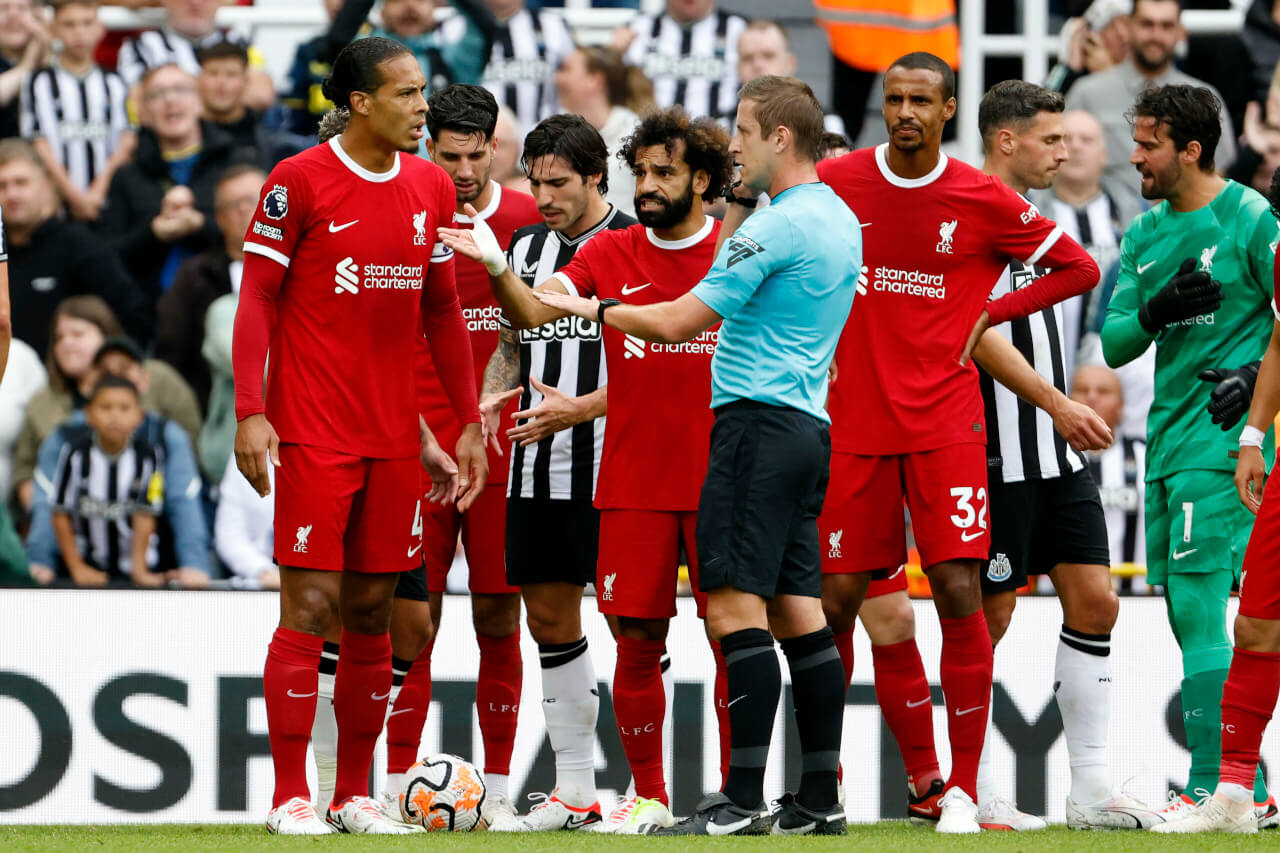 FA's Final Verdict
Whilst considering Van Dijk's choice of words, the adjudicating panel firmly believed they were directed towards the official personally. They collectively concluded that the Dutch defender's conduct was "avoidably improper", remarking that such behaviour doesn't align with the standard upheld by Premier League envoys.
Liverpool's contention? They rooted for a singular match suspension, citing the essence of his actions. However, the FA's initial standpoint was a pair of bans, as it's the default punitive measure for players who resort to "offensive, degrading, or abusive language and/or actions."
Initially, a hefty £150,000 fine loomed over Van Dijk. Yet, in light of his candid acknowledgment and subsequent remorse, both the duration of the ban and the fine saw a reduction.
As the Merseyside giants prep for their clash against Wolves this Saturday, Van Dijk will be serving his one-match suspension. The Liverpool faithful will undoubtedly be fervently hoping that their team wraps up the game with a complete contingent when the referee signals the game's culmination.