Diogo Stagnating?
Despite the popularity of our Portuguese forward, Diogo Jota, it's undeniable that he has continually stagnated as a rotation player since his surprise arrival at Anfield in the summer of 2020. After 116 appearances for the Reds and 42 goals, one would assume that these numbers would guarantee him a regular starting eleven spot. For clubs like Manchester United and Chelsea, this level of goal return is what they've been seeking for years. Yet, for the mighty Reds, the former Wolves player remains an unpredictable entity, one likely to score but struggling to offer intricacies within our diverse patterns of play. With this regeneration and the new incoming players, a more all-rounded play is needed, and this should be the mindset when exploring potential alternatives to the 26-year-old.
Ivan Toney is reportedly expected to leave Brentford in January.

Should Liverpool consider making a move for the forward? 👇https://t.co/rlt57ipmKR pic.twitter.com/GGKs5WjVts

— Liverpool FC News (@LivEchoLFC) September 14, 2023

Is Ivan Toney Ready for a Step Up?
For a few years now, I've been intrigued by Ivan Toney. His current lengthy suspension (for making football-related bets) doesn't concern me. In fact, it draws me closer to the 1-cap England international, given the urgency he might feel to make up for lost time. A dynamic and multi-talented striker, Toney doesn't turn 28 until next March and is about to enter the prime of his career. Having netted 68 goals in 124 appearances for Brentford, it's fair to say the 6ft former Peterborough man has been an invaluable asset for the London side. His hold-up play, link-up ability, intelligence, and sheer strength are perfect for Jürgen Klopp's attacking options. With the final year of his current contract approaching (expires in 2025), and given his FA-enforced absence, a move in January seems likely, allowing Thomas Frank's overachieving team to capitalise.
33 – Ivan Toney has been directly involved in 33 goals in 50 Premier League appearances for Brentford (25 goals, 8 assists), the most by an English player in their first 50 PL games for team since Daniel Sturridge for Liverpool from 2013-2015 (44). Return. pic.twitter.com/ByI4k2ODsl

— OptaJoe (@OptaJoe) January 14, 2023
Would Liverpool Be Able to Beat Off Competition from Spurs and Chelsea?
Both Reds' competitors are reportedly keen on signing the formidable striker in the new year. Chelsea and Spurs would immensely benefit from acquiring such a proven player, offering a focal point for each team. A significant factor in Liverpool's favour is that the powerful forward is a vocal supporter of the Anfield club, and it's believed he'd relish a move to Merseyside. At a price between £40-£50m, the amount could easily be offset by selling Diogo Jota, attracting interest from Premier League, European, and Saudi clubs.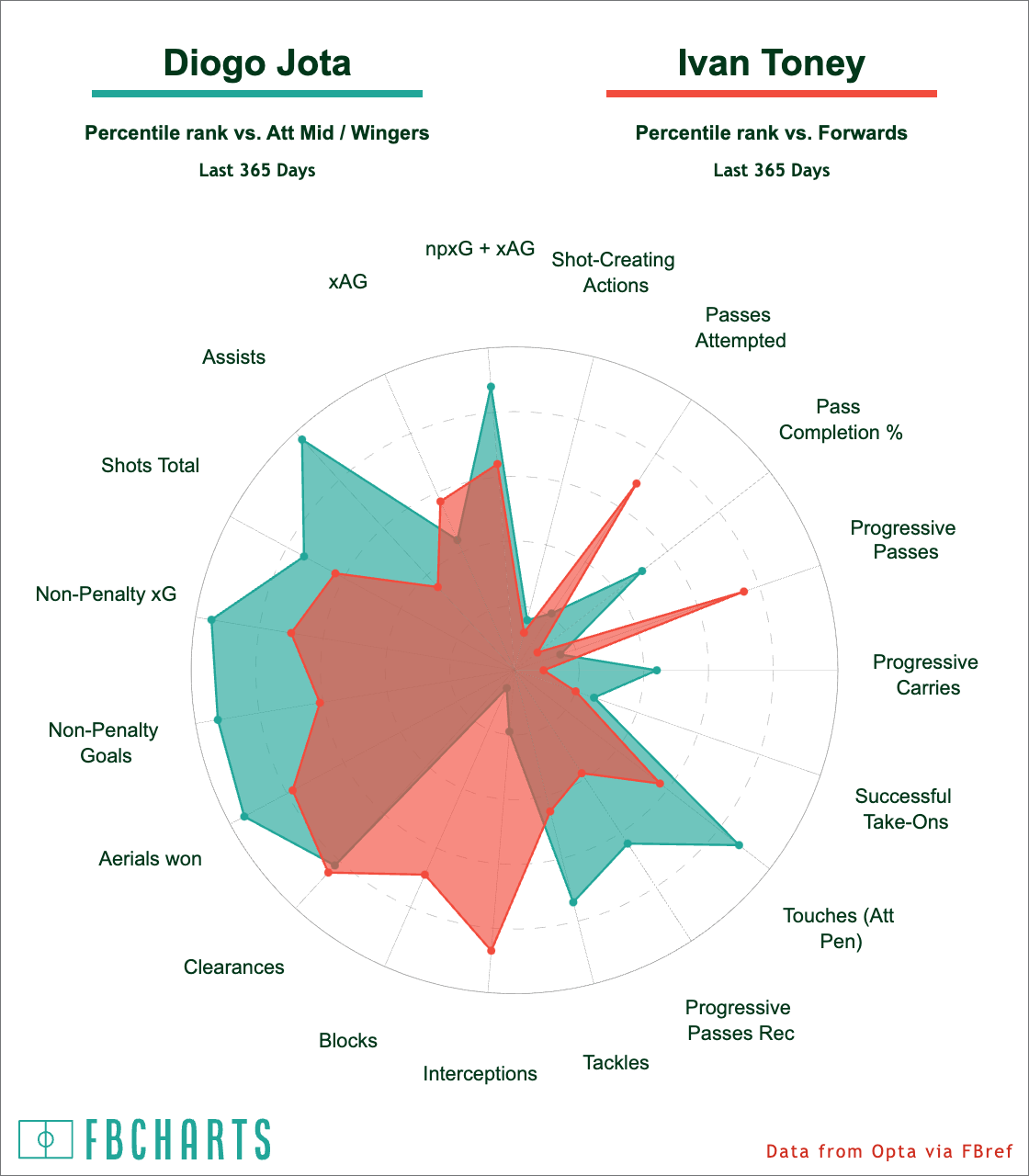 How Would Ivan Toney Fit into The LFC Squad?
This revitalised team promises to be even more formidable, especially with a robust and speedy centre-forward leading the line. Darwin Núñez appears to be the first-choice striker, with his new number nine jersey seemingly having found its rightful owner. Despite the contrasting styles of Cody Gakpo and Jota, there's ambiguity regarding each player's preferred position. As the new 3-4-3 system flourishes, the attacking midfielders seem more at ease working with a forward who can leverage physicality to involve others. While this type of signing might seem improbable, it'd be fascinating to see if the team's evolution requires another player with a skillset akin to our robust Uruguayan.
Opportunity allowed Liverpool to bring in the likes of Dominik Szoboszlai and Alexis Mac Allister. I hope the decision-makers keep a close watch on Toney's availability, as he could be an ideal winter addition.