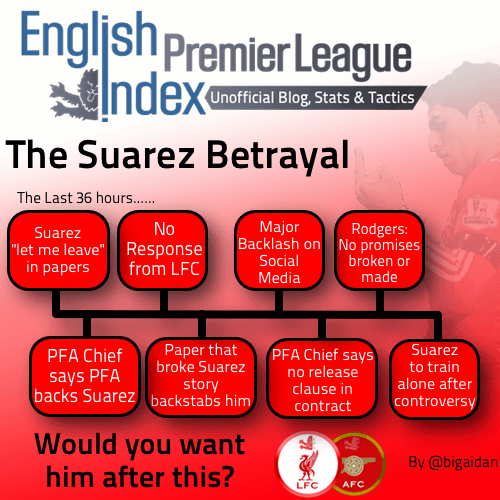 The Suarez betrayal – Full Time-Line of last 36 hours plus fan views
The speculation has been running on and on all summer. Every week there has been more news of legal challenges concerning contractual obligations, and the assertions that their player was going nowhere. But on Tuesday night in two interviews with The Guardian and the Daily Telegraph, Luis Suarez spoke of his desire to leave Liverpool for a club in the Champions League. Suarez said
[quote]"I want to move to play in the Champions League and there is a club offering me that opportunity… I have told the manager I want to leave the club,"[/quote]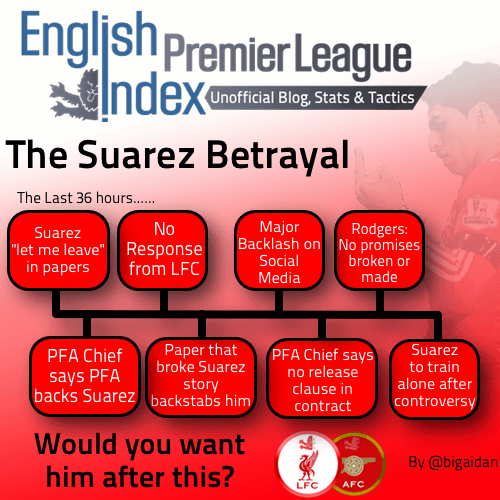 Without referring to the club in question by name, it seems obvious that the striker is referring to Arsenal who have already been unsuccessful with two bids earlier in the summer, most notably the £40,000,001 offer.
This admission has provoked anger from a huge section of the Liverpool support. After all, this is a player who has led the club into extreme controversy with his racial abuse of Patrice Evra, his refusal to then shake the Manchester United player's hand in their next game against each other, and then his biting of Chelsea defender Branislav Ivanovic on the arm. The club and the supporters stood by Suarez through these affairs and took high levels of criticism over the amount of loyalty they showed to their star player.
His team mates famously stood by him publicly as well, when they adorned t-shirts with his image before the game against Wigan following the investigation into the allegations made by Evra. Kenny Dalglish – a Liverpool legend – wore the t-shirt himself and took much criticism from the media for being so vocal in his support for the player. It was this loyalty that ultimately led to the "King of Anfield" losing his job as manager at the end of the season.
Suarez believes he repaid that loyalty when he turned down the chance to move to Juventus last summer and instead signed a new contract at Anfield. "That was the moment to show my loyalty to Liverpool and I did. They had given me my chance in England and stood up for me through my ban. I know I have made mistakes in my time here but I have apologised many times over," he said.
The controversy surrounding Suarez now is that he has insisted through his agent, that there is a clause in his contract which allows him to leave the club if an offer in excess of £40m comes in. Liverpool have adamantly denied that and repeatedly said that it only means they have to inform him officially of any offer.
In this case, Liverpool's strong stance on the matter combined with Suarez' reluctance to take the matter to Premier League arbitration appears to show that Liverpool have the upper hand. While Suarez has said in the interview that the PFA are backing him on the matter, Gordon Taylor has said today that the clause is ambiguous and is likely to leave Suarez in "limbo" more than anything else.
Going back to the views of the supporters now, Suarez claimed, "I don't think the supporters are angry, I think they understand a player when he has the ambition to triumph at the highest level." Well, looking at just some of the reactions on Twitter this morning, Suarez couldn't be more wrong.
@Liddellpool tweeted:
Luis Suarez you walk alone now

— Billy Liddell (@Liddellpool) August 7, 2013
Bill Shankly's grandson (@ShanksGrandson) has spoken on the matter, tweeting:
https://twitter.com/shanksgrandson/status/365015157132378112
https://twitter.com/shanksgrandson/status/365015389459070976
Most noticeably in his strongest point, one that has been taken by many Liverpool fans in the hours since, he tweeted what his mum had thought of the situation. "If your grandy had still been there Chris, he'd have been marched out the club weeks ago."
Even respected journalist Henry Winter tweeted:
https://twitter.com/henrywinter/status/364888222897147905
As a Liverpool fan myself, I can fully understand Suarez' desire to play in the Champions League. He is an outstanding player who should be playing at that level and it is a sad indicator of our current level. However, I do believe that after all the support we have shown him through the various controversies he has found himself in, two seasons ago and at the end of last season, and the subsequent mires he dragged us through, the very least he can do is give us one more push for Europe's premier competition.
For him to claim their was a verbal agreement with the club last year and to say in the interview, "they gave me their word a year ago and now I want them to honour that", stinks of hypocrisy. This is a player who made statements after the racism allegations and "handshake-gate" saying that he would no longer behave in a way that would bring the club into disrepute. This is a player who as recently as March, said in the newspapers that he loved the club and the support that the fans had shown him, and that he would stay at Anfield even if the club failed to make it to the Champions League.
The Aftermath
The Guardian have since stated that Luis Suarez, in fact, contacted them for the interview and they did not chase Luis for it. This has shocked and angered the supporters further.  What Suarez didn't think of was that this is a dog-eat-dog world and the Guardian, obviously wanting to steer clear from the controversy or land in hot-water with Liverpool, opened another can of worms for Luis by stating this.
However is this what Luis Suarez actually wanted? Is this an orchestrated mess because he wants to become the villain and be forced out of the club? The premier Liverpool stats account on Twitter: @AnfieldIndex seems to think so:
Funny thing is that he does this after he gets a standing ovation at Anfield.

It's like he's doing it purposely to incite the supporters…

— AnfieldIndex (@AnfieldIndex) August 7, 2013
…and at the same time make his position untenable. He hopes this will put pressure on the hierarchy to sell cheap!

I hope not!

— AnfieldIndex (@AnfieldIndex) August 7, 2013
Suarez also initially stated that he had the backing from the PFA and it's chief Gordon Taylor. However last night Gordon Taylor claims that Suarez's contract does not have a release clause meaning Liverpool are within their rights to hang onto the player until a suitable bid comes in regardless of the situation.
Luis Suarez has since been asked to train alone as the club take a hard stance against him. Brendan Rodgers has stated that this is because of his mentality and lack of enthusiasm in training and pre-season friendlies. Brendan Rodgers had the following to say after Liverpool's 4-1 win over Valerenga:
[quote]
There were no promises made – categorically none – and no promises broken. The club and his representatives had several conversations and he knew exactly where he was at. I think Luis knows the support he's had at the football club and that's something that's been unswerving throughout the whole of last season. Obviously the remarks I've read are bitterly disappointing – but my job is bigger than that.
My job is to fight and protect the club. The conversations I've had with him, he knows I've had and they will remain private. I will take strong, decisive action, absolutely. There has been total disrespect of the club – this is a lack of respect of a club that has given him everything. Absolutely everything.
I really, really feel sorry for the supporters, people that have sung his name. We have travelled the world over the course of this pre-season. 85,00 fans were singing Luis' name in Jakarta. It was the same in Australia, in Thailand and at Steven Gerrard's testimonial.
I don't believe there is a clause in his contract that says he can leave for any sort of price.
[/quote]
Perhaps Suarez should remember the many promises he has made to the club and fans during his time on Merseyside before saying the club should remain faithful to their word. It's too late for the fans however who will never understand his apparent need to move to Arsenal, a club who have not won anything for eight years and who have not actually qualified for this season's Champions League as yet.
Now it seems Luis Suarez will forever walk alone.
By @bigaidan. Originally posted on EPLIndex.com