Liverpool FC's Most Valued Assets: A Closer Look
Liverpool Football Club, one of the Premier League's most storied teams, boasts a roster filled with exceptional talents. With the football market's ever-increasing dynamism, it's intriguing to delve into the monetary valuation of players. This article provides an analysis of the top 10 highest-valued players currently donning the famous red jersey.
1. Luis Díaz: The Pricey Newcomer
Valued at a staggering €75,000,000 and contracted until June 2027, Luis Díaz's addition to the team has undoubtedly bolstered Liverpool's attacking prowess. His value speaks volumes about the potential he brings to Anfield.
2. Trent Alexander-Arnold: The Homegrown Prodigy
Trent, a Liverpool academy graduate, carries a valuation of €65,000,000. His contract runs until June 2025, ensuring fans will witness his iconic crosses and free-kicks for years to come.

3. Alexis Mac Allister: A Rising Star
The Argentine midfielder, Alexis Mac Allister, is valued at €65,000,000. With a contract extending to June 2028, he promises to be an integral part of Liverpool's midfield.
4. Mohamed Salah: The Egyptian King
Salah, a name synonymous with goals, is valued at €65,000,000. His current contract with Liverpool extends until June 2025, giving fans hope for many more mesmerizing moments.
5. Darwin Núñez: The Forward with Flair
Another star valued at €65,000,000, Darwin Núñez's contract runs until June 2028. His goal-scoring ability makes him a crucial asset for the team.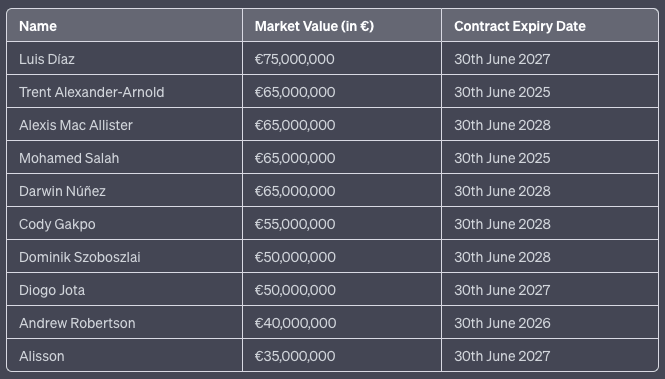 6-10. The Core of Liverpool
Cody Gakpo (€55,000,000), Dominik Szoboszlai (€50,000,000), Diogo Jota (€50,000,000), Fabinho (€42,000,000), and Andrew Robertson (€40,000,000) round off the list. These players, with contracts ranging from 2026 to 2028, form the backbone of Liverpool FC, ensuring its competitiveness in the top tier of English football.
In conclusion, Liverpool FC's player valuations underline the club's commitment to excellence, both in nurturing young talents and in securing top-tier players. With these assets, Liverpool remains poised to challenge for honors in the coming years.