Majestic Silky Star Quality
On this day in 2020, Liverpool completed the signing of Thiago Alcantara from Bayern Munich for a fee of £25million.
The Spanish midfielder went on to become a fan favourite at the club, due to his majestic and silky style of play.
However, a string of serious injuries have hampered the 32-year-old's consistency during his time on Merseyside.

Despite that, his natural ability has never become under any form of scrutiny amongst the Liverpool faithful.
Thiago was a standout performer in Liverpool's quadruple push in 2021-22 season, especially in the months of April and May.
His performance in the 4-0 victory over Manchester United at Anfield and the 3-2 victory over Manchester City at Wembley in the FA Cup Semi-Final will always be remembered fondly.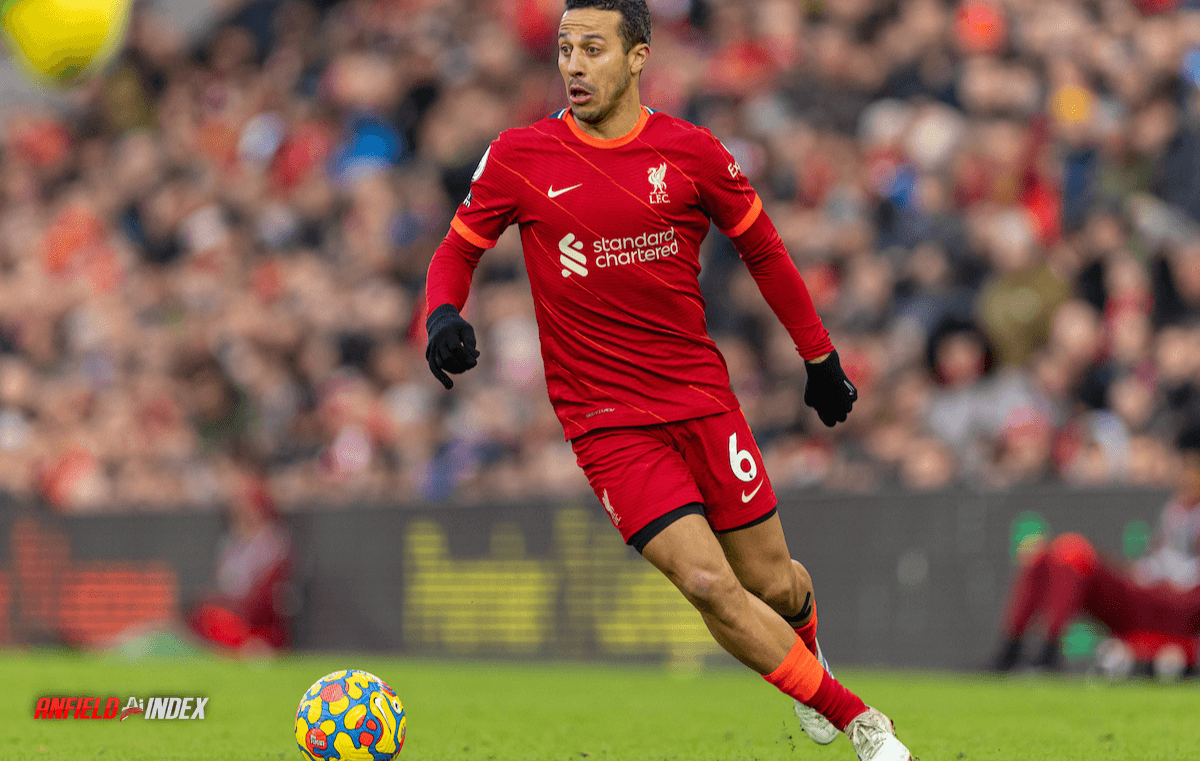 With the Spaniard's current contract at Liverpool set to expire at the end of the season, many supporters expected him to leave the club in the summer with a number of Turkish and Saudi clubs interested.
However, there is some remaining faith that Thiago could find form again at Anfield this season as he returns from his most recent injury.
How could Thiago Alcantara be unlocked at Liverpool once again?
On the rare occasion that Thiago was fit to play last season, the Spaniard massively struggled with the intensity and speed of the games and was oftern overrun in midfield.
However, that was in an incredibly old and slow midfield that consisted of Fabinho, Jordan Henderson and himself.
That midfield were ultimately being exploited every week, increasing the pressure on the defensive abilities and not allowing Liverpool to control the tempo of the game.
This unfortunately meant that Thiago wasn't able to showcase his more favoured attributes such as dictating the tempo and controlling the flow of the game.
However, this summer has seen Jurgen Klopp completely changing his midfield options with Thiago Alcantara being one of the few midfielders to remain in the squad from last season.
The arrivals of Alexis Mac Allister, Dominik Szoboszlai, Ryan Gravenberch and Wataru Endo have all made Klopp's midfield much more energetic and hard-working.
Both Mac Allister and Szoboszlai have seemingly nailed down their places in the starting lineup, whilst Gravenberch and Endo are still adapting to life in the Premier League.
With the youthful exuberance of Mac Allister and Szoboszlai could mean that we see the best of the 32-year-old once more.
A possible change in system
If Thiago could stay fit for a reasonable amount of time, then a change of formation could ultimately prove to get the most out of Liverpool's current group of players.
During Thiago Alcantara's hugely successful spell at Bayern Munich, he was often deployed as a two-man holding midfield duo.
A double pivot of Mac Allister and Thiago could contribute massively to Liverpool retaining possession and controlling the tempo of the game, which they struggled with last season.
This would allow Szobozslai to have more freedom in a slightly more advanced role to maximise the creative output to the front three.
Last season, Liverpool averaged 59.6% posession in the Premier League whereas they have averaged just 53.6% in the opening five games of this season.
This slight tweak to the midfield shape could not only improve the possessional numbers, but also provide a much more stable shield to Klopp's back line.
Liverpool's lack of a quality defensive midfield signing in the summer makes this tweak to a double pivot hold even more value potentially.
It would also allow Liverpool's youngsters to get more game time in their natural positions, where Curtis Jones and Harvey Elliott could slot into the creative midfield role that would be occupied by Szobozslai.
Ryan Gravenberch and Stefan Bajcetic are both also arguably more suited to a double pivot, rather than a solo six with two eights.
Ultimately, this massively depends on Thiago's fitness and whether he can maintain a consistent run of games.
However, I do still strongly believe that Liverpool performances have the potential to go to another level when Thiago Alcantara is in the side.