Schmadtke – The Interim Sporting Director Steering Liverpool's Ship
The Role of Jörg Schmadtke at Liverpool
Liverpool's summer was marked by change, not just on the pitch but off it. One of the most significant shifts was the introduction of Jörg Schmadtke as the club's Sporting Director. But who is Schmadtke, and what has he brought to the table?
James Pearce, in his recent chat with Dave Davis on Media Matters from Anfield Index, shed some light on the matter.
"Schmadtke described himself as almost like an assistant to Klopp," Pearce revealed.
This dynamic sees Klopp driving the transfer policy, with Schmadtke responsible for negotiating the deals.

Challenges of the Role
Schmadtke's role isn't without its challenges.
As Pearce pointed out:
"Klopp calls the shots in terms of who's being pursued, and Mike Gordon holds the purse strings in terms of FSG sanctioning financial decisions."
This means Schmadtke's job is to negotiate within the confines of what he's been told.
Absolute gent was @JamesPearceLFC

Talked all things wolves, start to the season, Quansah and Schmadtke (in depth) and got him to make a few predictions…

Really enjoyed this one for @AnfieldIndex #LFC #Klopp #Quansah https://t.co/LhOyD4Hdxg

— Dave Davis (@DaveD0106) September 18, 2023
However, despite the challenges, Schmadtke has garnered praise for his approach. "When I speak to people who have dealt with him over the summer, they're very complimentary in terms of the way he's gone about his business," Pearce noted.
Pearce also highlighted, "This is a guy that was tempted out of retirement essentially because it was such a fantastic opportunity to take over from Julian Ward."
Yet, the future remains uncertain. "Everyone knows that it's not the long-term option. It was Liverpool couldn't find, couldn't get exactly who they wanted so they went down the road of the kind of an interim appointment to buy them some time."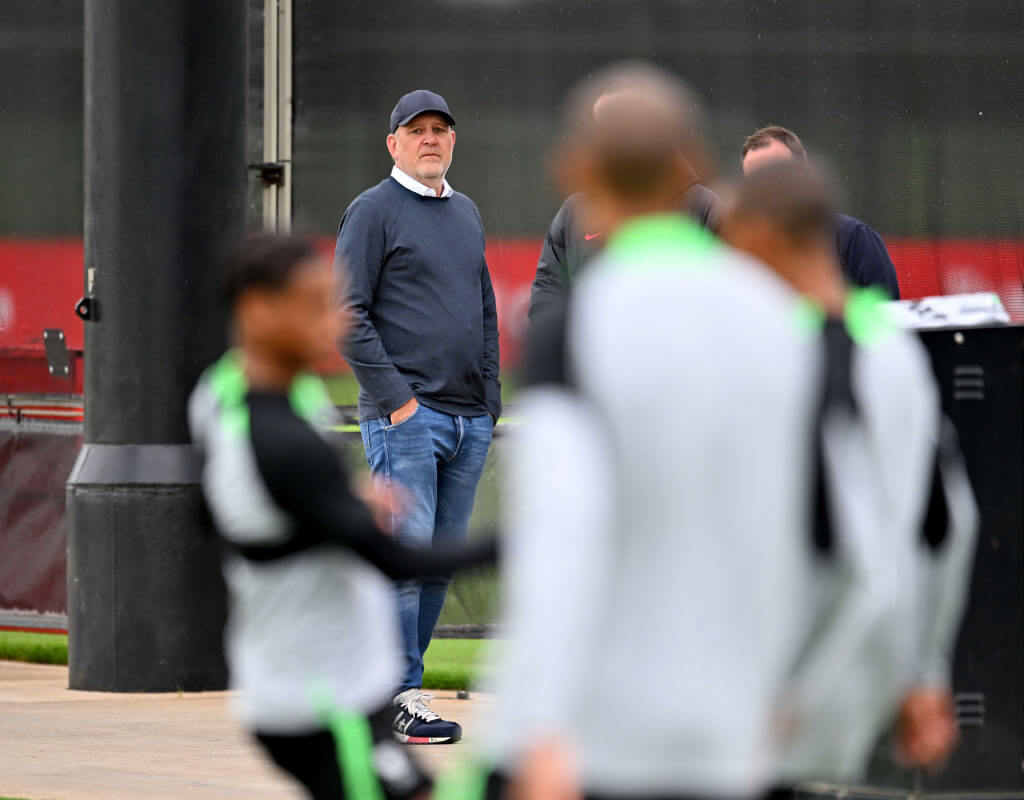 Facing Criticism and Moving Forward
Despite his efforts, Schmadtke faced criticism during the summer.
Pearce remarked, "I did think it was a bit unfair there were moments in the summer when suddenly Schmadtke was coming in for stick for deals not happening."
But it's essential to understand the dynamics. "If you're the sporting director in that kind of setup, your job is to try and negotiate within the confines of what you've been told to work," Pearce added.
Jörg Schmadtke's tenure as Liverpool's Sporting Director may be short-lived, but his influence is undeniable. As the club navigates the challenges of the Premier League and European competitions, Schmadtke's expertise will be invaluable. Only time will tell if he remains a fixture at Anfield, but for now, he's making his mark.