Football's Numerical Worth
Every action in football has a value. For every shot that is taken, a numerical worth is assigned which tells us how likely the player was to score. Dig a little deeper, and every single action which occurs can be weighted in the same fashion.
Every Action's Value Is a tackle here worth more than an interception there? These days, there are people who can tell you. Everything counts in large amounts.
Not everything in the sport must be so granular though. There are some statistics which have held firm for years and don't need a complex mathematical model to be produced either. In the early days of football analysis, Opta noted that around 69 per cent of matches was won by the team which scores first. Such things inevitably fluctuate a little from year to year but broadly speaking that remains true. Isn't that nice?
The Power of the First Goal
Percentages like these, while a useful guide, won't remain constant across the board. Since 2009/10, when one of the Premier League's self-appointed and established big six clubs opens the scoring, it has gone on to win 80.2 per cent of the time, meaning the collective lesser lights have a 61.7 per cent hit rate.

Historical Percentages and Their Impact As the last 13 years have been a tumultuous period for Liverpool Football Club, in good ways and bad, their percentage win rate when breaking the deadlock is 77.6; this ranges from 60.9 in 2015/16 up to 93.1 in – surprise, surprise – 2019/20.
(As an aside, while the title race was live that season, the Reds won every single match when scoring first. Only after it had been settled did they draw with Burnley and lose at Arsenal to tarnish an otherwise perfect record).
Having dropped two points at Chelsea after leading through Luis Díaz' goal then beaten Aston Villa 3-0 following Dominik Szoboszlai's sumptuous early volley, Liverpool only have a 50 per cent win rate when bagging the opening goal of a game this season.
The Reds' Current Season Analysis
That's too small a sample to read anything into, just as it is with regards to their record when going behind in 2023/24. However, more interesting than the fact that the Reds have won every game in which they've trailed is that this has happened three times.
Leading and Trailing Scenarios In the last 14 seasons there have been 49 instances of teams having more than three comeback wins in a campaign, 3.5 a year on average. Look for teams with five-or-more victories of this type and you're looking at fewer than two per season.
We would all clearly prefer it if Liverpool did not go behind in any more games. But while that is not a realistic aim, neither is expecting them to always recover when they do stumble. Even the very best teams only win around a quarter of their matches in which they go behind to the first goal.
The Premier League's Timekeeping Impact
Equally, the new application of the timekeeping laws in the Premier League may make such victories easier to come by. Look at last weekend; Aston Villa came from behind to beat Crystal Palace with a go-ahead goal in the 98th minute, while Spurs only equalised at that point of their match with Sheffield United and still found time to win.
Dramatic Last-Minute Wins With Liverpool already having more last-minute winners than any other club in the modern era of top flight English football, the DNA of the club demands dramatic moments on a semi-regular basis.
The Best Teams' Recovery Rates
The value of regularly recovering points from deficits can be seen in the identity of the best teams for this over the last 14 seasons. Liverpool won't maintain their three points-per-game average when conceding first, as there have only been five who have hit the 2.00 mark since 2009/10.
Points-per-game Insights The Reds themselves had exactly that average four seasons ago, as did Manchester City in 2017/18 and Chelsea three years prior to that. You've probably spotted the link between these teams, but just in case you're not an Only Connect fan, it's that they all won the league in the seasons in question.
Somewhat strangely, the two examples of teams having higher points-per-game averages were from runners-up sides. Manchester United's figure was 2.07 in 2020/21 – and they would not have recovered so often away from home had there been crowds in the stands – while Liverpool eked out five wins and a draw from the seven matches in which they went 1-0 down in 2018/19, giving them a phenomenal 2.29 points average from those games.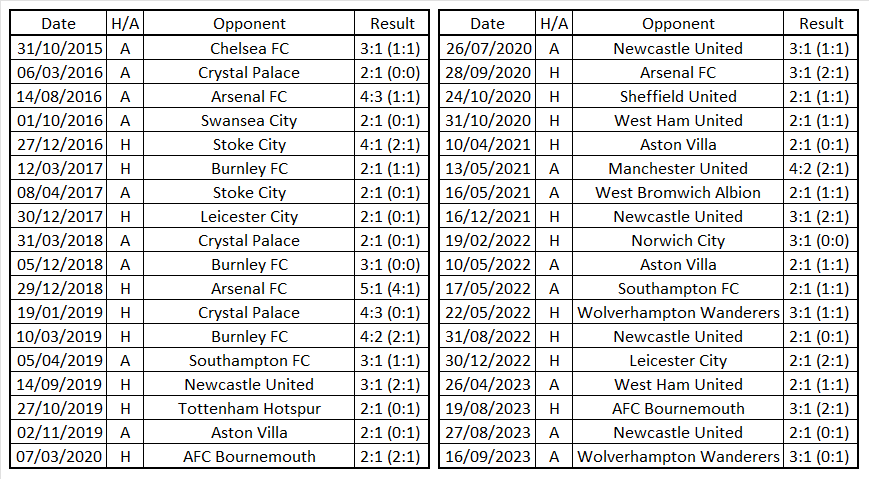 Liverpool Under Klopp
Perhaps most enlightening when we set our eyes toward the remaining 33 matches of 2023/24 is that Jürgen Klopp's side has already recovered to win as many games as it did in the entirety of last season. A phrase like 'mentality monsters' is a little trite these days but it feels like something of the team's inherent warrior spirit was lost last season and may have since been recovered.
Can you imagine the Liverpool side of 2022/23 seeing out over an hour at Newcastle with 10 men, not conceding a clear-cut chance in that period and going on to win? It feels distinctly unlikely. And while they rode their luck at Wolves on Saturday – god bless Matheus Cunha's weird attempted head/stomach shot thing – last season they conceded early in the corresponding fixture and never looked like recovering at all.
A good start to a campaign, no matter how it arrives, is always most welcome. Doing so in the manner in which Liverpool have in 2023/24 may carry an added value, due to the suffering and the redemption involved. What they have demonstrated suggests they have the stomach for the fight that title contenders can rarely be without.