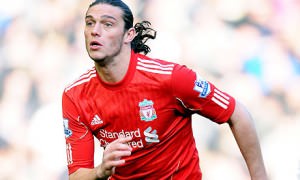 Andy Carroll moves to West Ham | Carroll Stats from Liverpool & West Ham
Andy Carroll has finally completed his protracted move to West Ham today, after spending a full season in east London on loan from Liverpool. The transfer has been on the cards for a few weeks now with Carroll reportedly stalling on the deal out of hope for a move back to his boyhood club, Newcastle United. However, the move is now complete and the striker can look forward to a new chapter in his career.
After his deadline day move from Newcastle to Anfield in 2011 for a British transfer record of £35m, big things were expected of Carroll. After returning from injury, Carroll was able to score two goals against Manchester City but wasn't able to achieve much more in front of goal for the remainder of the season.

Carroll was given the number nine jersey at Newcastle for their first season back in the Premier League in 2010, and this appeared to be a wise decision after the striker scored eleven goals before being injured during the Christmas period. It was this form that lead Kenny Dalglish to buy Carroll for the Reds, but he was never able to repeat that level of goal scoring.
In his only full season at Liverpool in 2011-12, Carroll was only able to score four goals in the league and spent much of the season making substitute appearances. However, Liverpool fans will remember Carroll fondly for the two goals he scored against local rivals Everton. In the league fixture against the Toffees at Goodison, Carroll scored the second goal in a 2-0 win and then in the FA Cup semi-final against them at Wembley, Carroll scored a last minute winner that will live long in the memory of Reds everywhere.
Despite playing his part in winning the Carling Cup and getting the Reds to the FA Cup final, it wasn't enough to prevent new manager Brendan Rodgers from sending Carroll on loan to West Ham at the beginning of last season.
It was felt that Sam Allardyce was much more open to playing his team around Carroll and his strengths. Also, the prospect of a reunion with his friend Kevin Nolan gave reason to believe that Carroll may have been able to return to his former ways and perform in the same way that he did at Newcastle.
During the course of last season, Carroll performed better in the lone striker role to an extent but was only able to score seven goals in the league. He also had fewer shots on goal than he did in his season at Liverpool although he did have a better shooting accuracy and a superior chance conversion rate.
On a personal level, Carroll certainly looked like he enjoyed his time in London more and this may have been a contributing factor in his slightly better performances. However, his season wasn't much better than the previous one at Liverpool and this likely vindicated Liverpool's decision to let him go.
Now that he's free of the pressure of his price tag and trying to impress a management that didn't necessarily want him around anymore, we may see a rejuvenated Andy Carroll, but don't count on it.
Article originally on eplindex.com