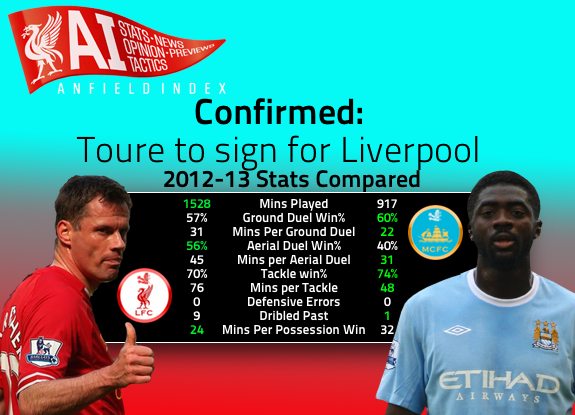 Kolo Toure to be Carragher's replacement? Toure Vs Carragher 12-13 Stats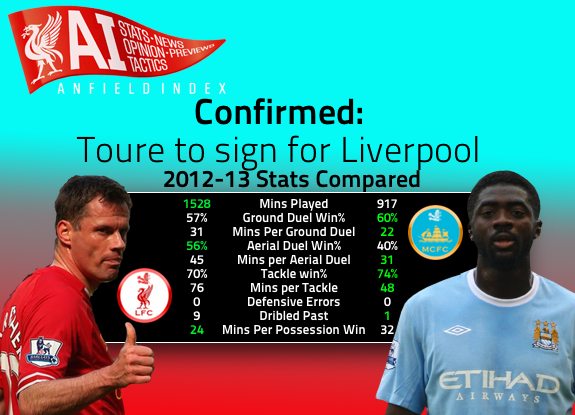 There are lots of rumours online, mainly on Twitter that Kolo Toure will sign for Liverpool in this summer's transfer window. Your first reaction is "What the heck? He's an old washed-up has-been!", but Carragher was no spring chicken. The man that just retired was many years older than Kolo Toure and I'd expect other first team centre-backs to be signed (Papadopoulos also rumoured to be a target) so the signing of Kolo Toure as a back up centre-back could be a pretty good signing on a free transfer.
As I have access to the excellent EPLIndex Stats Centre I thought I'd get a few noteworthy stats out and compare the two players which as pictured in the info-graphic above. Carra had an excellent half season at Liverpool and stats from all of his performances are shown above.
Manchester City's defence was the tightest in the league in 2012-13 conceding only 34 goals. Kolo Toure played 917 minutes but the stats show that he has performed better than Carragher in six categories.
Yes I know it is indeed a very small set of data and Carragher's work cannot be measured by statistics alone, but his mouth was his major asset – shouting instructions to teammates and also reprimanding them if they had made any mistakes.
Still, it is good to see some sort of comparison that can be measured albeit with a small sample set. Looking at the numbers and the experience Kolo Toure would bring, he really wouldn't be a bad signing as a back up central defender.
[box_light]All of the stats from this article have been taken from the Opta Stats Centre at EPLIndex.com – Subscribe Now (Includes author privileges!) Check out our new Top Stats feature on the Stats Centre which allows you to compare all players in the league & read about new additions to the stats centre.[/box_light]