The Tactical Brilliance of Mac Allister
In a display of sheer brilliance and tactical acumen, Alexis Mac Allister showcased his ability to manoeuvre the ball with meticulous precision for 60 minutes. His intelligent playstyle became the catalyst for Liverpool's success against West Ham United, demonstrating a blend of cunning and creativity that left the spectators in awe.
As Liverpool faced the mounting pressure from West Ham, Mac Allister, with a flick of a switch, delivered a precise and calculated ball over the defence, setting up Darwin Nunez for a seamless conversion. His ability to deceive opponents by seemingly opting for short, simple passes, only to unleash explosive and impactful plays, has become a defining trait of his gameplay.
The Anfield Victory
During the 3-1 victory at Anfield, the 24-year-old Argentine showcased his prowess by completing 96 per cent of his passes and regaining possession eight times. However, his contribution extended beyond mere statistics, with his assist for Nunez being a testament to his visionary play and strategic thinking.

Mac Allister's strategic approach to the game is evident in his ability to exploit spaces and create opportunities. Despite being surrounded by centre-backs Kurt Zouma and Nayef Aguerd, he managed to carve out a path for Nunez, highlighting his precision and understanding of the game's dynamics.
A Masterful Plan
This wasn't a mere chance or a speculative pass; it was a well-executed strategy that Mac Allister has been perfecting since his £35million signing from Brighton & Hove Albion this summer. His ability to balance his gameplay, never overplaying his hand and turning on the style when the opportunity presents itself, has been pivotal in his opening games for Liverpool.
Mac Allister, along with his equally impressive teammate Dominik Szoboszlai, has brought a new dimension to Liverpool's midfield. Their passing and ball-carrying qualities, coupled with Curtis Jones, have allowed Liverpool to extend their unbeaten run in the Premier League to 17 games. The element of surprise in Mac Allister's game keeps the opponents on their toes, allowing Liverpool to exploit openings effectively.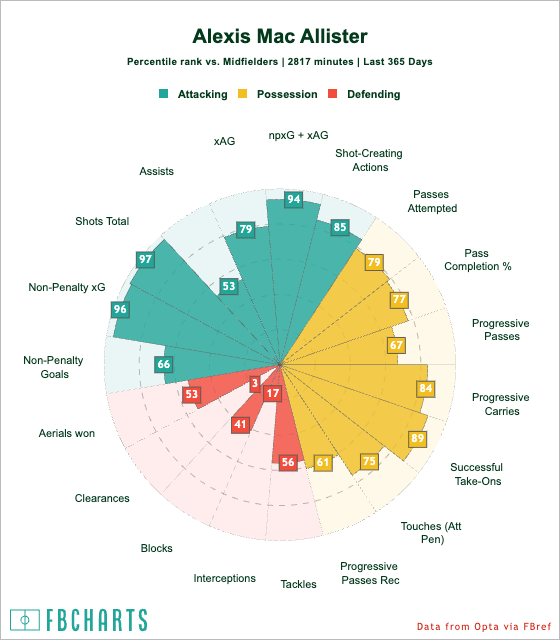 The Long-Range Specialists
Full-backs Alexander-Arnold and Andrew Robertson are known for their long passes, having played 138 this season, compared to Mac Allister's 31. However, the midfielder has found success with his medium- to long-range passes, especially in the 3-0 win over Aston Villa, where he controlled the midfield and exposed the visitors' high line with daring passes.
In the 2-1 victory against Newcastle United, Mac Allister adopted a more conservative approach, focusing on maintaining possession and stifling attacks after Liverpool fell behind to an early goal and were reduced to 10 men. His key interceptions and overall gameplay were crucial, and his replacement by Nunez, the two-goal match winner, was a strategic move.
The Anfield Evolution
Anfield has quickly adapted to the departures of Jordan Henderson and Fabinho, embracing the younger, multi-functional replacements like Mac Allister. His performances, while not flawless, have been impactful, with his average passing accuracy of 88 per cent and his growing role in the team showing promising signs for Liverpool's season ahead.
Alexis Mac Allister's evolving role and his calming presence have been key for Liverpool. His ability to produce game-changing moments with perfectly weighted passes is setting him up to play a leading role this season, and his partnership with Darwin Nunez is something to watch out for in the upcoming matches against teams like West Ham.