Pep Lijnders Witnesses Remarkable Improvement in Darwin Nunez's Game
In the bustling world of football, Darwin Nunez, the Uruguayan international, has become a beacon of transformation and potential at Liverpool. After a £64million move from Benfica, Nunez has evolved, under the watchful eyes of Pep Lijnders, from a player of raw potential to a refined gem, contributing significantly to Liverpool's flourishing start to the season.
A Journey of Adaptation
Nunez's journey at Liverpool has been one of adaptation and growth. Initially, his performances were marked by frustration and unmet expectations. However, the current season has seen him embrace his role, showcasing his vast potential and scoring in consecutive games, a feat unseen since February. His exquisite volley against West Ham is a testament to his evolving prowess and his contribution to Liverpool's impressive run.
Embracing Responsibility
Following Roberto Firmino's departure, Nunez inherited the No. 9 shirt, symbolising a transition to greater responsibility, a challenge he has embraced wholeheartedly. Despite initial overlooks, his stunning, match-winning performance against Newcastle United marked a turning point, setting his trajectory upwards.

Harmony and Tactical Alignment
Beyond goals, Nunez's synchrony with his teammates has been noteworthy. His refined edges and tactical alignment with Jurgen Klopp's vision are products of rigorous training and dedication. "The fans love him. He has this extreme mentality to run, to fight, to arrive in positions where nobody thinks he can arrive," remarked Liverpool's assistant boss, Lijnders, highlighting Nunez's commendable improvement in both offensive and defensive aspects of the game.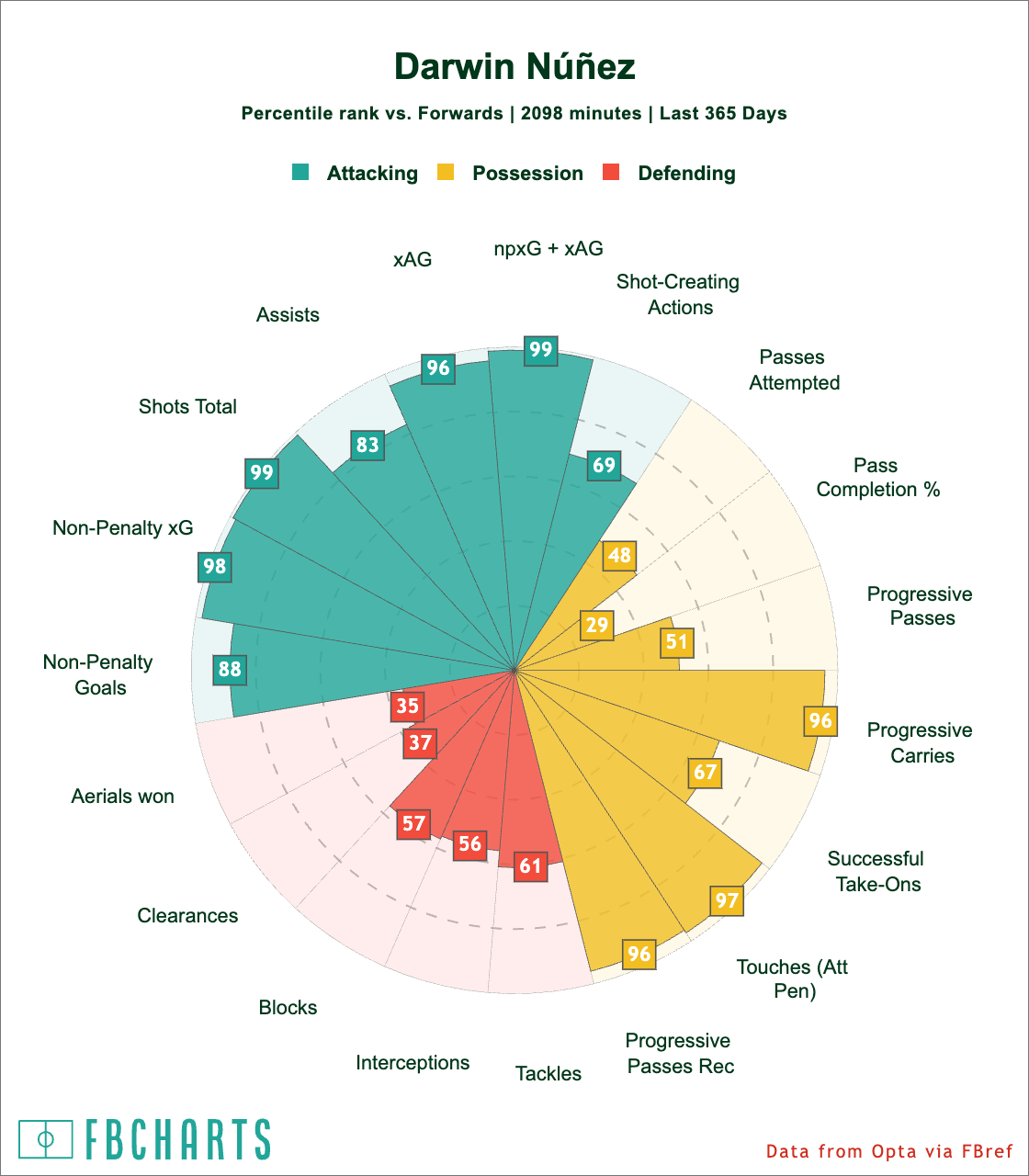 Unfair Criticism and Response
Nunez faced his share of criticism last season, some of which were deemed unfair considering the team's overall performance. However, he responded to Klopp's preference for Cody Gakpo with resilience, aligning his game with Liverpool's counter-pressing philosophy, thereby solidifying his place in the team.
Nunez's pace, power, and strategic hold-up play have provided Liverpool with a focal point in attack, allowing for devastating counter-attacks and creating spaces for his teammates like Mo Salah and Luis Diaz. His link-up play with Salah has been particularly problematic for opposing defences, creating chances at an impressive rate.
Consistency and Contribution
Nunez's consistent performances and significant contributions in crucial moments have been pivotal for Liverpool. His relentless running, defensive diligence, and ability to retain possession have been crucial in Liverpool's victories, showcasing his improved game sense and commitment to the team's success.
Conclusion: A Re-Energised Player
Nunez's journey at Anfield speaks volumes about a player re-energised and refined. His resurgence has been timely, aiding Liverpool in regaining momentum and promising a future where his name resonates with improvement, potential, and unmatched dedication.