If you can leave aside the questions regarding how they are financed – and you shouldn't – you have to accept that Manchester City are a phenomenal football team. Give one of the all-time great managers everything he desires and he'll inevitably turn it into gold.
It is the great misfortune of Jürgen Klopp's Liverpool that it must compete with such a dominant side. Across 2018/19 to 2021/22 the clubs were separated by a single point, yet the league title count was 3-1 to City.
At their best, the Reds can keep pace with them in the table. There are some ways in which they can't, though, and one of them is in terms of controlling the pitch. Opta share maps for all 20 Premier League sides under the heading 'Zones of Control'.

The field is split into 30 segments, with each assigned a colour based on what proportion of the open play touches within it that a team has. As per their definition, zones in blue are where the team in question has more than 55% of total touches, red is where the opposition does and everything in between is marked grey. Here is how Liverpool and City are shaping up in 2023/24.

Outside the opposition box, Pep Guardiola's side has had at worst 51 per cent of the touches, they are not dominated anywhere. Meanwhile, the Reds' chart is far more of a strange patchwork quilt of a pitch map.
The picture will undoubtedly change as the season progresses. Liverpool had one of its all-time low possession figures at Chelsea in match week one, then played with 10 men in the two games which followed. It would have been impossible to exert any serious control in those scenarios.
Nonetheless, it's interesting to look at how Liverpool's percentage of control has changed for each zone between 2022/23 and the six-game sample that is 2023/24. Most areas have declined for the aforementioned reasons, though there remain some points of interest.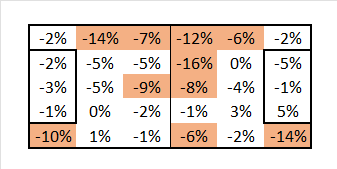 The big dip has occurred in the left flank, with the Reds having an average of seven per cent less of the touches across those six zones. This will be partly down to Andy Robertson playing a more defensive role than he once did, thanks to Trent Alexander-Arnold (or whoever deputises for him) inverting into midfield on the opposite side.
This tactical switch may also explain the 14 per cent drop in control of the furthest forward section on the right flank. A look at Alexander-Arnold's touch heatmaps for last season and this show that he has barely been involved in the zone in question in 2023/24, and while not as extreme, the same is broadly true for Mohamed Salah.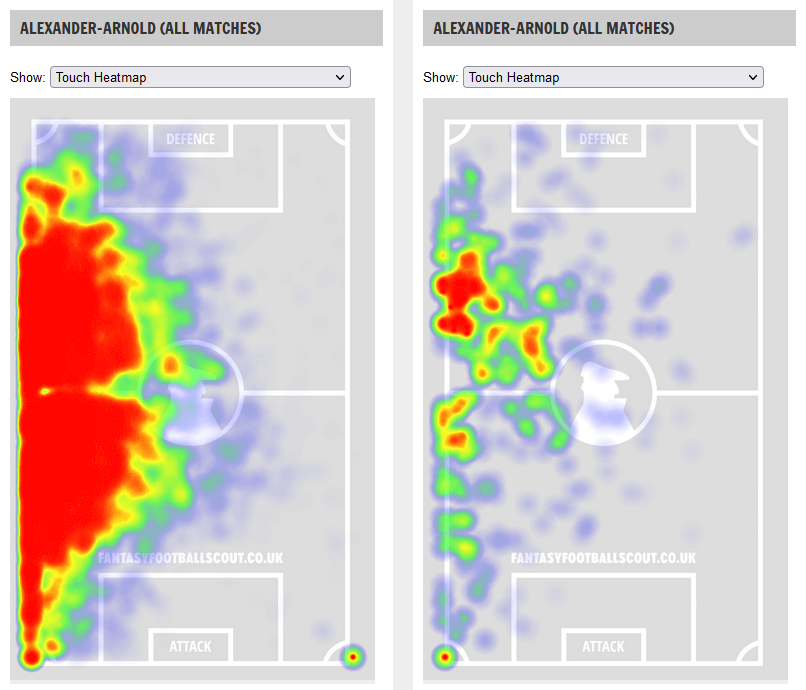 In the case of the Egyptian, the five per cent increase in the right of the opposition penalty box (from Liverpool's perspective) is no doubt down in no small part thanks to him. He set up two goals at Wolves from that area of the pitch, Diogo Jota did likewise for one against Bournemouth, while Darwin Núñez' two goals to turn the Newcastle match on its head were struck from there too.
The other pitch section to see a reasonable improvement is the half space in front of the right side of the penalty area, in which Liverpool have had three per cent more of the touches this term. This is of interest thanks to two things which have occurred in the last week or so.
On Wednesday, Statsbomb shared a different type of pitch map for the 20 Premier League clubs. It shows how much space each team allows the opposition in different areas of the pitch. Liverpool's darkest segment was the area on the right in front of the attacking penalty box, meaning that is the zone in which they allow their opponents the least amount of space. Specific figures were not provided but on the eye test they are the top defensive side in the division in this particular area of the field.
How much space does each team allow? Premier League 2023/24

An early look at how much space is available to the opponent when they receive a pass in each zone pic.twitter.com/49iDZCe2Xf

— StatsBomb (@StatsBomb) September 27, 2023
Seeing this struck a chord in light of the Reds' 3-1 victory over West Ham on Sunday. As well as pitch control (and many, many other things) Opta also monitor high turnovers. These occur when a side wins the ball and starts a new possession sequence within 40 metres of the opposition goal.
Against the Hammers, Liverpool recorded just their fifth one of these which has led to shot in the league this season. Only three teams in the top flight have mustered fewer, a surprising fact in light of Klopp's fondness for pressing as playmaker. It was an encouraging moment last time out, though, as it occurred in the 88th minute of a match Liverpool led by two goals and it was instigated by new signing Dominik Szoboszlai.

Against LASK, three days earlier, Salah and Núñez combined to win the ball close to the right half space too, and it resulted in the former scoring. The Reds might not control the whole pitch as well as some sides, but if they can dominate that specific zone, both on and off the ball, then opposition defences will be in seven shades of trouble. Early days or not, Szoboszlai might have unlocked something very special indeed.