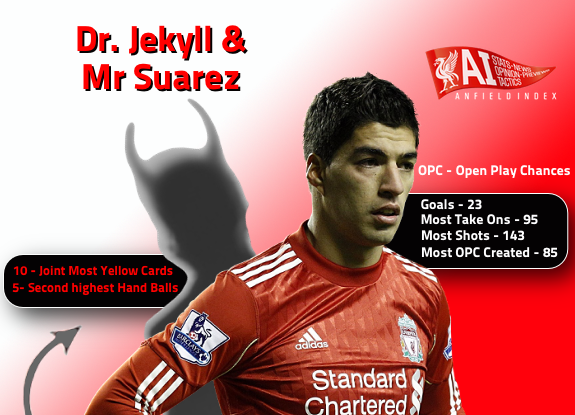 Dr. Jekyll & Mr Suarez | Statistical look at The Uruguayan's dual nature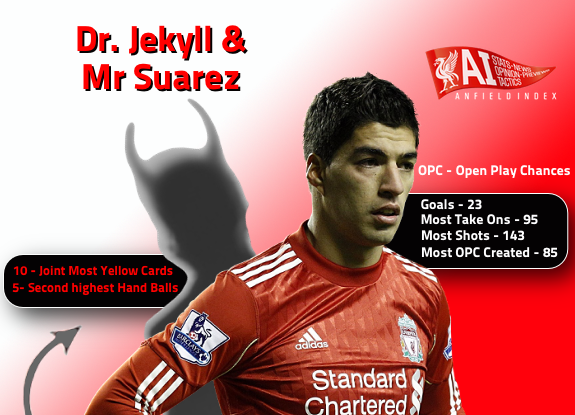 Luis Suarez is undoubtly one incredibly talented world class player, among the Premier League's finest. His superb form helped Liverpool push through the Premier League table after a poor start for the Reds this  season. Unfortunately, the Uruguayan also plays, what fans of all clubs would deem, a very, very dirty game. His urgency to win is so high that he would do anything and everything to get the result he is so desperate for. Well known for breaking the rules, Suarez has played handballs, dived and bit his opponents in the heat of the moment just to take him one step closer to winning a game. Now that the controversial striker's season is over after FA handed him 10-game ban for biting Branislav Ivanovic, the opportunity has arisen to sum up another campaign of brilliance and controversy.
Perhaps the biggest surprise of Suarez's great form has been his fantastic goalscoring record. After last season, he has been regarded more of a creator than scorer by the Liverpool fans, so to see him net so many goals was pleasantly surprising. Luis was the first player to reach 10 and 20 Premier League goals this term and finished his season with 23 to his name. His ban made him lose the top scorer race to Robin van Persie, but still he did incredibly well. It is also worth noticing that none of his goals were scored from penalties. It is hard to say if Suarez would or wouldn't finish the season as a Premier League top scorer if he didn't bite Ivanovic, though he deserves some praise for his goalscoring efforts this season.
If you're looking for an explanation of Suarez's great scoring record, a quick check of top attack statistics will tell you everything. Luis has taken the most shots of all Premier League players, firing every 20.66 minutes and shooting on target every 41.04 minutes, thus achieving a shooting accuracy of 50%. He didn't score more just by shooting more, though. His chance and clear-cut chance conversion were respectively 16% and 53%. How does this compare to his 2011-12 season? His shooting accuracy rose by 6% from last year's 44%, chance conversion rose by 6% and clear-cut chance conversion more than doubled from 25% to 53%. This numbers do indeed prove that Suarez has become significantly deadlier this term than he was in the last one.
As I've already mentioned, Luis has been regarded as a great creator by the Liverpool fans after his last season, and this term has been no different. The Uruguayan star managed to create 90 chances this term, 4th best in the Premier League, right behind Leighton Baines of Everton, Manchester City's David Silva and Anfield legend Steven Gerrard. What makes Suarez's achievement quite special, though, is the fact that a vast 94% of the chances he created were through open play. It means he is the least reliant on set-pieces out of all the top 6 creators, as only 7th Rickie Lambert created every single one of his chances through open play and for 9th Steven Pienaar the percentages were: 96% created through open play and 4% through set play. Actually, Suarez is the Premier League's best open play creator, having created this way the most chances of all the league's players. Also all of his 5 assists were through open play.
Despite being a wonderful player, Suarez is also known for being a troublemaker. Although he wasn't sent off even once this term, he's been shown the joint most yellow cards, as he and Craig Gardner got warned this way 10 times. The Sunderland man spent less time on the pitch though, so his minutes per card ratio is worse than Suarez. While analysing Suarez's disciplinary record it is worth taking a look at his minutes per foul ratio, which is not actually big – it's rather average. I've checked the worst minutes per foul ratio table, and Luis isn't there. He's nowhere near the Premier League's most aggressive players.
If he is not the most persistent fouler then how did Suarez manage to collect so many cards? The answer is obvious here – his big mouth and inability to hold his temper combined with the bad reputation and a little diving lands him into punishment. Still, I guess it is quite unfair to slate Luis Suarez for being a diver and stay quite on the likes of Gareth Bale doing the exact same, though. (Just to be clear – my point is not that Suarez doesn't dive or that it is not bad when he does. Or that Bale isn't a wonderful player. My point is that he is not the only one to dive and that everyone who does so should be treated equally.).
Looking at this table, you cannot ignore the number of handballs the Liverpool favourite has played. It is definitely the highest one of all the 10 players with most yellow cards, but is it the highest one in the league?
The answer is – no. As shown by the table above, handling a ball 5 times is not a small number, but surprisingly there are quite many players who did it. Actually, there are some footballers who have even more handballs to their name. Those footballers are Benteke, Defoe and Fellaini.
Luis Suarez put his game to a new, higher level this season, adding goals to create chances and fighting for both player of the year and top scorer awards. Then the beast within him was awakend again, biting Branislav Ivanovic and making him lose out on both awards. He got hit with severe ban, booed at the PFA dinner and the hatred that seemed to get a little less intense was fuelled again, reaching a new high. Whatever you think about him, the Uruguayan is undoubtly a great player, maybe even the greatest in Premier League at present. Unfortunately, the Mister Hyde within will make its appearance and overshadow Suarez's irreplaceable abilities, making his bad reputation even worse. It is time for Luis to learn to hold his temper and concentrate on what he's best at – playing football.
[box_light]Stats via EPLIndex.com[/box_light]