Check out this brilliant analysis – as ever – from Anfield Index's Mo Chatra.
Today's announcement that Dynasty Equity is investing into Liverpool Football Club is positive news, but not something to get overly excited about.
It's reported that the investment will allow most/all of the club's bank debt to be cleared. As of 31 May 2022, this stood at £159.4m- a figure that had likely reduced by £10m or more during 2022/23.

This debt relates to borrowing for the Main Stand expansion (which was completed in 2017) and a Covid-related credit facility that was subsequently used to fund the Anfield Road End expansion (which is due to be completed in December).
Were that debt not to be cleared due to the equity injection from Dynasty, the club would likely spend £20m a year (if not more) to repay that debt. Those funds can now be invested into financing transfer deals, or financing a large indoor training pitch at Kirkby.
Today's announcement that Liberty Equity is investing into Liverpool Football Club is positive news, but not something to get overly excited about.

— Mo Chatra (@MoChatra) September 28, 2023
Many fans hoped new investors would come along to help significantly boost the transfer kitty. This will not happen, but as explained earlier, the Dynasty money should indirectly enhance this area of investment in upcoming transfer windows.
This move will likely not result in FSG's transfer strategy seeing a marked shift, however, Dynasty will have a vested interest in seeing their investment appreciate- and continued smart investment in the squad (as evidenced by recent signings) will be critical to that.
Though their initial investment likely only represents a couple percent stake in the club, Dynasty may still be a new questioning voice that FSG will listen to should they fall into a pattern of under-investment in the squad that we witnessed between 2019 and 2022.
That was not all on FSG- the manager was a significant factor in the club ultimately not signing more players during that period.
That aside, I'm pleased that FSG are apparently writing off that bank debt thanks to the Dynasty investment (but we'll have to wait until March 2025 for confirmation of this when the 2023/24 accounts will be published).
As a final point, I've noted some reports today claiming that the club was never for sale. That is simply not true- in fact, it's frankly laughable, revisionist nonsense.
The FSG-owned Boston Globe ran a story stating that FSG were exploring a sale.

Heck, one of FSG's main investors – Tom Werner – went on record to admit this: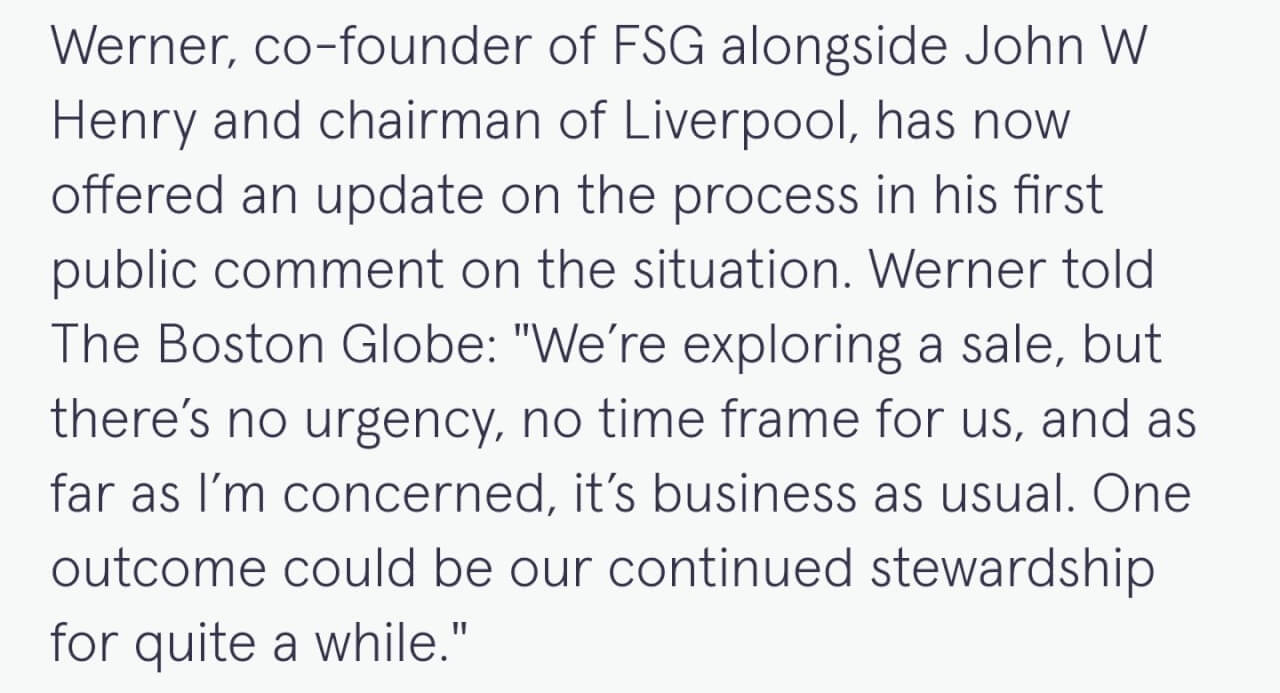 So just to be clear, Liverpool was for sale – but nobody was willing to meet John W. Henry's valuation of £4bn+. And, in fact, his valuation has likely increased since then. He does continue to feel there is more untapped potential in broadcast rights deals.
His view is that if the Premier League optimises its potential, broadcast rights could yet see significant growth- which in turn would swell Liverpool's valuation.
In the meantime, it's clear that FSG (and Dynasty) will remain at the helm for the foreseeable future, until the time comes when they choose to test the waters again.