The Enigma of VAR and Official Decisions
In a candid discussion on Media Matters, renowned sports writer Paul Tomkins elucidates the perplexities surrounding the Video Assistant Referee (VAR) and official decisions in football matches. Tomkins, with his meticulous tracking of data on officials for over half a decade, brings forth a compelling argument about discerning patterns and anomalies in refereeing decisions.
The Spurs Incident: A Symptom of a Larger Issue?
The recent Spurs incident, wherein a seemingly legitimate goal was disallowed, has stirred the football community, prompting an introspection into the efficacy of VAR and the officials operating it. Tomkins highlights, "A perfectly good goal is disallowed," emphasising the criticality of such decisions in the trajectory of a match and, by extension, a season. The incident, dubbed as the "worst one ever" by prominent figures like Alan Shearer and Dale Johnson, underscores a systemic issue that transcends a single match or team.

Psychological Priming and Decision Making
Tomkins introduces the concept of "psychological priming" in the context of refereeing decisions, where the first piece of information provided tends to anchor subsequent judgments and decisions. The incident where Darren England showed Simon Hooper a potentially misleading still image exemplifies this. The question arises: is the technology being utilized optimally to uphold the integrity of the sport?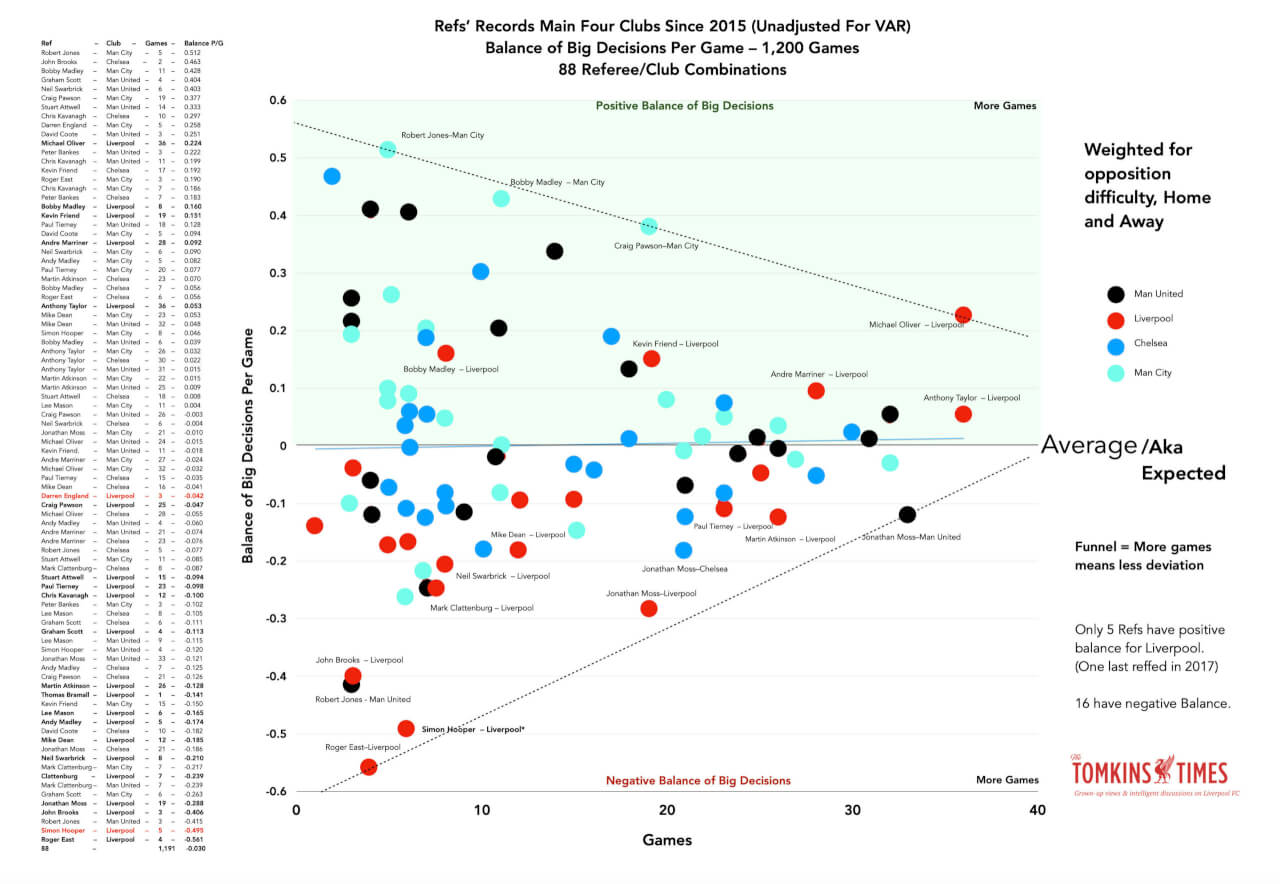 The Referee Conundrum: Neutrality under Scrutiny
The neutrality of referees, especially in the context of their affiliations and assignments, is brought under scrutiny by Tomkins. He points out instances like officials being in the United Arab Emirates, a region with significant football club ownerships, and Michael Oliver, a devout Newcastle fan, officiating in the Saudi League. These instances, while not directly implying bias, open up avenues for conspiracy theories and questions about the impartiality of referees.
The Ref Study and Big Data: Unveiling Patterns
Tomkins, through his meticulous "Ref Study" and analysis of big data, endeavours to unveil patterns and potential biases in refereeing decisions. His dedication to ensuring that the sporting integrity of football remains unblemished is evident through his rigorous data tracking and analysis. The patterns, once identified, serve as a tool to understand and, if possible, predict the tendencies of officials in various match scenarios.
Conclusion: A Call for Transparency and Integrity
The insights provided by Paul Tomkins in his dialogue with Dave Davis shed light on the intricate and often overlooked aspects of refereeing in football. The need for transparency, unbiased decision-making, and optimal utilisation of available technology is paramount to uphold the integrity and fairness of the sport. As fans and stakeholders of football, the call for accountability and scrutiny into these aspects becomes not just necessary but imperative.
BTW, something I mention is that it's now THREE-HUNDRED-AND-ONE PL games since a player got a second yellow against Liverpool. (@BassTunedToRed spotted it a while ago and someone on TTT totted up the games; was Oct 2015, Mané for Soton.) All other clubs have 5-15 in that time! 🤷‍♂️ https://t.co/sxBX912Et4

— Paul Tomkins (@paul_tomkins) October 3, 2023
Take your Liverpool fandom to the next level with Anfield Index! Boasting over 50 free podcasts monthly, we are your premier destination for unparalleled Liverpool FC coverage. Dive deep with match previews, cutting edge post-game reviews, and the latest transfer chitter chatter. Our esteemed statistical analysis and exclusive conversations with Liverpool Legends set us apart. Experience the difference with us today, no charge or subscription required.
Prefer an ad-free listening experience? Join AI:PRO today, from only £3.33 per month.
Supercharge your support for the Reds with Anfield Index.