Curtis Jones and Liverpool's Resurgence
Liverpool, under the strategic helm of Jurgen Klopp, has witnessed a notable shift in tactics, especially in their midfield dynamics. The team has navigated through a series of tactical evolutions, particularly in their defensive transitions and midfield structures. The introduction of an inverted fullback playing in the midfield, forming a back three and a box midfield, has been a notable change. However, despite these tactical shifts, the defensive transition still poses a challenge, especially in deciding which player slots back into the central position during crucial moments.

Curtis Jones: The Unseen Catalyst in Liverpool's Midfield
In the midst of these tactical alterations, Curtis Jones has emerged as a pivotal figure, orchestrating Liverpool's midfield with a blend of subtlety and efficacy. His return to the starting 11 marked a significant turning point, coinciding with Liverpool's impressive unbeaten run. Jones doesn't just bring stability; he brings a secret weapon of silent control and facilitation to Liverpool's gameplay. His presence in the team correlates with more goals, fewer concessions, and a higher win rate, underscoring his integral role in Liverpool's performance.
Quote:
"Curtis Jones is secretly the best boy…with Curtis Jones in the team Liverpool score significantly more goals and have significantly more points per game and concede fewer."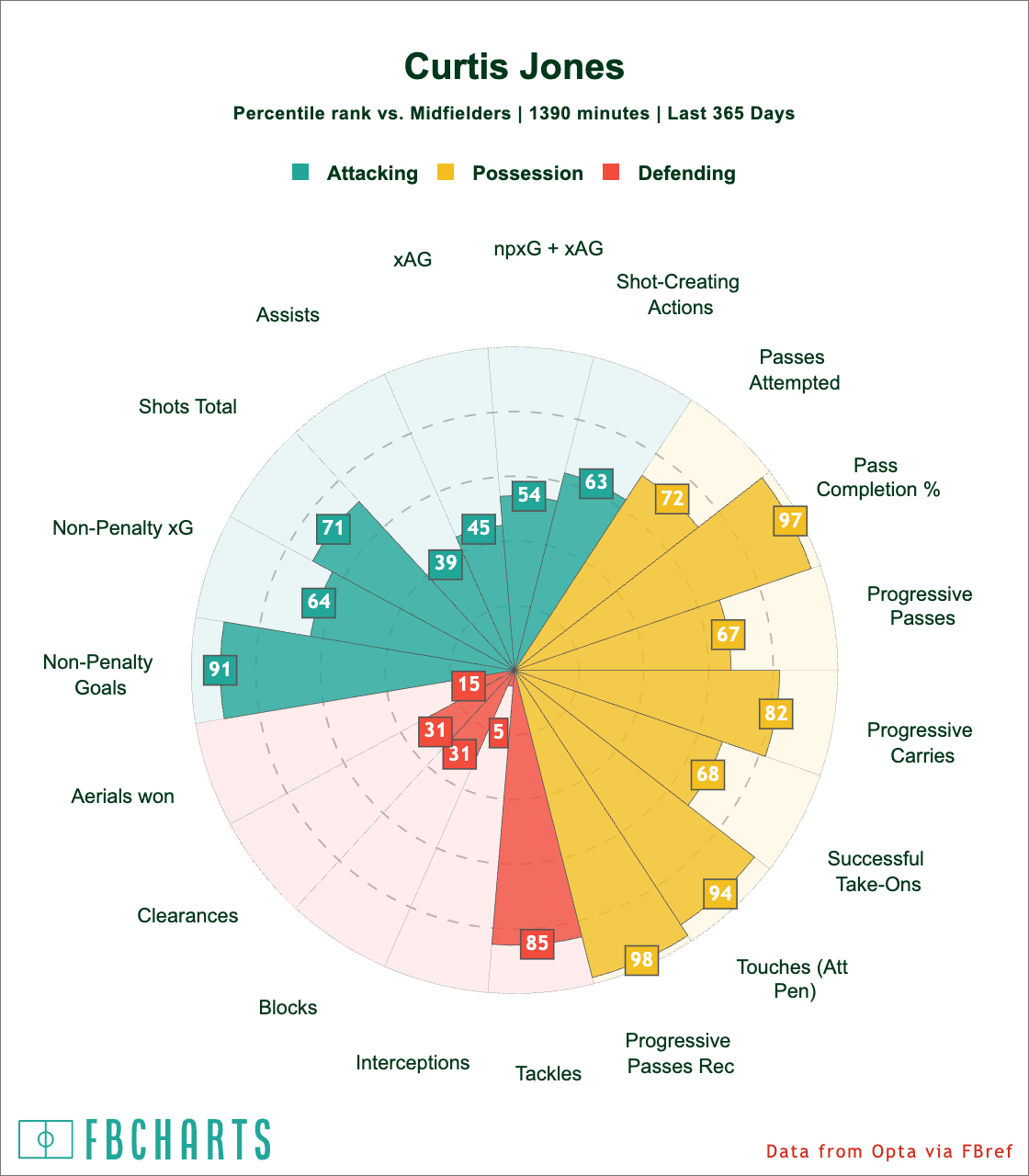 The Understated Brilliance of Jones's Gameplay
Jones's gameplay might not be the most flamboyant or action-packed, but it's his neat, tidy, and consistent performance that solidifies Liverpool's midfield. His high pass completion, meticulous possession retention, and constant availability to receive a pass make him a linchpin in maintaining Liverpool's gameplay fluidity. His ability to always be available, moving in and out of space, facilitating the movement of others, and creating space is what makes him indispensable.
Quote:
"Jones is the all-rounder who makes everyone else around him better. He is the facilitator of Excellence…his passes are very neat and tidy they help keep possession and keep control of games so he's very much a retainer and not a progressor."
Jones: The Facilitator of Liverpool's High-Pressure Gameplay
Jurgen Klopp's teams are renowned for their high-press and aggressive forward play, aiming to get the ball into the box for their dynamic forwards. Jones facilitates this by ensuring the ball isn't lost in dangerous areas, allowing Liverpool to maintain possession high up the pitch. His adaptability to various positions, whether dropping in when Robertson goes forward or moving out wide when needed, showcases his versatility and understanding of team needs.
Quote:
"He's always moving in and out of space depending on where his teammates go to facilitate the movement of others and to create space…he's everywhere all the time he is helping link the play with neat and Tiny passes not losing the ball allowing them to retain possession high up the pitch."
Liverpool's Silent Guardian
Curtis Jones may not always grab the headlines like other star players, but his influence on Liverpool's gameplay is undeniable. His silent orchestration of the midfield, ensuring stability, and facilitating aggressive forward play has been pivotal in Liverpool's unbeaten run and will undoubtedly continue to be crucial in their future endeavors.