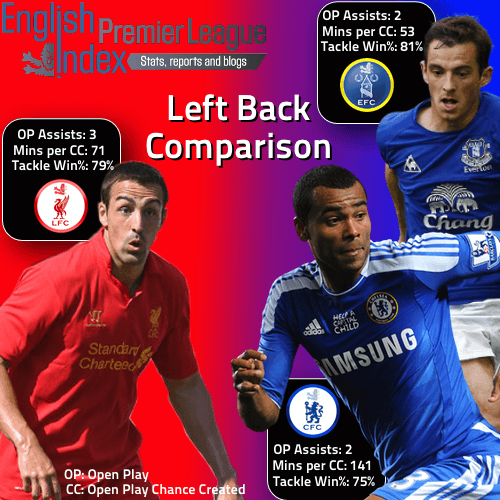 José Enrique: Is he an Elite Left Back? Compared to Baines & Cole
One of the common signs of a new Liverpool arrival "settling in" on Merseyside is the creation of a song for him by the Anfield faithful. Such classics as "Steve Gerrard Gerrard," "We All Dream of a Team of Carraghers," the Xabi Alonso song, and (my personal favorite, though I don't hear it much anymore) the Maxi Rodriguez song, have been belted out around Anfield for years on a weekly basis and show to the world that the Kopites have found a new hero.
The songs are usually fantastic, and often quite infectuous—I often find myself humming "Luis Garcia, he drinks sangria" at random times throughout the day. Recently, left back José Enrique acquired a song of his own. I like it, and it certainly reflects Enrique's emergence as one of Liverpool's key players this season. In spite of a poor start to the season, Enrique has turned it around since Liverpool manager Brendan Rodgers informed the Spaniard that he could leave in January. In fact, Enrique's situation is quite like that of Stewart Downing (whom I discussed in this article last week) in that despite a less than convincing début season with Liverpool and a poor start to 2012/13, Enrique has gotten onto top form in recent months, leading to the creation of his very own Kop chant.
My real question about the Spaniard is this: does José Enrique deserve to be mentioned in the same breath as the truly élite left backs in the Premier League such as Everton's Leighton Baines or Chelsea's Ashley Cole? In this article, I will statistically compare the 2012/13 performances of Enrique, Baines, and Cole to decide whether the Spanish left back truly merits a place among the top left backs in the EPL. This statistical analysis will take into account what I consider to be the three most important areas of ability for a modern, attacking fullback—defense, passing, and creativity.
NOTE: Enrique has only played about half the minutes that Baines and Cole have played this season. As a result, I will be using averages and rates as metrics to compare the three, as raw statistics would skew the results of the comparison towards those who have played more minutes.
Defensive Statistics
[table id=207 /]
At first glance, José Enrique does not seem to compare favourably with Baines and Cole in terms of defensive ability. His success rate in both ground and aerial 50-50s is lower than that of both other full backs, and although his tackle success % is higher than Cole's, it does not quite match the extremely good 81% of Baines, who most (myself included) consider to be the top left back in the Premier League this season. However, Enrique almost NEVER lets his man (usually a winger) get by him, and compares very favourably to Baines and Cole in this category, being dribbled past less often than Baines and at nearly half the frequency of Ashley Cole. In addition, Enrique wins possession back for Liverpool more often that Baines for Everton and Cole for Chelsea, a key statistic for full backs, as the attacking impetus always begins with the winning of possession from the opposing team. Thus, though Enrique does not reach the aerial ability of either of his competitors, he hangs with them in terms of tackle %, and far surpasses them in terms of ability to win possession.
Passing Statistics
[table id=208 /]
Passing ability is an extremely important trait in a modern fullback, especially one playing under a pass and move philosophy, like Enrique at Liverpool. One would expect Enrique's open play pass completion rate to be higher than that of his Everton and Chelsea counterparts, given Brendan Rodgers' focus on short passes in a layered buildup strategy. This assumption is actually incorrect, as the statistics show that Enrique's quite shoddy 76% doesn't match Baines' 83%, nor Ashley Cole's immaculate 88%. Looking further, however, I've noted that Enrique plays more of his passes forward than both of his competitors, which implies that Enrique plays more risky passes in an attempt to create chances (discussed in the next section).
With Enrique's attacking impetus in mind, I also discovered that the Spaniard's final third pass completion rate was far lower than Baines' and Cole's. In fact, 62% is actually quite poor. It appears that passing is an area of Enrique's game that the Liverpool man needs to improve. However, this goal and this assist should be evidence enough that the Spaniard clearly possesses some ability to pick a pass. As someone who watches Liverpool every single week, I would argue that these percentages are not an accurate reflection of Enrique's passing ability; perhaps my Liverpool bias creeps in a bit when discussing my own players, but to me, Enrique is just as good of a passer as either of these other two full backs (Editors Note: It has to be bias – every time I watch he gives the ball away!). If you're a firm believer in statistics, though (which I believe myself to be), Enrique does not match the ability of Baines nor Cole.
Enrique's ability to cross is also quite worrisome; he has an extremely low success rate of 11%. Even Ashley Cole, not known for being a great crosser of the ball, almost matches Enrique's rate. Neither, of course, come close to Baines, who many consider to be one of the best crossers in all of world football. The modern fullback overlaps constantly during a game, always involved in the final third. If Enrique is to be considered an elite left back, he must improve his crossing ability, as well as his consistency in open play passing.
Creativity Statistics
[table id=209 /]
As I said earlier, the attacking phase can often begin with the fullback, especially at Liverpool. I watch José Enrique and his right back teammate Glen Johnson bomb down the wing every week, getting forward at every opportunity to try to support the attack, sometimes coming infield to help the central midfielders, and sometimes staying wide and overlapping with the wingers. However, Enrique's opposition in the creativity category is quite fearsome. Leighton Baines has created the most chances in the EPL this season, surpassing the likes of Luis Suárez, Juan Mata, and Santi Cazorla. Of course, Baines does have a major advantage in this category when compared to Cole and to Enrique: the Everton fullback takes his team's set pieces, whereas neither the Liverpool left back nor the Chelsea man ever take corners nor free kicks. Thus, this statistical analysis only looks at OPEN PLAY chances created.
Unsurprisingly, Baines is streets ahead of both of his counterparts in terms of minutes/OPP Chance created. However, Enrique creates chances at nearly twice the frequency of Ashley Cole. In addition, Enrique has created loads of Clear Cut Chances this year for Liverpool, at a rate that nearly matches that of Baines and far eclipses Cole's. Enrique also leads the charts with 3 open play assists, including that beauty to Luis Suárez against Newcastle that I alluded to earlier in the article. I haven't included goalscoring as a metric in this comparison, as I don't feel that scoring goals is an important skill set for a left back to have—Baines, however, far surpasses both other full backs in this category. In summary, though much is made of Leighton Baines' creative ability, many of his chances created come from set pieces, and José Enrique nearly matches his open play creation rate. Cole is essentially a non-factor in this comparison; it is clear that most of the Chelsea fullback's ability lies in defense and passing.
Conclusion
Now I return to the question that I posed at the beginning of the article: Is José Enrique one of the Premier League's élite full backs? Based on the results of this analysis, my answer: no. Though he is very good in attack in terms of creating chances and frequently wins possession from his opponents, Enrique is statistically a poor passer and needs to work on his aerial ability, as well as winning more 50-50s to reach the level of Leighton Baines and Ashley Cole. Despite this fact, I am optimistic about José's future at Liverpool FC. He seems to have re-established himself as a vital member of our best XI, and I hope to hear chants of "José,  José José José, Enrique, Enrique" ringing around Anfield for many years to come.