Debate Over Díaz' Disallowed Goal
The endless debate regarding the ramifications of Luis Díaz' wrongly disallowed goal has tumbled on all week and will likely still be clogging your social media feed long after you've read this.
But while it has sadly unleashed a torrent of stupidity from certain rival fans, journalists and pundits alike and doesn't count in the record books – won't someone please think of the spreadsheets? – let's not lose sight of the fact it was a fantastic goal. If there was any justice in the world, the footage would be included on Thomas Grønnemark's CV.
From a throw-in in their defensive third, Liverpool had the ball in the back of the Tottenham net approximately nine seconds later. Great throw, brilliant pass, sublime finish. In short: well done boys, good process.

Salah and Díaz: A Budding Partnership
Without wishing to diminish Joe Gomez' contribution to the move, the aspect which really drew the eye was Mohamed Salah playing a perfect through-ball to Díaz, as that is how the Reds got off the mark in their previous visit to London, the 1-1 draw with Chelsea.
Prior to this season, the pair had only combined for a single goal. In a front three which looks set to feature plenty of rotation, a potent new partnership may be forming.
Salah's Noteworthy Streak and the VAR Debacle
By incorrectly disallowing the goal, the clown car at Stockley Park ended Salah's run of either scoring or providing an assist in every game he's played this season. The streak of continuous goal contributions stretched back into the closing weeks of 2022/23 too, with the Egyptian making his mark in 13 games straight. The sequence began with a game against Tottenham; sometimes, you truly can't make this stuff up.
Leave aside the match against LASK and Salah had scored or assisted in 12 consecutive Premier League matches, the joint-third longest productive stretch in the history of the competition. The VAR debacle robbed him of an opportunity to match or better the 15 game runs recorded by Jamie Vardy and, well, himself. It's not quite 'only Salah' in this instance.
The stretch of continuous output Liverpool's number 11 put together between August and December 2021 will be tough to beat. Where Vardy's sequence featured 14 goals (with three penalties) and three assists, Salah delivered the same total of goals, with one fewer spot kick, and set up four more for his teammates. Erling Haaland's first 15 matches in the competition saw him make 24 goal contributions – 21 non-penalty – though he did draw a blank along the way. Chances are he'll take the record one day.
Evolution of Salah's Game
But we're not here to discuss the Nordic meat shield. It's the evolution of Salah's game which is of interest today. His previous lengthy stretch of goals and assists skewed 67 per cent towards the former, while his recent productive run saw six scored but nine created. It's worth remembering too that one of the goals came following a missed penalty and he would have had another assist had Harvey Elliott been awarded a goal at Molineux rather than Wolves' Hugo Bueno being debited for it. That's before we get to the robbery in north London too.
Whisper it quietly, Salah hasn't scored a goal which wasn't from the spot or a set piece situation in his last 15 Premier League games. Not since he bagged two on the break at Elland Road in mid-April has the Egyptian celebrated finding the net in open play.
When you look at his underlying data from league football, this is much less of a surprise. Salah's shots per 90 average has never been lower, his rate for key passes at a new peak. Plotting on a graph highlights how the two metrics are far closer together than they have ever been in the past.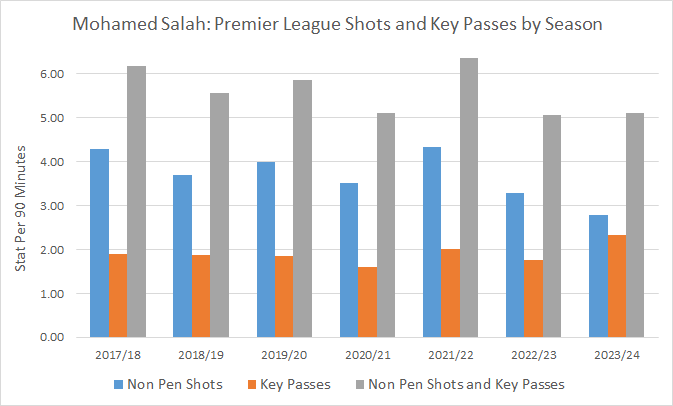 While not reaching the previous peaks – and doing so would be a tall ask for any 31-year-old – the combined output is matching what he delivered in two of the previous three seasons, namely a shade over five shots or key passes every 90 minutes.
And here's where it gets interesting. The quality of chance being generated is higher than it's ever been before, to the extent that even though the shots and key passes rate isn't Salah's highest at Liverpool, his combined expected goals and assists have reached a new peak.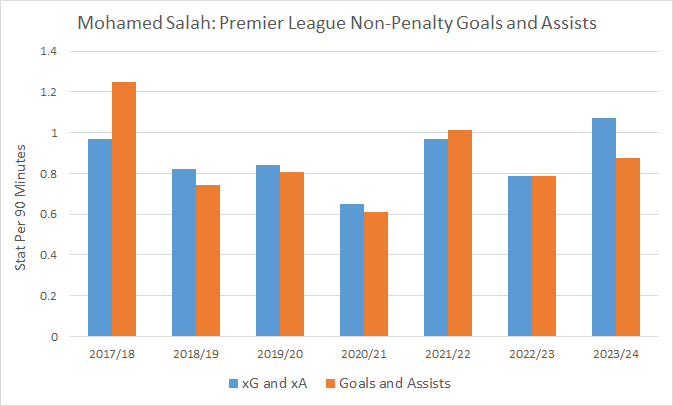 As always at this time of year, the small sample asterisk must be applied. But it's a small sample in which the Reds have played approximately 137 minutes with 10 men and 21 (plus stoppage time) with nine. It's reasonable to expect Salah to feature in more shots once the bizarre of run of red cards draws to a close (and hopefully it already has).
Salah's Increased Creativity
The shot total also includes a penalty rebound, a much higher value opportunity than comes along too often. As we've learned, shots are making up less of Salah's output than ever before, though, so it's his creativity largely pushing his new high figure.
It should be better still, but shots from offside moves are not included in the data. Thanks a lot, Darren England. Regardless of that mess, Salah is more creative than ever before and playing through balls the likes of which most attacking midfielders can only dream. Díaz and the other forwards should be licking their lips in anticipation.