Elliot's Europa Start
20-year-old Harvey Elliott was named in Jurgen Klopp's starting line-up once again as Liverpool faced Union SG in the Europa League on Thursday.
The youngster has made a promising start to the season, often used from the bench in the Reds' opening Premier League fixtures.
This has led to him earning a starting spot in both of Liverpool's Europa League games, as well as the Carabao Cup Third Round victory over Leicester City.

However, in this article we're going to focus on his performance in the 2-0 victory over Union SG on Thursday night.
First-half Performance v Union SG
Elliott started in the advanced right position in Klopp's new-look 3-3-3-1 formation.
Wataru Endo was deployed at the base of the midfield, with Trent Alexander-Arnold providing support alongside him from the inverted full-back role.
This provided a strong base to allow both Harvey Elliott and Ryan Gravenberch to showcase their creative abilities in the more advanced midfield slots.
In the first half, the system seemed to be working fantastically with both Elliott and Gravenberch being the two standout performers for the Reds in the opening 45 minutes.
Both players were finding the half-space brilliantly, leading to a number of fantastic chances – most notably Darwin Nunez's missed sitter from eight yards out.
The statistics prove just how effective Elliott was being in the first half, completing four progressive carries and two key passes in the opening 45 minutes alone.
In my opinion, this is certainly Elliott's best position and, at the moment, would be my direct backup behind Dominik Szoboszlai on the right-hand side of Klopp's midfield.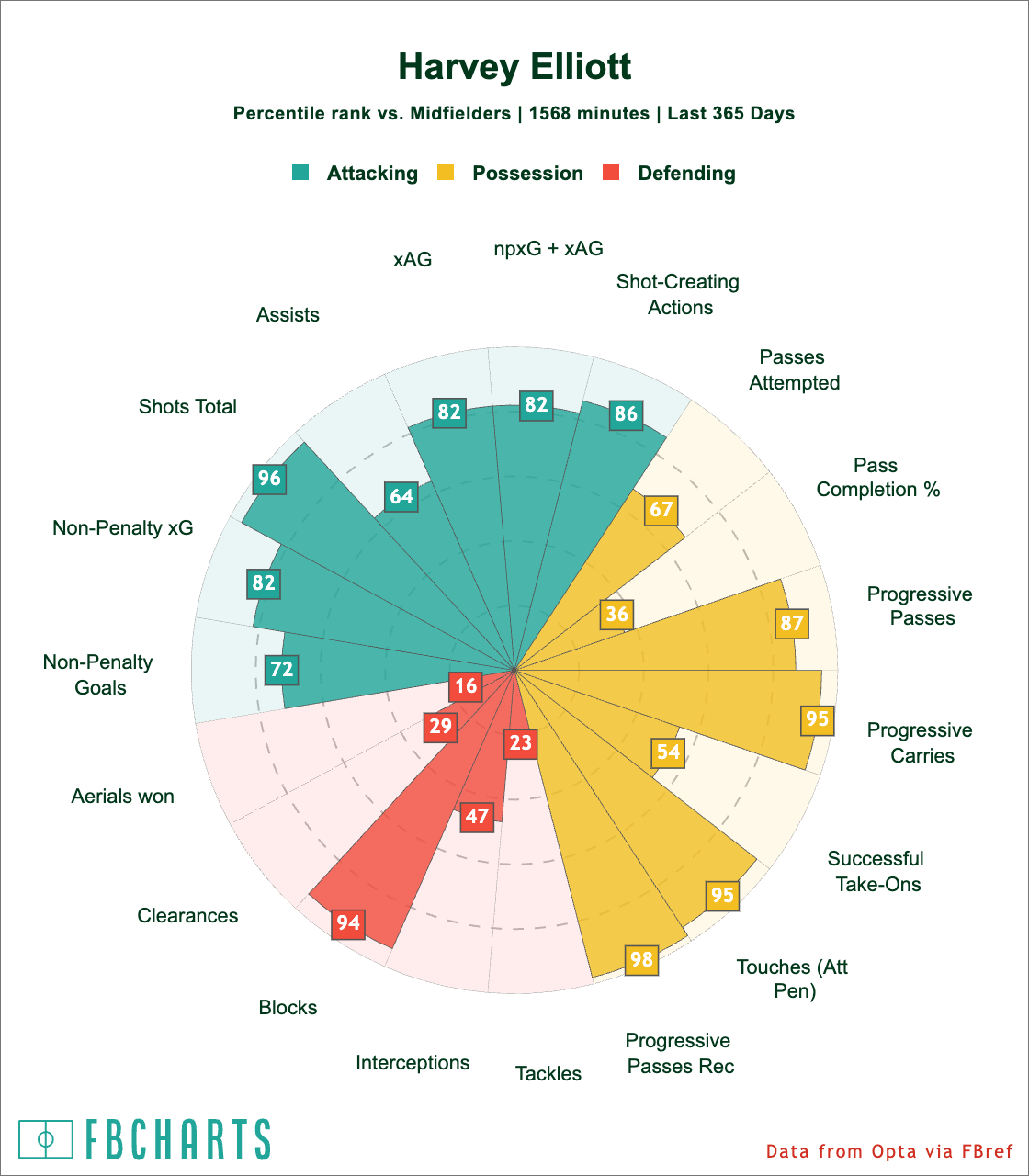 Second-half performance v Union SG
Jürgen Klopp opted to use three substitutions at half-time, with Mohamed Salah, Darwin Nunez, and Wataru Endo all being replaced.
Curtis Jones, Alexis Mac Allister and Luis Diaz all came on to replace those three during the interval.
Most notably this meant that Harvey Elliott would be pushed out wide as a right-winger, leaving Jones and Mac Allister to partner Gravenberch in midfield.
The 20-year-old desperately struggled to have anywhere near the same form of impact out on the right-wing.
It's incredibly noticeable to observe the different styles of play between Elliott and Salah when playing out wide, and it caused Liverpool all sorts of problems in the second half.
Mo Salah prefers to play on the shoulder of the defenders, which opens up huge amounts of space for Trent Alexander-Arnold and Dominik Szobozslai on the right-hand side.
Alexander-Arnold was doing a brilliant job of exploiting this space in the first half along with Elliott, which led to the creation of the majority of Liverpool's chances in the first half.
However, when playing on the right-wing, Elliott naturally wants to cut back in to become more involved in the build-up play.
The major problem with this is that it massively overcrowds the right-hand side, which we saw multiple times especially when Joe Gomez came on in the second half.
All of Union SG's late chances in the game came from Liverpool's attacks breaking down on the right-hand side.
The future of Harvey Elliott
In my opinion, Harvey Elliott's long-term future at Liverpool needs to be based around that central midfield spot, rather than a potential back-up/replacement for Mohamed Salah on the right-hand side.
I think that there are a handful of players who are more effective on the right-hand side than Elliott, such as Ben Doak and even Diogo Jota.
Elliott needs to be looking to provide competition for Szobozslai's slot in midfield, in the same way Gravenberch and Jones are jostling for the same spot on the opposite side.
There is no doubt over Elliott's quality and love for the club, which are both clear to see, but I do hope he doesn't just become a utility player used to plug the gaps.