Scouting the Bundesliga's Swift Talent: Maximilian Beier
In the meticulous world of football transfers, Jurgen Klopp and his Liverpool team are no strangers to strategic planning. Even with the January transfer window a quarter of a year away, the gears at Anfield are already turning, particularly with an eye on the Bundesliga's rising stars.
A Glimpse into Beier's Remarkable Pace
Maximilian Beier, a 20-year-old striker, has been making waves in the Bundesliga, not just with his goal-scoring prowess but also with his remarkable speed. Clocking a staggering 35.45 kmph, he stands as the second-fastest player in the league this season, only marginally eclipsed by Bayern Munich's Leroy Sane. His speed, coupled with a keen eye for goal, has illuminated his potential on the international stage, making him a notable figure in the transfer gossip columns.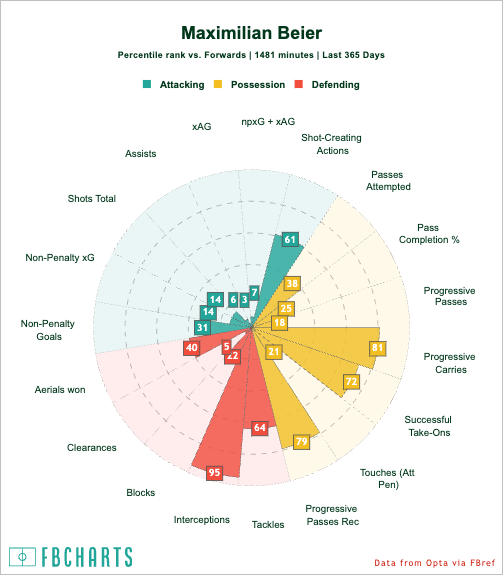 Impressive Stats Signal a Bright Future
Beier's statistics speak volumes about his potential and why Klopp might be interested. With four goals in six Bundesliga appearances and an additional assist to his name, the U21 German international has demonstrated a knack for being in the right place at the right time. His goal-per-minute ratio is an impressive 86 minutes, showcasing a consistent threat in front of goal and providing a glimpse into a promising future.
The Potential Transfer Tug-of-War
While Liverpool's interest in Beier is concrete, they are not alone in their admiration. Everton and Brentford have also reportedly thrown their hats into the ring, potentially setting the stage for a summer transfer skirmish. The competition for Beier's signature could be fierce, and while the allure of a club like Liverpool is undeniable, the young striker will likely weigh his options meticulously, considering the potential pitfalls of moving to a traditionally 'big' club.
Maximilian Beier of Hoffenheim is on Liverpool's list. His high speed this season was 35.45kmph, he's the second-fastest German player behind Leroy Sane. Also Everton and Brentford are interested in Beier @BILD_Sport @caughtoffside @LFC

— Christian Falk (@cfbayern) October 6, 2023
Weighing Options and Future Prospects
The case of Brighton's Evan Ferguson underscores the importance of careful consideration for young talents when choosing their next club. The allure of a big club can sometimes overshadow the potential for growth and development found in smaller teams. Beier, undoubtedly aware of this, may take a leaf out of Ferguson's book, ensuring that his next move is calculated to provide not just immediate gains but also a stable platform for his future development.