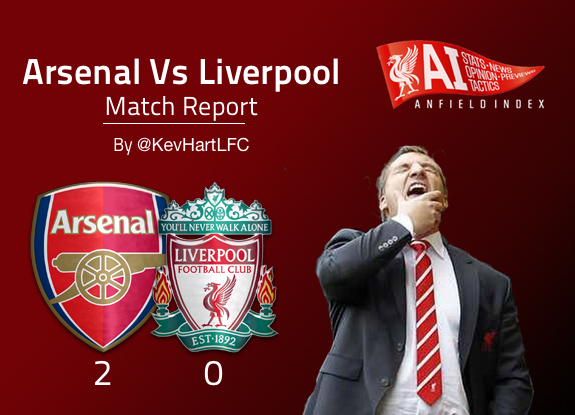 Arsenal 2 Liverpool 0 | Match Report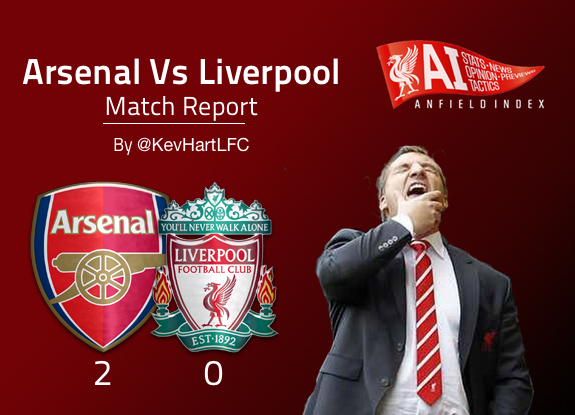 The Liverpool Boys came to London with high hopes and ambition as they hoped to take top place in the Premier League but not everything went our way. Glen Johnson pulled out of the squad late on with illness forcing Rodgers to place Jon Flanagan in the side at right wing-back and with Jose Enrique still out Aly Cissokho retained his place on the left, Rodgers stuck with the Toure, Sakho and Skrtel partnership at the back leaving Daniel Agger on the bench. Our midfield trio of Henderson, Lucas and Gerrard stayed the same leaving Suarez and Sturridge at the top.

Both sides started the game exceptionally well with both sets of strikers causing problems for the other sides defence and Jordan Henderson nearly broke the deadlock early on when an Arsenal error allowed him to run straight at goal but he never shot early enough and the chance went to waste but it was Arsenal who opened the scoring in the 19th minute after a 1-2 with the post and some sloppy Liverpool defending. Despite conceding Liverpool fought with the game still very much in their gasp and the game went to half-time at 1-0. Lucas and Aly Cissokho were at blame for some poor defending and during the break Philippe Coutinho made his return from injury as a substitute for Aly Cissokho pushing Sakho to the left and changing to a 4-3-1-2 formation.
The second half started well once again for both sides but as the game progressed Arsenal had the better of Liverpool gathering more chances and keeping possession, frustration was in the air for both Brendan Rodgers and Liverpool as the team kept squandering attacks and leaving holes in our defence. Arsenal gained a 2 goal lead in the 59th minute after Aaron Ramsey unexpectedly fired from outside the area and left the ball dipping over Simon Mignolet's fingertips. Victor Moses came on for an impressive Jon Flanagan in the 68th minute as an attempt to spice the game up and change Liverpool's fortunes. As the final 15 minutes approached Liverpool found their feet and started looking deadly in the final third but it wasn't to be and Arsenal came away from the game 5 points clear at the top of the table.
Overall a bad day for Liverpool as we conceded once again for a sixth consecutive game. Liverpool will finish the day in third place level on points with Chelsea who sit in second place due to goal difference. Although we lost we cannot be too disappointed as Arsenal are in dangerous form and do sit on top of the table so we can't let this result hurt us and we should just now focus on the Fulham game.