Navigating Through the Challenges at Anfield
In the heart of Liverpool, the Anfield Road Stand expansion project has been a beacon of anticipation for Liverpool FC supporters, promising an enhanced experience and increased capacity. However, the journey has not been without its hurdles, as the club's CEO, Billy Hogan, recently shared insights into the ongoing developments and unexpected delays.
A Sudden Halt and Swift Action
The initial shockwave through the project came when Buckingham Group, the initial contractor, declared its intention to enter administration in mid-August. This unforeseen circumstance not only halted the project for three weeks but also necessitated a meticulous re-evaluation of the entire construction programme. The club, valuing transparency and commitment, swiftly appointed Rayner Rowen Construction as the new contractor, ensuring minimal disruption and a continuation of the works by September 5th.
Maintaining Momentum Amidst Setbacks
Despite the setback, Liverpool FC and Rayner Rowen have managed to sustain momentum, placing orders for over 80% of the remaining work with subcontractors previously under Buckingham Group. This strategic move has facilitated a smoother transition amidst the chaos, allowing the project to forge ahead with a revised completion programme, albeit with a delay.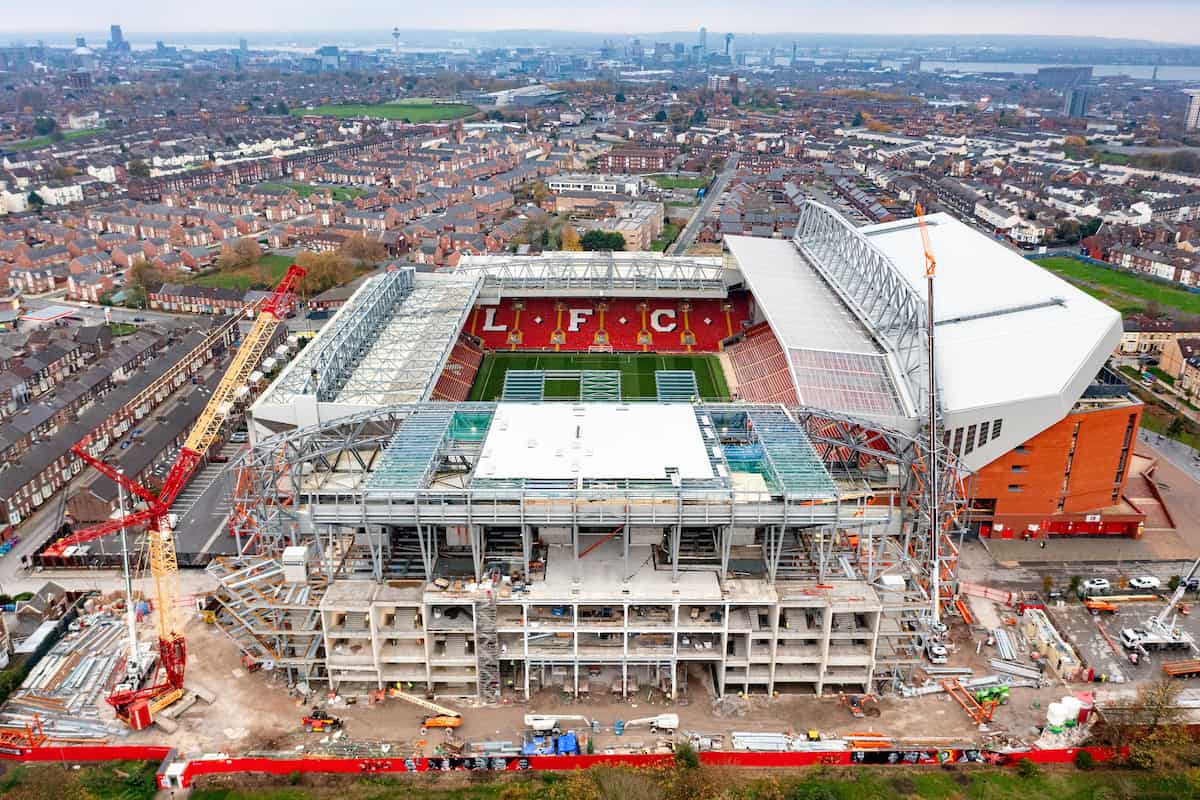 Revised Timelines and Supporter Impact
The impact of the delay is palpable, especially for the supporters who have been eagerly awaiting the completion of the Anfield Road Stand. The initial hope was to have the upper tier open, at least partially, for the upcoming men's Merseyside derby. However, as more information has unfolded and further assessments have been made, it has become evident that this will not be feasible within the current calendar year.
Addressing the Concerns of Ticket Holders
The delay inevitably brings disappointment to fans who have purchased tickets in the upper tier of the Anfield Road end for the upcoming home games. While the club expresses its sincere apologies for the inconvenience, it assures that those affected will not lose their credit for the purchase and will be contacted directly by the fan services team regarding the subsequent steps.
Looking Forward with Optimism and Commitment
While the exact timeline for the New Year remains uncertain, the commitment to keeping supporters informed and ensuring the successful completion of the project remains steadfast. The complexity of the situation demands thorough information gathering and careful planning before committing to a new project timeline. The club, consultants, and Rayner Rowen are diligently working to navigate through these challenges, ensuring that when the Anfield Road Stand is complete, it will be a testament to the unwavering spirit and dedication of all involved.