Number Six Option for Liverpool
As we all wait to see our respective national teams undertake yet another batch of frustrating international friendlies, I will be looking at the next defensive midfield option that Liverpool may explore in the upcoming January transfer window. With my preferred target youngster, Lucas Gourna-Douath, addressed in an article earlier this week, I will now be analysing one more young enforcer, one who could be moulded into everything that the Liverpool 2.0 squad requires.
Soungoutou Magassa
Age – 20-years old (DOB 08/10/2003)
Current Club – Monaco

Playing Positions – CB / CDM
Height – 6ft 2inches
Weight – 75kg
Appearances – 33 games
Career Goals & Assists – 1 / 0
Total Minutes Played – 2,601
International Caps & Goals – 0 games / 0 goal
Contract Expiry – June 30 – 2027
Transfermarkt Value – €800k
France U21 is so stacked. Nice to see Coach Thierry Henry call up some nice profiles, Lenny Yoro, Soungotou Magassa up & Kiliann Sildillia (interesting RB profile) Akliouche after 2 goals in his last match 👌🏼, Lucas GD 💎
So much talent in this list. pic.twitter.com/NImCscjgUf

— Moby (@Mobyhaque1) October 5, 2023
This is a very raw yet exceptionally promising Monaco academy graduate, who is now starting to flourish in Ligue 1. His short career has seen him occupy either the centre back, defensive midfielder, or central midfield positions, which gives a varied skill set to mould into what Jürgen Klopp would require in an evolving squad. As an emerging talent, the 20-year-old's early 2023/24 form has seen him called up to Thierry Henry's latest France under-21 squad, as the dominant European nation continues to produce a plethora of strong defensive players. Ultimately, my preference would be to sign an established holding midfielder (as well as Lucas Gourna-Douath), who could match the current level of our other excellent players from the outset.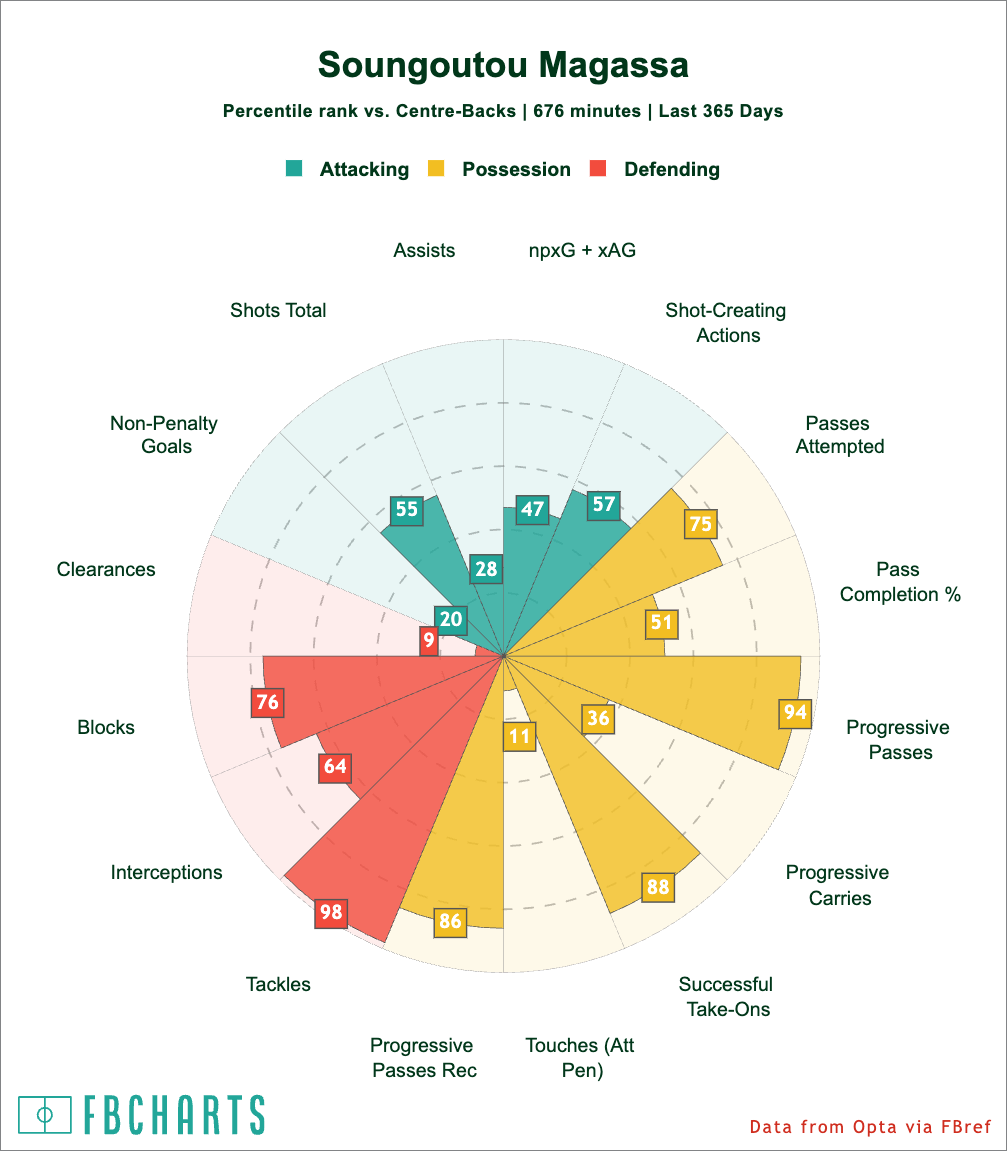 Established Holding Mid
Those types of players (Cheick Doucouré and João Palhinha) would be moves in January that could prove both highly expensive and ultimately unobtainable, especially given how teams will be aware of how desperate the Reds are to acquire such a player. This is why it is imperative for FSG to appoint a permanent Sporting Director before the next window, so that new ideas and an ability to negotiate deals can be expertly undertaken. Investment, albeit minority, has now been secured; therefore, the hope is that a more hands-on approach is taken by CEO Mike Gordon, so that the near future can be better navigated.
🧵 Rewatched first 2 AS Monaco games just to see wonderkid Soungoutou Magassa (19) 🇫🇷 🇲🇱& he already looks like next big sale after Tchouameni. He is a 6 but now also playing as a LCB in a back 3. Strong in duels, great in the air. Great passing range. Check his stats ⬇️ pic.twitter.com/jkHpQbrbE5

— Moby (@Mobyhaque1) August 22, 2023
Standing an impressive 6ft 2inches tall and rising through the Monaco ranks as former Red Fabinho once did are not the only similarities in their player profiles. Liverpool's recently departed Brazilian was equally adept at playing in both defence and midfield, which would make for a solid versatility within a dynamic squad of young players, given Magassa's clear ease at playing both roles. Though the early part of this year has seen Magassa play predominantly in the backline, it would be an intriguing challenge to recruit someone that could occupy several areas and create a strong individual to cover key areas.
The most important aspect of what comes next is identifying multiple players who can be signed in the following windows. The good start to Liverpool's regeneration must now gain pace, which will entail targeting elite potential players and ensuring the squad builds into something sustainable for years to come. I will certainly be looking at the more experienced players of interest, however, to continue building a young and vibrant squad would be the perfect way to combat the sports washing entity that currently dominates the Premier League. The next two months must involve intricate planning before swift execution, which means a Soungoutou Magassa should be more than a fleeting consideration.