Robertson's Unfortunate Setback
In a moment that left fans holding their breath, Liverpool's stalwart defender, Andy Robertson, experienced a disheartening incident during Scotland's recent UEFA Qualifiers clash against Spain. The Scotland captain, renowned for his relentless energy and pivotal crosses, found himself in an unfortunate collision with Spain's goalkeeper, Unai Simon, resulting in a dislocated shoulder and an early exit from the pitch.
The Immediate Aftermath: An Anxious Wait
The incident, which saw Robertson landing awkwardly under the opposing goalkeeper, has not only cast a shadow over Scotland's national team but also brought forth a wave of concern across the Merseyside. Scotland's manager, Steve Clarke, expressed his immediate decision to withdraw Robertson from the game, ensuring that the player's well-being was prioritised. The defender is set to undergo further scans and assessments upon his return to Liverpool, providing a clearer picture of the road ahead.
The Domino Effect: Impact on Liverpool and Scotland
Robertson's injury comes at a crucial juncture, not just for his club, but also for his national team. With Kieran Tierney already sidelined, Scotland now faces the challenge of navigating through their upcoming fixtures without their key left-sided players. For Liverpool, the absence of their first-choice left-back in the upcoming fixtures, including the highly anticipated Merseyside derby against Everton, will undoubtedly require strategic adjustments from Jurgen Klopp.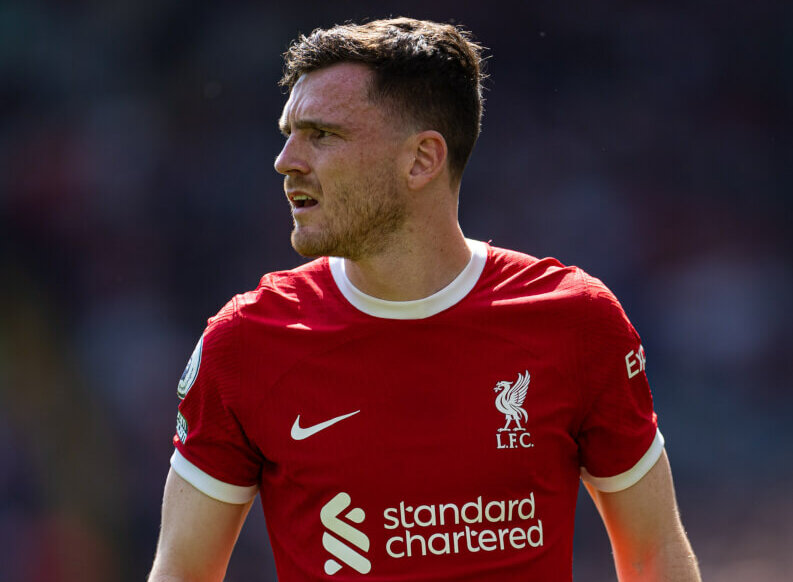 Stepping Up: Tsimikas in the Spotlight
In light of Robertson's potential absence, Kostas Tsimikas is poised to step into the limelight for Liverpool. The Greek international, who has showcased commendable performances in his appearances thus far, will likely be Klopp's go-to option in the left-back position. Tsimikas will be expected to rise to the occasion, providing both defensive solidity and an attacking threat down the left flank in the weeks to come.
A Glimmer of Hope: The Road to Recovery
While the initial outlook may seem grim, there is a silver lining based on previous instances of similar injuries. For instance, Rodrigo, the former Leeds player, managed a return to action within four weeks following a dislocated shoulder last season, without requiring surgery. Liverpool fans and teammates alike will be hoping for a similarly swift recovery for Robertson, whose presence on the pitch is undeniably influential for both club and country.