FSG Faces Revenue Loss Amid Delays
Liverpool's ambitious expansion of the Anfield Road End faces unforeseen delays, putting financial strain on Fenway Sports Group's (FSG) meticulously laid plans. Finance guru Kieran Maguire sheds light on the implications of the stalled development and the significant monetary losses per game as a result.
The Ripple Effect of Construction Halt at Anfield
FSG's vision for Liverpool's home ground was thrown a curveball with the Buckingham Group's administrative woes, culminating in a halt on Anfield's £80million expansion endeavour. Initially, the project promised to seat over 61,000 supporters, amplifying the renowned Anfield atmosphere. However, with completion pushed back to 2024, the Reds face more than just an aesthetic setback.
The ripple effect of this construction delay touches various aspects of club operations, not least of which is the matchday revenue. Each game, with the stadium underutilised, is estimated to cost Liverpool around £750,000 – a non-negligible blow to any club's finances.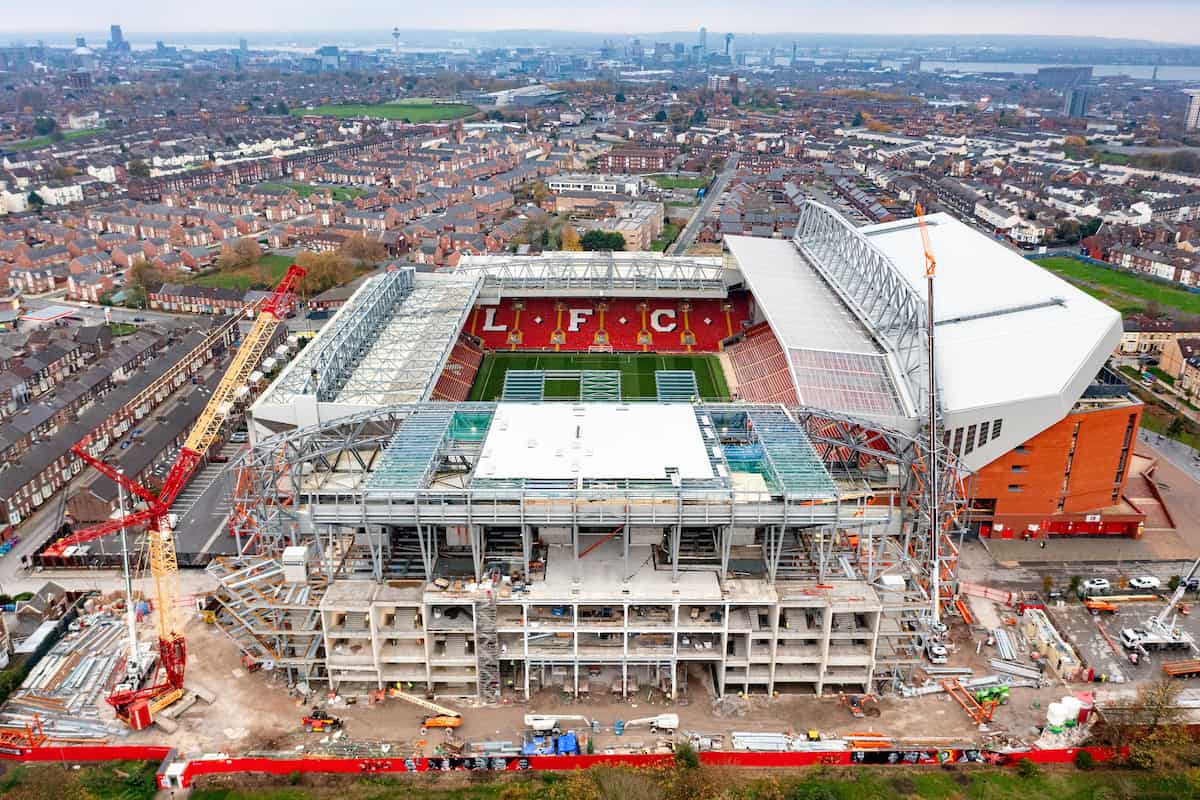 FSG's Prudence Amid Financial Hurdles
In conversation with Football Insider, Kieran Maguire highlighted FSG's disciplined approach, a stark contrast to the unforeseeable complication posed by their contractors' financial collapse. This professional conduct underscores their forward-thinking methodology, ensuring that immediate financial commitments hadn't been pegged on the anticipated income from the expanded stands.
Despite this prudence, the revenue dip is undeniable, equating to substantial players' wages, thereby underscoring the magnified impact of these operational hiccups on FSG's broader financial strategy.
Anfield Atmosphere Unperturbed by Reduced Capacity
While the financial aspect is a concern, the legendary Anfield atmosphere remains unthreatened. The Liverpool faithful are known for their unwavering support, capable of creating an electrifying environment, whether in a crowd of sixty or sixty thousand. This spirit, Maguire notes, will likely remain undeterred despite the fewer seats available in the interim.
The journey ahead for FSG is paved with strategic financial reassessment, necessitated by the unforeseen delays at the Anfield Road End. While the revenue shortfall is a setback, the ownership group's cautious approach has likely cushioned the immediate financial blow. As the wait for a more expansive Anfield continues, all eyes will be on FSG to navigate this period with their known financial astuteness.