Liverpool Sets Sights on Schalke Prodigy Assan Ouedraogo
In the sprawling network of European football, young gems are awaiting discovery, and it appears Liverpool has spotlighted a sparkling talent amidst Schalke's ranks: Assan Ouedraogo. The whisperings within Anfield suggest a growing interest in this midfield dynamo, even as the club navigates a bustling period of strategic signings.
Klopp's Keen Eye for Emerging Talent
The Merseyside giants, under the sagacious guidance of Jurgen Klopp, are no strangers to nurturing burgeoning stars, transforming them into full-fledged constellations in football's expansive universe. Ouedraogo, at the tender age of 17, is the latest blip on their radar, emblematic of Liverpool's sustained vision of blending youthful exuberance with experienced mastery.
The Midfield Maestro from Schalke's Quarters
Schalke, though trudging through tribulations in Bundesliga 2, cradles Ouedraogo's growing prowess. His playstyle, a concoction of explosive pace and a remarkable aptitude for strategic construction from the deep, echoes the finesse of football legends. Standing at 6 foot 3, his physicality is a beacon on the pitch, drawing the ball and play towards him as a natural orchestrator and intimidator.

Drawing Parallels with Legends: The Xabi Alonso Connection
Intriguingly, Bundesliga aficionados and pitch-side pundits have drawn exhilarating parallels between Ouedraogo and the iconic Xabi Alonso. Though pace isn't the hallmark of Alonso's legacy, Ouedraogo seems to embody Xabi's visionary playmaking, coupled with a sprinter's swiftness, adding a fascinating dimension to his midfield manoeuvres.
A Bargain in the Making for Liverpool?
Despite the flurry of recent additions to Liverpool's midfield, the prospect of embracing Ouedraogo into the fold is tantalising. His release clause, a figure hovering around €20m [£17m], is a mere pittance in the modern transfer saga, particularly for a player exuding such promise. Clubs from the echelons of English football, including the likes of Everton and Brighton, are purportedly lining up, ready to engage in a tug-of-war for the Schalke sensation.
Anfield's Strategic Horizon: Beyond Immediate Triumphs
As the January window looms, Liverpool's strategists are hard at work, their gazes firmly set on talents who will bolster not just the current squad, but fortify the club's future landscape. Ouedraogo, with his raw yet remarkable skill set, epitomises the calibre of youthful flair the Reds envisage adorning the hallowed turf of Anfield.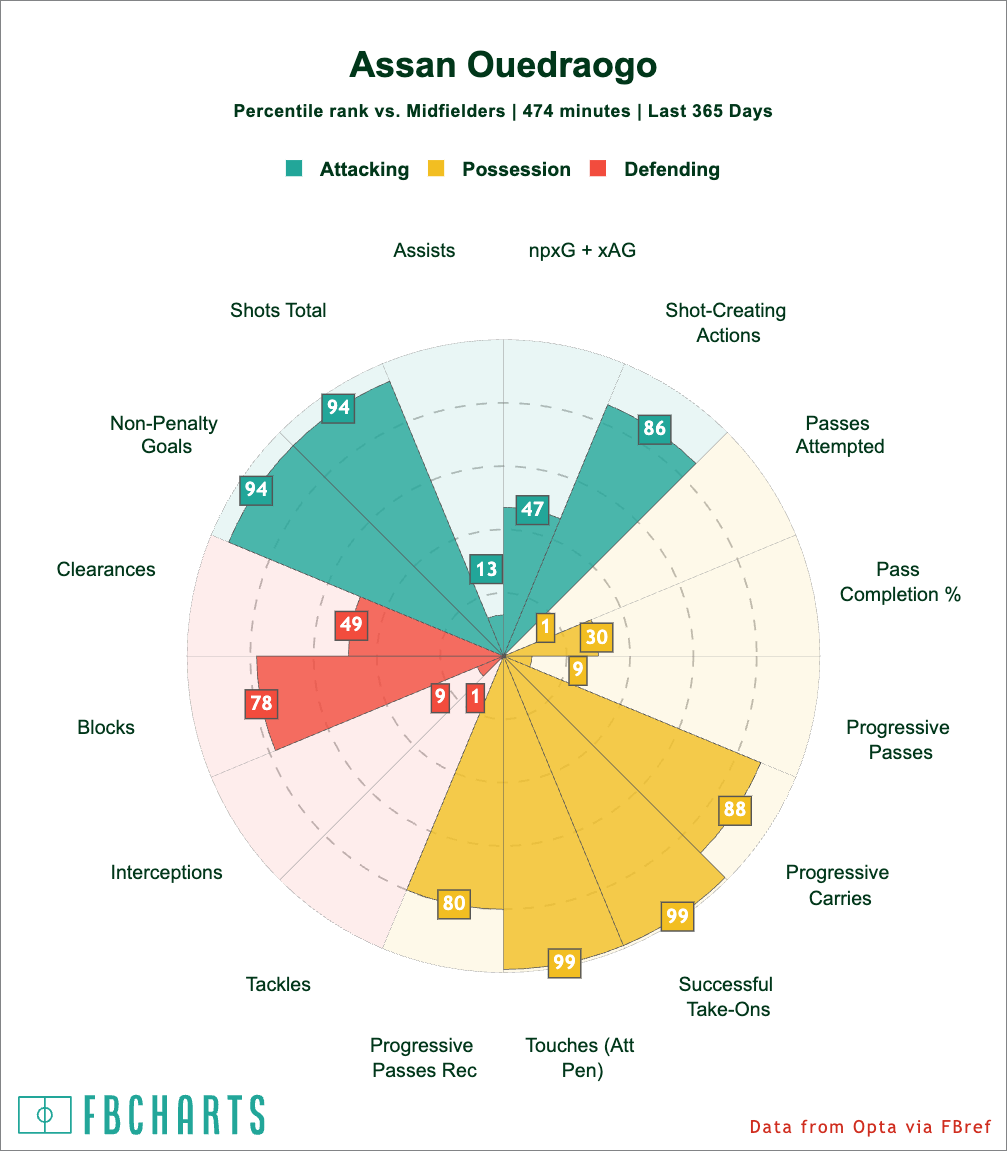 Analysis of Assan Ouedraogo's Performance Metrics
The radar chart provided depicts an evaluation of Assan Ouedraogo's performance across various metrics in comparison to other midfielders over a period of 365 days, for a total of 474 minutes played. The chart is segmented into three categories – attacking, possession, and defending – which are further broken down into specific performance indicators.
Attacking Metrics
Starting with the attacking side, Ouedraogo exhibits a particularly strong proficiency in non-penalty goals, with a percentile rank of 94. This suggests that he has been remarkably efficient in front of the goal, excluding penalties.
In the realm of creating chances for others, the metrics "npG+ xAG" and "Shot-Creating Actions" are quite close to the median, highlighting that while Ouedraogo is competent in creating opportunities, there might be room for improvement.
Possession Metrics
Ouedraogo's prowess in possession is evident, especially in terms of "Progressive Carries" and "Successful Take-Ons" where he ranks in the 88th and 99th percentiles respectively. These high ratings suggest he is adept at advancing the ball forward, either by dribbling past opponents or with direct runs, and is likely one of the team's primary ball-carriers. His ability to retain possession is further reflected in the "Touches (Att Pen)" metric, where he ranks highly at the 99th percentile. This is indicative of Ouedraogo being frequently involved in offensive plays, particularly in the attacking third.
However, there's a notable disparity when it comes to "Passes Attempted" and "Pass Completion %." While he attempts a significant number of passes (86th percentile), his pass completion percentage is relatively lower. This could mean that he often opts for riskier or more aggressive passes which might not always find their target.