Liverpool Eyeing Napoli's Star Striker Victor Osimhen
As the transfer market continues to bubble with excitement and speculation, Liverpool's gaze seems to have turned towards Napoli's key man, Victor Osimhen. The top-tier striker, instrumental in clinching Napoli's Scudetto victory last season, has now emerged as a potential target for the Reds in 2024.
The Victor Osimhen Saga: Tensions at Napoli
Despite being a pivotal figure in Napoli's attacking force, Victor Osimhen has found himself amidst a swirl of controversy following the club's social media debacle. The tension escalated to the point where the Nigerian striker's agent brazenly considered legal proceedings, according to reports from the BBC. While Osimhen remains professionally committed to his current squad, the atmosphere suggests a potential exit could be on the horizon.
Liverpool's Transfer Strategy: Osimhen on the Radar
Amidst the flurry of speculation, Italian journalist and director of Radio Kiss Kiss, Valter De Maggio, uncovered Liverpool's keen interest in the Napoli star. While discussing live on radio, De Maggio emphasised the significant attention the Reds are showing in Victor Osimhen's situation, hinting at a possible high-profile move.

The dynamics of Liverpool's interest lie in the uncertainty surrounding Mohamed Salah's future at Anfield. With the Saudi Pro League's giants poised to swoop in with an irresistible offer for the Egyptian king, Klopp's side might soon have a substantial void—and cash—to fill in their attacking line-up.
Klopp's Conundrum: Balancing the Squad's Dynamics
The potential departure of Salah could instigate a domino effect in Liverpool's transfer activities. However, the arrival of Darwin Nunez, a hefty investment in its right, raises questions about the feasibility and necessity of bringing in another striker with a heavy price tag like Osimhen, who Napoli values at a staggering £150 million, as per insights from the Mail.
What the Future Holds: Liverpool's Move on Osimhen Uncertain
While the connections between Liverpool and Victor Osimhen gather momentum, the actualisation of this transfer remains shrouded in uncertainty. The club's recent expenditure, strategic priorities, and Osimhen's situation at Napoli collectively contribute to the unpredictability of a move in 2024.
The anticipation continues to build, with various potential scenarios at play. As Jurgen Klopp plans for a robust squad capable of domestic and European success, all eyes will be on how Liverpool manoeuvres through these complex, high-stake decisions in the upcoming transfer windows.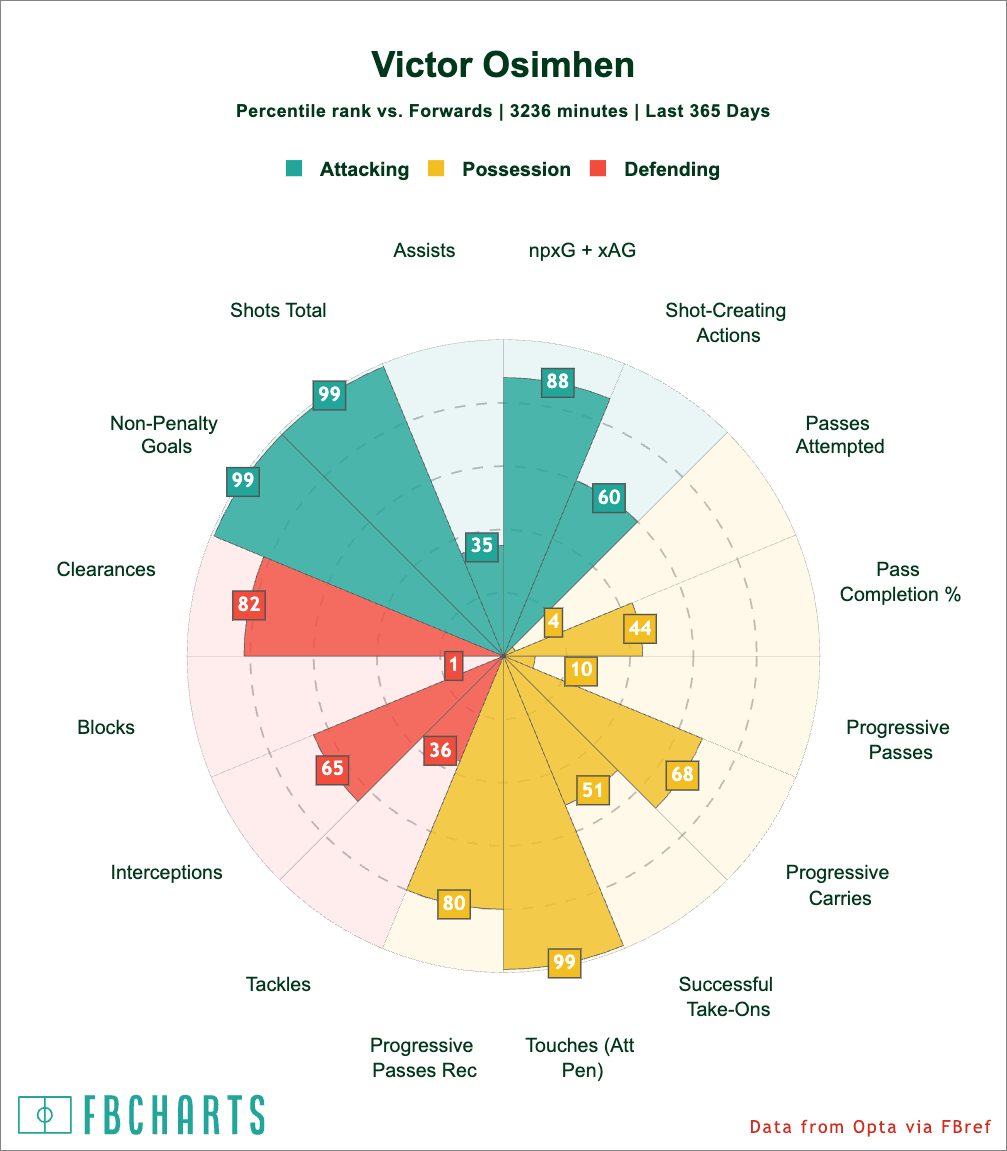 Decoding Victor Osimhen's Performance
Victor Osimhen's rise in football's elite echelons has been nothing short of meteoric. Given his recent performances, it's easy to see why. A detailed graphical analysis, courtesy of data from Opta via FBREF, sheds light on the Nigerian striker's outstanding statistics over the last 365 days.
Striking Prowess: Among the Best
Osimhen's attacking capabilities are distinctly showcased in the chart. He is in the 99th percentile when it comes to non-penalty goals, a metric that underlines his natural ability to find the back of the net without the aid of spot-kicks. His tally of total shots further accentuates this, positioning him as one of the most frequent shooters in the game.
Creativity and Contribution
Beyond his goalscoring, Osimhen's creativity cannot be overlooked. He ranks impressively high in shot-creating actions (88th percentile) and non-penalty expected goals plus expected assists (npXG + XAG) at the 88th percentile. These figures exemplify not just his ability to create chances for himself, but also for his teammates.
The Possession Game
The data reveals an interesting aspect of Osimhen's play: his possession metrics. With a decent showing in progressive carries (68th percentile) and successful take-ons (99th percentile), it's evident that he can take on defenders with ease and drive the ball forward. His touches in the attacking penalty area also hint at his tendency to be in the right place at the right time.