Liverpool's Radar Beams over Goncalo Inacio Amid Scouting Mission
As Liverpool's strategy intensifies around bolstering their defensive solidity, attention has turned towards Sporting CP's standout performer, Goncalo Inacio. The 22-year-old centre-back has garnered significant attention following his impressive international break, particularly during Portugal's commanding 5-0 victory against Bosnia and Herzegovina.
Goncalo Inacio: A Rising Star in Defence
Inacio's journey is nothing short of remarkable, having emerged as a beacon of reliability for both club and country. The young defender's recent performance isn't a flash in the pan; it's the result of consistent shining displays since his breakthrough at Sporting CP in the 2020/21 season. With an assist in Portugal's latest win, adding to his impressive tally of international goal contributions, Inacio's stock is rising in the world of football.
Scouting Beyond Borders: Liverpool's Centre-Back Hunt
While Inacio is the man of the moment, Liverpool's scouting network is casting a wide net. The Reds are forward-thinking, eyeing long-term successors for their current defensive stalwarts, Joel Matip and Virgil van Dijk. Their advanced scouting missions underscore a strategic approach, identifying centre-back targets like Sao Paulo's Lucas Beraldo, Portugal's Antonio Silva, and Italy's Giorgio Scalvini – names resonating with ardent Football Manager enthusiasts for their high potential.

Premier League Giants in a Scouting Showdown
Liverpool aren't alone in their admiration for these budding stars. Manchester United, known for their meticulous approach to player acquisitions, also recognised the potential in Silva and Scalvini, scouting them intensively during the September international fixtures. This scouting rivalry highlights the competitive nature of player recruitment among Premier League clubs, all seeking the next big thing in defence.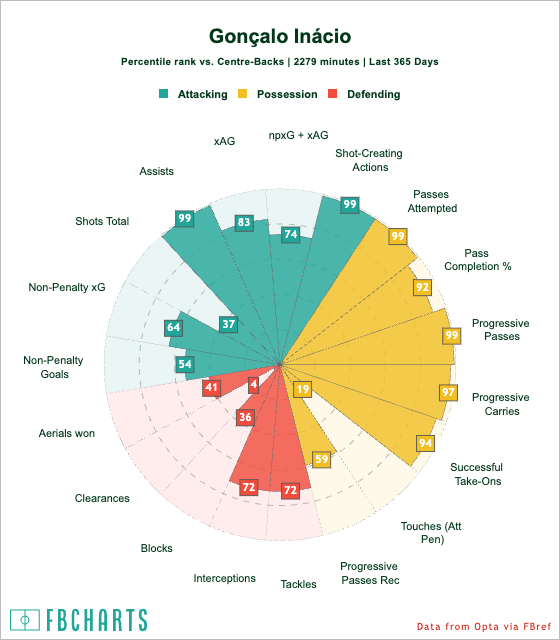 Gonçalo Inácio's Standout Season: A Deep Dive into the Stats
Football's modern era is one of data analytics and numbers, giving us tools to appreciate the nuances of a player's performance. Today, we delve into the season stats of Sporting CP's Gonçalo Inácio, using a beautifully crafted spider chart sourced from Opta via FBRef.
Inácio's Mastery in Ball Distribution
One of the standout aspects from the chart is Inácio's impeccable ability to distribute the ball. With a 99th percentile rank in both "Passes Attempted" and "Progressive Passes," it is evident that Inácio is not just any defender. He is a ball-playing centre-back, making him an invaluable asset in the modern game where building from the back is crucial. His 91% "Pass Completion %" further testifies to his reliability on the ball.
An Attacker's Nightmare
Inácio's defensive stats are noteworthy. With a high percentile in "Clearances" (68%) and "Blocks" (70%), it's evident that he possesses a proactive approach to defending. This is complemented by his decent figures in "Interceptions" and "Tackles", showcasing his reactive defensive capabilities.
However, there's a room for improvement in aerial duels, with "Aerials won" being at a 38th percentile. This suggests that while Inácio has a lot of strengths, he may face challenges against towering strikers who are dominant in the air.
A Threat in the Opposition's Box
The chart also sheds light on Inácio's offensive prowess. Despite being a centre-back, his 98th percentile in "Shots Total" and 62% in "Non-Penalty xG" indicates he's a legitimate threat during set pieces or when venturing forward. His "Non-Penalty Goals" ranking, however, suggests that while he gets into good positions, there's potential to convert more of these chances into goals.