The Elusive Guarantee of Trophies
There are so many factors that come into play when building a successful football team that it is impossible to determine which is the most important. How vital they are or not, nothing can definitively guarantee trophies.
The obvious place to start is with transfer spending, which unquestionably correlates with success. Yet a recent study by the CIES Football Observatory showed that Manchester United had the biggest net spend in world football over the last decade, a period in which they won neither the league nor Champions League.
Wages and Winning: The Delicate Balance
You can paint a similar picture with wages. Simon Kuper and Stefan Szymanski demonstrated in their book Soccernomics that the teams who spend more on player salaries do better, but it remains essential to pay the right people. Per FBRef, three of the top seven most well-remunerated players in the 2022/23 Premier League were Cristiano Ronaldo, David de Gea, and Jadon Sancho. Sorry to keep harping on about United, but they really are case study gold for this sort of analysis.

Liverpool are proving this point from the opposite angle this season too. The squad turnover that occurred this summer saw a lot of highly paid veterans leave the club, to be replaced with some fantastic up-and-coming midfield talent. The net result, at least according to Capology's estimates, is a £27m reduction in their annual wage bill, yet you'd fancy Liverpool 2.0 to finish higher than the fifth place delivered by, erm, Liverpool 1.9(?) in 2022/23.
The Klopp Factor in Management
So, let's assume you've secured the right players and you're keeping them happy with a decent looking pay slip, what else matters? Clearly, the manager employed to mould this outlay into a cohesive football team plays a significant part.
Liverpool have no issues here, with Jürgen Klopp widely considered to be among the top managers operating today. In light of what he has achieved with the financial disadvantage he has always held against his main rivals, one could make a case he is the greatest and one of the best of all time. 'The normal one' might not state that claim, but plenty of Liverpool supporters would.
The Unpredictability of Football
The problem and beautiful aspect of football is the random nature of it. A low scoring game will always be subject to luck and chance, with the Reds certainly seeing all aspects of that in the early weeks of this season.
There's no need to recount all of the incidents – we have our blood pressure levels to think of, after all – but becoming the first team in Premier League history to receive four red cards in the first seven games of a season has clearly played a huge part in some of their performances. That's before we get to the other strange decisions, which have ranged from questionable through to factually incorrect even following a review of video footage. Football clubs can control many of the ways they go about their business, but some very important things remain forever outside their sphere of influence.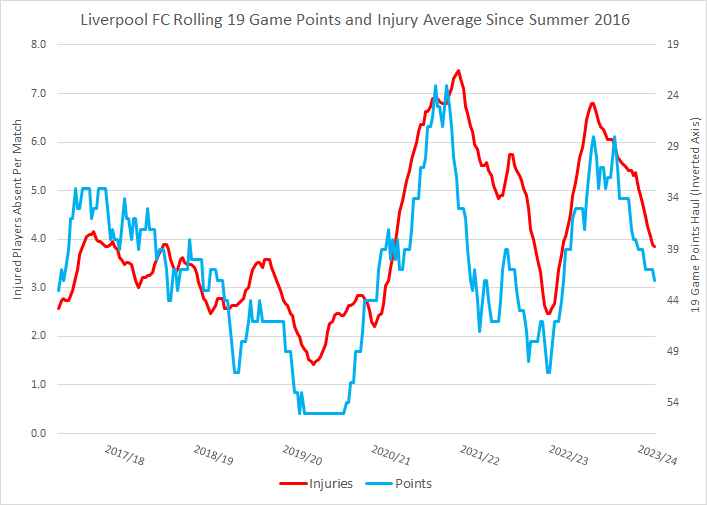 Injury Trends and Team Performance
And there's one factor which has an even greater impact than the referee. You can track it against Liverpool's points for over seven years, and there isn't just correlation, it tracks almost perfectly. It's time to talk about injuries.
The graph shows how the Reds have fared for injuries and points on a half-season rolling basis since the start of the 2016/17 season. The axis is inverted for the latter, to show how their best form coincided with having the fewest injuries, with the opposite occurring most notably in 2020/21 and last season.
You don't even need a trend line to get the idea, just the raw data. For 129 of the 274 league matches since the summer of 2016, Jürgen Klopp was deprived of no more than three players thanks to fitness issues, and his side averaged 2.43 points-per-game in those fixtures. That equates to 92 points across 38 matches, yet the figure drops to 77 once the Reds are carrying four or five injuries. For all of the other relevant factors that unquestionably contribute, an injury here or there appears to make the difference between title-challenging form and a scrap for the top four.
The Current Season: Patterns and Predictions
The first eight matches of 2023/24 have followed this theme too. There were no more than three men absent for the opening seven fixtures, and the Reds banked 2.29 points-per-game, even allowing for the debacle at Tottenham. However, there were then four men injured for the trip to Brighton – before we get to the suspensions – and Liverpool collected a point.
Clearly, the fact Caoimhín Kelleher was out did not lead the Reds to concede a late equaliser from a set piece; correlation is not always causation. But the general pattern is undoubtedly there, and while we await confirmation at the time of writing, Andy Robertson looks set to miss action for a spell. It's also unclear when Cody Gakpo will return, Stefan Bajčetić has barely played in six months, and there's been no sign of Thiago Alcântara yet this season.
It's not just about being deprived of the player(s) in question, it's the strain their absence places on a squad competing