Manu Kone Attracts Premier League Glances Amid Contract Extension
As the football season progresses, the grapevine is abuzz with speculation around rising star Manu Kone, currently with Borussia Monchengladbach. Amidst serious eyeballing from elite clubs like Liverpool, the German outfit has strategically played a masterstroke by lengthening the French midfielder's stay.
Recent seasons have seen Liverpool's midfield transform with new signings such as Alexis Mac Allister and Dominik Szoboszlai. Yet, the Reds are in the continual pursuit of excellence, keeping their roster update a perennial work in progress. In this milieu, Manu Kone, with his stellar performances for Monchengladbach, has seemingly appeared on the Merseyside club's radar.
Despite not being a top-of-the-list priority, Kone's consistent upswing in form makes him a hard prospect to ignore for Liverpool, particularly with their known strategy of investing in burgeoning talent.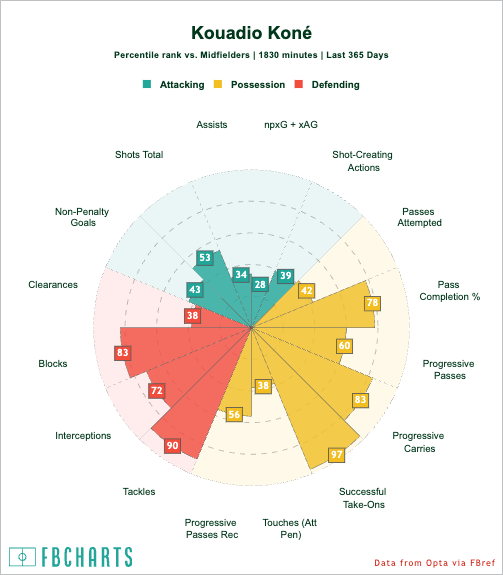 European Giants in Tug of War for Monchengladbach Prodigy
The allure of Manu Kone extends beyond the Premier League, reaching the echelons of football aristocracy in Juventus and Bayern Munich. These clubs, caught in their respective dilemmas, have earmarked the French U21 international as a potential solution.
Juventus, grappling with the void left by Nicolo Fagioli and potentially Paul Pogba, views Kone as a fitting piece in their midfield puzzle. Concurrently, Bayern Munich sees in Kone a prime alternative to Joao Palhinha, reflecting the young midfielder's escalating market desirability.
Monchengladbach's Smart Play Amidst Rising Interest
In a shrewd move to shield their interests, Borussia Monchengladbach has tactically extended Kone's contract till 2026. This step effectively puts to bed any rumours of a budget exit, reinforcing the German club's position in any forthcoming negotiation table.
Previous whispers in the circuit pegged Kone's tag at a modest £30m, a figure now ostensibly off the cards. The contract rejig not only speaks volumes about Monchengladbach's valuation of Kone but also sets the stage for a hefty tug of war in the looming transfer windows.
While the future remains unwritten, one thing is irrefutable: Manu Kone's trajectory is on a sharp rise. With Monchengladbach showing clear intentions of playing hardball, top suitors including Liverpool may need to recalibrate their strategies. As the January window approaches, all eyes will be on how these narratives around Kone unfold, potentially reshaping the young prodigy's career path.