Osimhen: From Napoli Legend to Anfield?
Over the past season, Victor Osimhen has etched his name into the annals of Napoli's rich football history. His pivotal role in delivering Napoli's first Scudetto in over three decades has ensured he's become nothing short of iconic in Naples. Yet, amidst the laurels and plaudits, clouds of uncertainty loom over his future at the club.
Rising Tensions Signal Potential Move
Recent weeks have seen a noticeable strain in the relationship between Osimhen and the Napoli hierarchy. This has been further fuelled by Valter De Maggio, a respected Naples-based journalist, who shared insights with Televomero via Arena Napoli. According to De Maggio, the primary reason behind the recent contractual stalemate between Osimhen and Napoli is the striker's potential move to Liverpool in 2024.
Liverpool's Strategic Play
De Maggio's revelations suggest that Liverpool, always strategic in their transfer dealings, have been in frequent touch with Osimhen's representatives. "The developments are intriguing. The discussions and agreements appear to be directly between Liverpool and Osimhen, bypassing Napoli," De Maggio pointed out. He further expressed his hopes that Napoli's president, Aurelio De Laurentiis, would manage to retain Osimhen at least until the summer.

Osimhen as Salah's Potential Successor?
While speculations are rife about Mohamed Salah's potential exit from Liverpool in 2024, securing Osimhen could be a strategic move by the Reds. Though not an exact match for Salah in playing style, Osimhen's prolific goal-scoring prowess would undoubtedly bolster Liverpool's attacking front.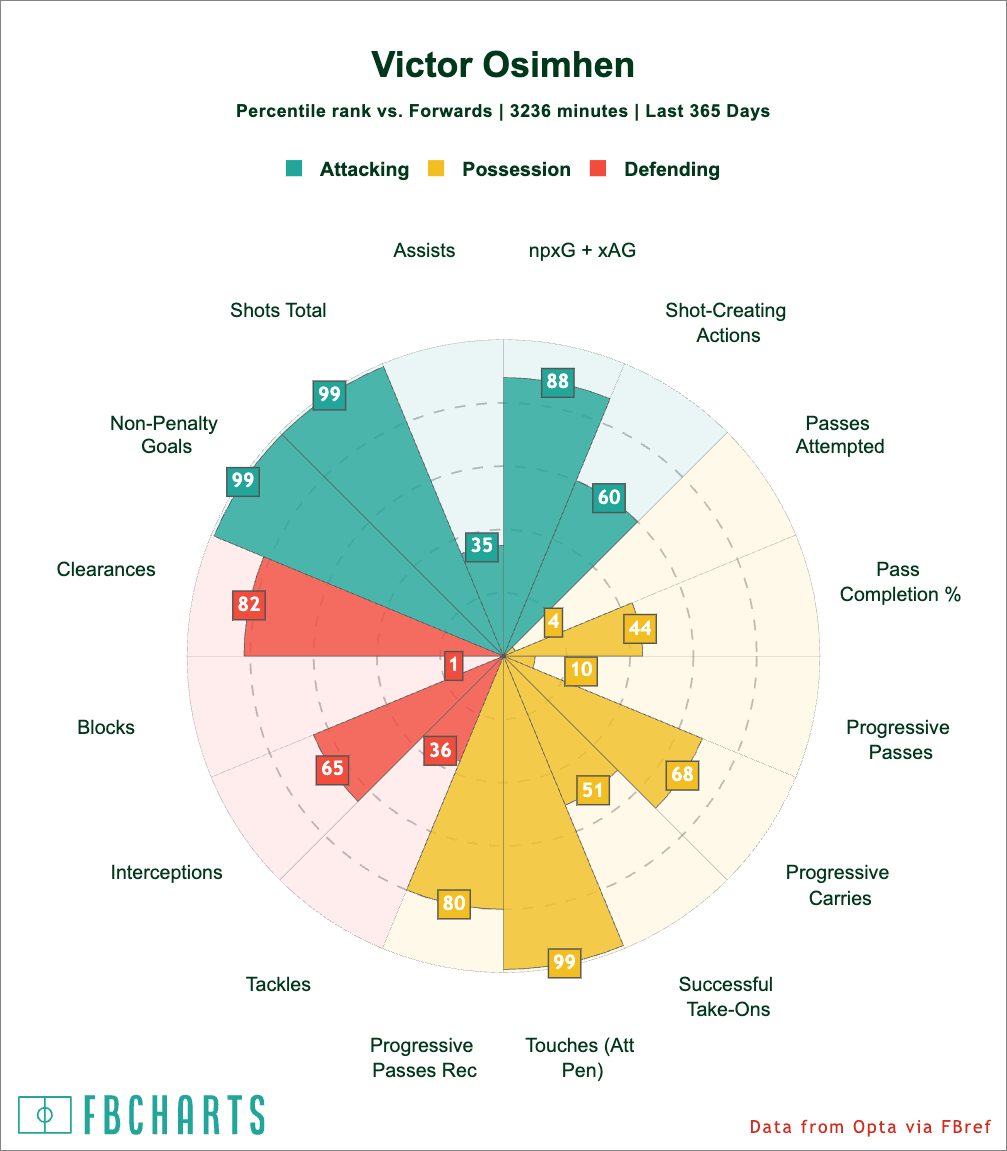 Analysis of Victor Osimhen's Performance: A Deep Dive into Stats
Football is a game driven by statistics, and with the continuous evolution of data collection, it's easier than ever to quantify a player's impact on the field. Victor Osimhen, Napoli's gem, is no exception. This in-depth analysis leverages data from Opta via FBREF to shed light on Osimhen's performance over the past 365 days.
At the outset, the chart shows percentile rankings for forwards who've played similar minutes as Osimhen. The categories are divided into three main areas: attacking, possession, and defending.
Attacking Prowess:
Victor Osimhen's attacking stats are nothing short of spectacular. He ranks in the 99th percentile for both 'Non-Penalty Goals' and 'Shots Total'. This suggests that not only is Osimhen getting opportunities in front of goal, but he's also efficiently converting them. His 'Shot-Creating Actions' and 'npxG + xAG' further underline his critical role in Napoli's offensive play.
Possession Skills:
Diving into the possession statistics, we witness a mixed bag for Osimhen. His 'Successful Take-Ons' and 'Progressive Carries' are in the top echelons, sitting in the 99th percentile. This indicates Osimhen's ability to drive the ball forward and navigate through tight defensive setups. However, 'Passes Attempted' and 'Pass Completion %' are areas where there's room for improvement, with percentile ranks of 60 and 44 respectively.
Defensive Contributions:
Osimhen's defensive metrics are commendable for a forward. 'Tackles', 'Clearances', and 'Interceptions' are all in the upper range, reflecting his willingness to drop back and help the team defensively.
The radial chart encapsulates Osimhen's all-round game. While he's a force in the attacking third, his possession and defensive stats show that he's more than just a goal-scorer. His overall game contributes immensely to Napoli's strategies and gameplay.
In conclusion, these stats provide a comprehensive insight into Victor Osimhen's importance to Napoli. With a blend of attacking flair, ball progression skills, and defensive diligence, he's undoubtedly one of the top forwards in the game right now.
Data Source: Opta via FBREF