Liverpool's Conundrum with South American Contingent
The narrative surrounding Liverpool ahead of the 243rd Merseyside derby was fraught with concern, focusing primarily on the availability of their South American players. As Paul Gorst of The Liverpool Echo expertly highlights, managing the safe and timely return of players like Darwin Nunez, Alexis Mac Allister, and Luis Diaz from international duty was a logistical challenge that Jurgen Klopp and his team navigated with strategic precision.
Learning from the Past: Tactical Adjustments in Player Management
"Lessons have clearly been learned from the September break," observes Gorst, pointing out Liverpool's proactive approach this time around. Previously, the physical toll on players such as Mac Allister, who struggled significantly post-international duty, led to a bench start for Diaz and Nunez during the Wolves game. Klopp's decision to prioritize the players' recovery was evident, as the club organized an earlier return for the South American quartet, enhancing their preparation time ahead of the critical match against their local rivals.
Expensive but Necessary: The Logistics Behind the Scene
Gorst notes the extent of Liverpool's commitment, referencing Klopp's own hint at the substantial expense the club bore to minimize travel complications: "A private jet was chartered to ensure there were as little travel issues as possible for all four players." This move isn't unprecedented in the Premier League but underscores the lengths clubs are willing to go to maintain player welfare and competitive readiness, a reality that Liverpool embraced more adeptly in October compared to previous instances.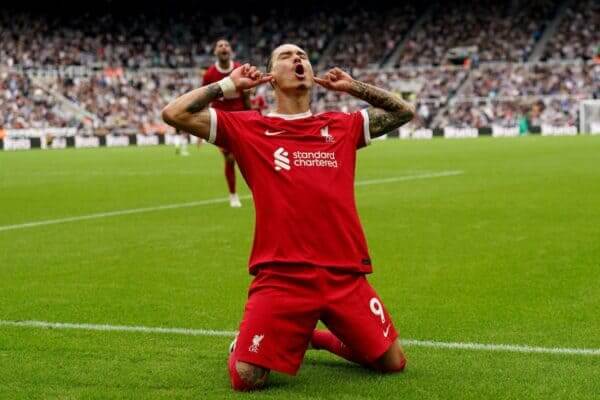 Diaz's Unsung Impact Against Everton
While Nunez's season continues to be productive, it was, according to Gorst, the "quiet contributions of Diaz that ultimately made the difference" in the game's dynamics against Everton. His pivotal role often overshadowed by the likes of Mohamed Salah, Diaz's resilience and on-pitch intelligence were crucial. "It was Diaz who was upended near the halfway line in the first half by Ashley Young," Gorst describes, emphasizing the moments that, although subtle, influenced the game significantly, particularly leading to Young's second yellow card.
Navigating Through Challenges with Strategic Foresight
Liverpool's management of the situation signals a greater strategic foresight, balancing the physical demands on their players with the competitive imperatives of the Premier League. The ordeal of handling these scheduling intricacies, particularly with the upcoming challenge at Manchester City post-international break, is one that Liverpool seems increasingly equipped to manage.
Conclusion: An Ongoing Balancing Act
Reflecting on Paul Gorst's compelling narrative, it becomes clear that Liverpool's balancing act between player welfare, international commitments, and domestic competition objectives is an intricate dance. The club's evolving strategies, especially in managing their South American assets, reveal a side committed to learning and adaptation, essential traits for enduring the grueling Premier League season.